Investors have bought the platform that runs their highly-prized Australian office portfolio. Florence Chong reports
In an unprecedented move in Australia, investors in the wholesale Investa Commercial Property Fund (ICPF) have coughed up AUD90m (€64m) to buy the business that manages their highly prized Australian office portfolio.
The hard-to-replicate portfolio, valued at AUD4.2bn, holds some of Australia's most prestigious office towers, located mostly in Sydney and Melbourne. Backed by some 50 investors, including Australian superannuation funds, foreign sovereign wealth funds and global pension funds, ICPF sealed a deal with Morgan Stanley Real Estate Investing (MSREI) to buy the management platform.
Several parties showed interest in the management right, but at the end LaSalle Investment Management and the listed Mirvac Property Group were the two serious contenders. Mirvac, which acquired the right from China Investment Corporation (CIC) to manage the former Investa Property Trust (IPG), reportedly offered AUD400m for the platform.
The Investa management entity, known as Investa Management Holdings, manages both ICPF and the listed Investa Office Trust (IOF), with combined assets of AUD9.3bn.
Jonathan Callaghan, chief executive of IPG, says ICPF was not party to the sale process, although it knew that MSREI would consult before the final decision.
The bidders ran into a serious problem when ICPF investors resisted a change of control. ICPF's investors include Sweden's AP1, the Dutch pensions group PGGM, and Australia's Victoria Funds Management Corporation.
Industry sources and investors are united in their belief that the key concern was independence of the manager and a desire by investors to control the destiny of their investment vehicle.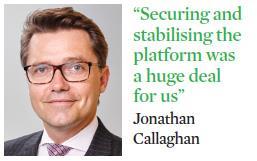 One source says: "We did not want to lose another manager because it would mean further concentration of the property funds management industry."
An influential investor tells IPE Real Estate: "We rate the manager highly and we wanted to continue to receive its service."
Following consultation with investors, Callaghan says ICPF decided it would prefer to purchase the platform from MSREI. "They wanted stability, continuity and long-term owners for the platform – something that was lacking for close to eight years,'' he says.
ICPF settled on purchase of the management company before Christmas. In a defensive move, just days before the settlement, the wholesale fund also bought MSREI's 8.94% stake in its sister trust, the listed Investa Office Fund (IOF), for AUD234m. This ended MSREI's association with Investa Group, which it had purchased for AUD6.6bn in 2007.
Despite all the corporate activity going on in the background in 2015 and 2016, "the performance of all investments across the platform was outstanding", says Peter Menegazzo, Investa's CIO.
Over the past three years, ICPF has delivered a net total return of 12.5% – well above the average return of 10.7% in the Mercer IPD benchmark of 16 Australian wholesale funds.
"That is the reason our investors backed the platform and the management," Menegazzo says. "They wanted the status quo to remain. And to achieve that objective, the best way was to buy the management platform themselves."

Callaghan says: "Securing and stabilising the platform was a huge deal for us. We always knew, however, that ICPF unitholders felt very strongly about the platform and the quality of service it has been able to offer."
The Investa management platform was the next most valuable asset after the unlisted Investa Property Trust, which sold to CIC for AUD2.45bn last summer. The Chinese sovereign wealth fund out bid Abu Dhabi Investment Corporation (ADIA) and Cromwell Property Group by slim margins.
But the Investa saga has not ended. Cromwell, with the backing of Redefine, is circling listed fund IOF, having put in a highly conditional AUD2.bn bid in November. Investors and insiders believe that IOF will eventually be privatised. They say it is a logical move.
They also suggest that funding of a take-over of IOF may not be a huge issue. Callaghan speaks of the "deepest pool" of capital he has seen in a decade lining up behind ICPF.
ICPF took AUD600m from this pool last year to pay debt and fund a 40,000sqm office building in Martin Place, in the financial heart of Sydney's CBD. On completion in 2019, the office tower is expected to be worth over AUD900m.
Menegazzo says the capital has come from a combination of new and existing investors.
Callaghan is optimistic that "the IOF issue will play itself out and will be resolved". He says: "We are committed to making sure that IOF unitholders get the outcome they deserve – one that is best for them."
What if another party – if not Cromwell – successfully takes over IOF? "We would have to wait and see how this scenario played out," says Callaghan. "But, in the end, it would not make any difference in the sense that [our] platform is still viable, and that Investa will continue."
As a manager of assets, valued at AUD4.2bn, ICPF is a competitive player in the Australian funds management market. It is a year since Morgan Stanley made clear its intention to exit Investa, its largest investment in Australia.
For executives running the diversified Investa businesses, uncertainty has been a way of life since MSREI entered. Private equity groups are not natural long-term investors. Exit is a certainty. Only the timing is uncertain. And the fate of Investa, Australia's largest unlisted owner of office buildings, will be no different.
Reflecting on the events of the past year, Callaghan, says sanguinely: "It has been an interesting journey." That downplays the roller-coaster ride the management team and its 202 employees have endured since 2015, when MSREI began preparing for the sale.
"It was business as usual," he says, adding that Investa also managed to hold on to many key executives. The exception was Campbell Hanan, Investa's chief executive, who left this year to join Mirvac.
Callaghan says, as with any businesses following a change of ownership, Investa took the opportunity to stop, pause and reflect on where it wanted to go in the future and what it would focus on. "We have looked closely at our business model, at where it will end up," he says. "One thing is certain: we want to remain one of the top office managers in Australia."
Office Europe: Mixed fortunes
1

2

Currently reading

Office Australia: Minding their own business

3

4

5