Blackstone, Carlyle and British Land have all bought into London's co-working story. Jennifer Bollen asks, how much can the sector grow?
Charlie Green was renting a desk in an office in Soho in the early 2000s when former colleague Olly Olsen suddenly appeared on the street outside, keen to discuss business ideas. Together they would embark on a model that is set to disrupt the real estate market.
A former pub-turned-light-industrial-unit in Islington – The City of London Tavern – would become their first site in a portfolio of flexible co-working office spaces known as The Office Group, which would secure backing from social impact investor Bridges Fund Management. Having launched the business in 2003 with 70 occupants across 5,000sqft, the company now has 15,000 users in 36 locations, and expects to grow by three to four times in London over the next five years.
"We did it very much with a view at the time to challenge the serviced office market, which was always a short-term and expensive solution for companies," says Green, who describes the offices available at the time as bland. "We asked ourselves, 'would we want to work in one of those environments?' The answer was an emphatic 'no'."
Green says the scope for The Office Group's growth is enormous as demand for flexibility among a growing base of startups and small businesses significantly increases. Real estate services firm Cushman & Wakefield said in July that, for the first time serviced office and co-working office operators accounted for the biggest share of space leased in central London. Serviced or co-working operators accounted for 884,235sqft, or 18.3%, of newly leased office space in the area in the first half of the year, compared with the 853,178sqft, or 8.5%, of space leased by such companies in the whole of last year.
"The market is becoming increasingly competitive and large-scale operators WeWork, The Office Group and London Executive Offices all increased their footprint across central London," Amy Emery, head of serviced office advisory at Cushman & Wakefield, said at the time.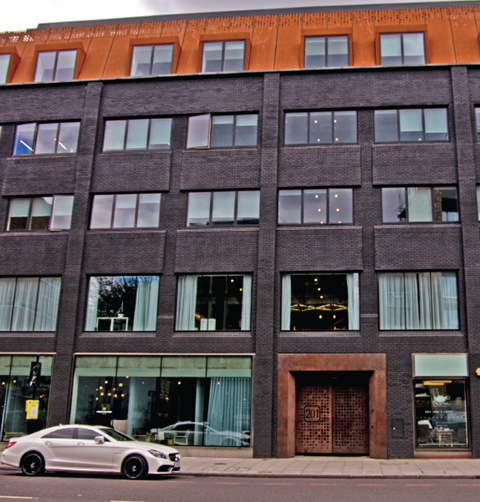 "More traditional owners have also made serious moves into the sector in the last quarter…. each development is further evidence of the fundamental changes occurring in the occupational market, driven by a desire from companies of all sizes for greater flexibility."
Meanwhile, the number of London's flexible office centres increased by 16% between 2015 and 2016 to 944, according to real estate advisory firm Knight Frank. It said in June that in central London flexible offices occupied 9m sqft – 4% of all office stock – with more than 4m sqft acquired in the past five years. It added that the number of users of co-working offices was expected to gr ow by 41% this year, having increased by 64% last year.
Jonny Rosenblatt, founder and managing director of co-working office operator Headspace Group, says lower barriers to entry for startups than 10 to 15 years ago has created a huge user base. "There has been an increasing demand for flexible workspace, particularly from small teams who, although ambitious, don't know what their growth pattern will be," he says.
"Founders may not know whether their business will employ five or 80 people over the course of a year. Even startups that have funding in place – and therefore access to money for working capital and expansion – require absolute flexibility – not only in the length of lease, but also in being able to move within the same building into larger spaces without the headache of changing addresses and service providers."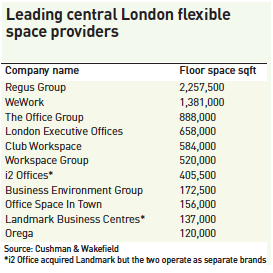 Mark Harris, a managing director and head of the UK real estate team at buyout firm Carlyle Group, says demand vastly outstrips current supply. He says there are about 2m small businesses in London but only about 200,000 desk spaces. "We believe that represents only 11m sqft – about 4% of total office stock in London," he says.
In June, Carlyle announced a £150m joint venture with property investor Adir Group to build a flexible office space provider under the brand Uncommon.
Elsewhere, Blackstone agreed its acquisition of a majority stake in The Office Group from high-net-worth individual Lloyd Dorfman in June. The deal gave The Office Group an enterprise value of about £500m.
The same month, UK commercial property manager British Land launched Storey, a brand of flexible office spaces aimed at small companies. It said leases would be all-inclusive, covering everything from rent to WiFi and cleaning services.
Flexibility of space and terms are among the most attractive benefits of co-working spaces, according to operators – rather than sign multi-year leases, users agree to licences for periods of months. Work Life offers a pay-by-the-hour service. At Headspace, users typically initally commit to three, six or 12-month leases and tend to roll over, with many occupancy periods lasting more than 18 months. While co-working offices offer short-term solutions, The Office Group aims to "work harder to create loyalty" from its customers, says Green. "We've humanised this relationship between landlord and tenant. What the real estate industry is suffering from is an inability to make this leap from having an arm's-length relationship to changing into being a hospitality industry – we're there to provide a service, to look after people. If you do that, people will stay."
Flexible spaces also provide users with all of the communal facilities – from breakout areas, kitchens and roof terraces – expected at a large corporate with the added bonus of a ready-made community of like-minded entrepreneurs and potential collaborators.
"Before the serviced office was the physical office – you did your work, you went home," says Philip Hobley, head of the West End office agency at Knight Frank. "Now spaces are curated so they will have a TED Talk-type event, a networking speed dating-type event, a social."
London Executive Offices, which positions itself as a luxury serviced office provider aimed at clients such as hedge funds and head hunters, is also increasingly installing communal areas in its buildings.
Such is the popularity of co-working offices that corporates are increasingly using co-working sites to move closer to innovation as well as to house their own staff. In August, accountancy firm EY said it would expand its footprint in Reading by taking office space in a building operated by Work Life.
The demand for flexible services is leading to "huge appetite" from investors, says James Nicholson, head of the central London technology and creative team at Knight Frank. Green agreed institutional investment in co-working offices would increase in the coming years in a bid to seek yield amid softening – and in some areas – falling rents.
Bolstering returns for some companies is the rise of freehold. Carlyle's Uncommon plans to own its premises, according to Harris, to enhance returns and cement its brand by having complete occupancy of all its buildings.
"Some operators do [own their buildings], a lot of operators would prefer to own the asset but will not have the access to capital," he says. "It's a stronger and more defensive investment return, you're improving value in the property through refurbishment and have full control of the building for the operations and furthermore you're not exposed to increases in rent. Some occupiers are occupying these buildings with [retail price index-linked] rents and if it's on that basis your margins will reduce unless you're able to increase your desk rate."
Outside London, regional UK and European cities are expected to become attractive destinations for co-working office operators. The Office Group has a building each in Bristol and Leeds while Headspace, which has offices in Farringdon and Marylebone, also has a site in Manchester.
Meanwhile, Global brand WeWork has offices in London and Manchester, and in Europe – Paris, Amsterdam, and Berlin, Frankfurt and Hamburg. Mindpsace operates in locations including Berlin, Warsaw and Tel Aviv.
"[There is] a focus on areas where there is clearly a drive for technology and creative innovation"

Philip Hobley
Hobley said operators would likely target areas centred on knowledge and innovation such as Cambridge, and major European cities where there is "a focus on areas where there is clearly a drive for technology and creative innovation".
The new wave of serviced office providers has built much of its success on the improving market for startups, small companies and the gig economy but with concerns mounting over the economic stability in the UK and Europe, will co-working spaces suffer? Uncertainty – a common theme among target customers – would increase in a downturn, likely leading to a growing need for short-term occupancy, according to Harris.
"Operators who lease the space will be exposed more to the economic cycle," he says. "When you look at what happened in the last downturn, they performed very well. Occupancy had fallen slightly and rates fell slightly but it did not parallel or align with rental values. People want flexibility."
However, struggles among some operators and consolidation are expected. "The ones who are good at what they do, who are effective and understand what the market is about, will survive," says Green.
Tom Tyler, an investment director at Bridges Fund Management and a former investment director at co-working office provider Workspace Group, says the small business community is here to stay but is sceptical about the longevity of the co-working office sector's growth path. "Co-working has got a place but the key point is there must be finite demand and I can't see this rate of expansion carrying on."
King's Cross gets Googled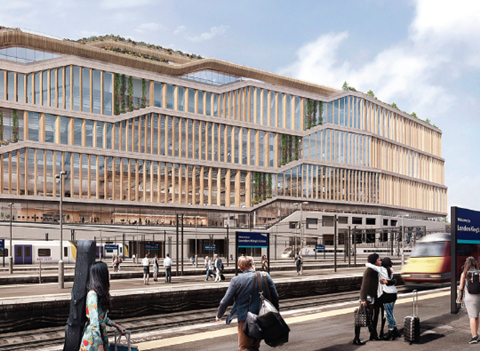 Google – a proponent of innovation through flexible workspace design – is to make London's King's Cross home to its first wholly-owned and designed building outside the US. In August, the technology giant said it had won planning permission from Camden Council for the campus, which it said in June would comprise more than 1m sqft.
Work on the 11-storey building is due to start next year to create a campus combining the new construction with an existing building at 6 Pancras Square and a third building.
The development and a major regeneration programme at nearby Euston station are expected to create a technology and venture hub in the Euston area, as an overspill of young businesses from King's Cross emerges in the coming years.
HS2 said in a statement in July that it had shortlisted bidders for the Euston Master Development Partner contract to build a mixed-use development including new offices, homes and retail space above and surrounding London Euston station. The shortlist consists of Westfield, Euston Regeneration Partnership, Canary Wharf Group, Land Securities and Lendlease.
Residents already contributing to the King's Cross hub include Impact Hub, which describes itself as a community of professionals, creatives and entrepreneurs; growth firm Frog Capital, and venture firms Balderton Capital and LocalGlobe.
"King's Cross is now a prime real estate market… with rents for grade-A office space commanding around £75 to £80 a foot"

Jonny Rosenblatt
"Without a doubt, there will be a natural draw to occupy around there to expand on the successes and tech media focus that King's Cross has created and is establishing," says Philip Hobley, head of the West End office at Knight Frank. "That scale and quantum of development around a key transport hub will undoubtedly further strengthen and expand that cluster."
Science and medical businesses might move to Euston due to existing occupiers such as The Francis Crick Institute, a medical research centre behind The British Library. Hobley predicts that further growth of a northern corridor from Paddington to Euston, King's Cross, Angel and Old Street.
"The appetite for opportunities out there is huge," says Hobley. "The number of opportunities are slim and yes, because of the success of King's Cross central, because of how well connected it is… the values have escalated there massively."
Jonny Rosenblatt, founder and managing director of co-working office operator Headspace Group, says: "The King's Cross regeneration programme has been absolutely spectacular, having within a few years successfully reinvented an area of London that, not long ago, was pretty much a no-go area at night.
"Any regeneration programme of this scale creates a knock-on and a spillover. But Euston is extremely well connected already and HS2 will take that to a whole new level.
"The fact is that King's Cross is now a prime real estate market… with rents for grade-A office space commanding around £75 to £80 a foot, which is on par with Marylebone and certain areas of Soho. It's ahead of Shoreditch."
"Desk rates will rise when there's higher demand for it," adds Beth Hampson commercial director at London Executive Offices. "There's a synergy between [Euston and King's Cross]… Euston will naturally follow. It's quite an exciting area to be monitoring at the moment."
London Offices: City still trading
1

2

Currently reading

Co-working in London: Collaborative city