The Dutch capital needs to get grips with its widespread office redundancy. Russell Handy explores some emerging solutions
Sinterklaas is on his way to Amsterdam, ready to once again shower the city with gifts and sweets. But few investors have put the Dutch capital's office sector at the top of their Christmas wish list. A quick round up of some of the main names in property investment at this October's Expo Real in Munich – Deutsche Asset Wealth Management, Union Investment – confirmed that view – tread carefully on Dutch offices.
"Office is not the flavour of the month with our investors," says Peter Helfrich, managing director of PATRIZIA Immobilien's new Dutch office, which opened earlier this year with an opportunistic approach and a preference for the retail and residential sectors.
"That has much to do with the market circumstances we are in today. The last five to six years have not been the best period for Dutch offices."
Advisory firm Savills predicts total commercial real estate investment volumes to reach €4bn this year. The office sector, however, is set to be eclipsed by retail, which is likely to see more activity.
While Savills notes the dominance of retail, there may be some hope for the office sector. General appetite for Dutch commercial real estate has improved, with total investment beginning to show signs of improvement last year. Interest has further risen in recent months.
In a country where annual investment volumes hover around €3bn – just over a tenth of that ofneighbouring Germany – Amsterdam nevertheless is still the first stop for the few investors who do decide to drop anchor in the Dutch office market.
"Amsterdam requires a level of selectivity," says Martin Lemke, managing director of AM Alpha, which this year closed a debut €41m office property deal in the capital. The asset is fully let on a nine-year lease. "There are opportunities."
By mid-October, more than half of the €2bn invested in Dutch offices was in Amsterdam, according to Real Capital Analytics.
In July, Lone Star paid CBRE Global Investors €380m for a Dutch office portfolio. In a note following the sale, analysts at JP Morgan said interest from opportunity funds in Dutch offices was the "first step" towards a recovery in capital values.
Bayerische Ärzteversorgung (BÄV), the Bavarian doctors pension fund, this year spent €80m for the first European deal of its new global mandate with LaSalle Investment Management, buying in the Dutch capital.
Increased interest in Amsterdam may be the result of investors being forced along the risk curve – away from markets considered safe and core towards slightly riskier locations.
So far, the steps taken by international investors have been into Amsterdam's more salubrious districts. The city's financial district – Zuidas – has been the main stop for German funds. One investor at Expo Real described the area as 'little Germany'. Overall, Germans have dominated investment in Amsterdam this year, according to Real Capital Analytics.
In July, Deka Immobilien bought The Edge building for its open-ended mutual fund for around €200m. The German fund manager invested a similar amount last year, paying the Philips Pension Fund around €215m for the Symphony Offices at Gustav Mahlerlaan.
"The south axis [Zuidas] office market has been flooded by German funds buying at the top end of the market," says Helfrich. "That's the right product for them."
Both Deka's deals were done at a point where the south axis market was averaging gross yields of around 6.5%, in line with the typical level at which German funds tend to enter. Deka will have taken comfort from the fact that, in both cases, the tenants can be considered reliable – The Edge is let to Deloitte while Symphony is let to APG and Prologis.
De Brauw, Blackstone, Westbroek, Loyens & Loeff, Boekel de Neree, RBS, Binck Bank, Boston Consulting Group, Freshfields Bruckhaus Deringer and CBRE have all located their staff in the Zuidas district. Amsterdam authorities see the area, which is equidistant to Schiphol airport and the city centre, as a major financial and business service district.
"The outlook for the south axis is somewhat better than for the rest of the city," says consultant Rudolf Bak. "The area is still the safest area of Amsterdam."
Vacancy and 'zombie zones'
The city, however, is still some way from a return to form. The heady days of 2007 – when annual take-up topped 400,000sqm – are a distant dream. Around half that figure is a more realistic estimation for 2014, according to data compiled by JLL. That will not be enough to cure the city's malaise – vacancy.
"There's still a large oversupply," says Helfrich. "Anywhere beyond the south axis is some way from recovery."
Syntrus Achmea RE&F's director of strategy and research Boris van der Gijp talks of "zombie office zones" emerging in the Dutch market, pointing to satellite cities such as Hoofdorp near Schiphol Airport, the Rijswijk market, the south of The Hague, and their "enormous deteriorating" office park sectors. Knowing your market is a key lesson – out-of-town work locations are less popular.
"Most of this type of space, far away from city centres and not served by adequate social amenities in the neighbourhood, will probably never live again for business or any other use," he says. "In the heat of the previous real estate boom, the wrong office buildings were built on the wrong locations as municipalities, developers and investors jointly misread the market."
At its peak, vacancy in the Amsterdam office market was around 19%. In some areas, that figure was even higher, with some districts seeing the level of unoccupied space reach levels as high as almost 30%.
Efforts have since been made, however, to cut vacancy rates. In some cases, incentives have been offered to holders of redundant, empty offices in an effort to tackle the issue.
Bak's report into the Netherlands office market – produced for the Dutch association of brokers, NVM (Nederlandse Vereniging van Makelaars) – notes the positive impact that stock withdrawal and demolition is having on vacancy levels. "One of the factors that did propitiate the market was the rising number of office square metres withdrawn from stock after demolition or redesignation," Bak says.
Robert Koot research manager at Bouwinvest, says the outlook for the office sector is "quite stable".
"We have seen some a stabilising of vacancy levels," Koot says. "There are still large differences between old and new stock."
Resi conversions, smart working
Conversion to residential is also an option. The Dutch government has taken steps to encourage the strategy, removing regulatory barriers. Syntrus Achmea has converted office property to residential, renovating 22,000sqm and creating 185 flats in Amsterdam's Westerhoek district.
The rate of office-to-residential transformations in the Netherlands jumped to between 400,000 and 500,000sqm last year – around 50,000 sqm more than in the previous year. Syntrus reckons the conversion process is close to nearing its peak.
"The availability of suitable redundant office transformation supply in desirable neighbourhoods is diminishing rapidly," Syntrus Achmea says. "Perhaps half of this empty space will never see either office or residential use again as it is completely obsolete for both purposes – even though in some cases the value of the office buildings has fallen by 50% or more since 2007."
Some areas of Amsterdam will forever be unsuitable for residential use, as people prefer central locations.
Another factor for those with an eye on Amsterdam is the growing appeal of 'smart working', with staff working from home. While the trend has raised the issue of office demand, there is less concern of a significant impact on the sector.
Nevertheless, the likes of Cisco, Hewlett Packard, IBM, and the City of Amsterdam have backed the concept of a Smart Work Center, in which work spaces are combined with child-care facilities and meeting rooms. Reducing traffic congestion and carbon emissions are two of the main reasons behind the concept.
Ger Baron, IT programme and cluster manager for Amsterdam Economic Motor, says a shift into a "community economy" – organised around energy, healthcare, mobility and work – is having a "tremendous impact" on human behaviour."Over the past few years, new energy companies in the city of Amsterdam have begun to take advantage of this and several Smart Work areas have emerged," Baron says. "People of common minds who met online can share facilities and, consequently, costs."
Amsterdam office outperforms its neighbours
The IPD Global Intel dataset shows Amsterdam outperforming other Dutch office markets as of mid-year 2014. In context, Amsterdam's 3.2% year-on-year total return as of Q2 2014 falls modestly below the market's 10-year average of 4.3% year-on-year and even farther below its longer-term average of 7.3% year-on-year (19 years) as of Q4 2013.
Amsterdam's relatively moderate recent positive performance has been driven entirely by the market's robust income return which, at 7.1% year-on-year, is running at its highest level over the past decade. The resilience of income returns in Amsterdam's office market is supported by ongoing write-downs of capital values in a sputtering domestic economy.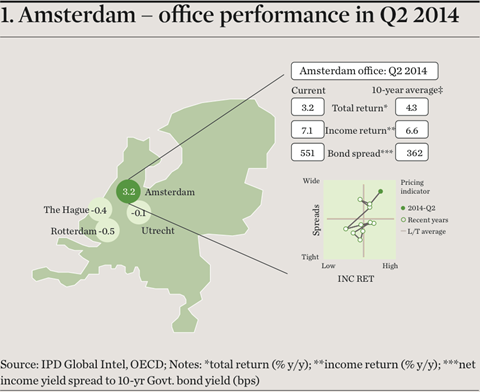 Since 2008, office valuations in Amsterdam have fallen in every quarter except Q2 2011 when capital growth just managed to eke out a narrowly positive performance. In total, capital values declined by 26% since the start of the financial crisis. One reason for this was the weakening demand for office space that pushed vacancy rates up from less than 5% to stabilise eventually at approximately 11%. The other key office markets have experienced even greater capital declines in the range of 35% to 40%.
An investor with a geographically diversified domestic portfolio in the Netherlands would have done well to be overweighted to Amsterdam at mid-2014. Not only did Amsterdam lead Dutch office performance at mid-year, it was also the outperformer in the retail and residential sectors, although by narrower margins than in the office market.
Declining interest rates and buoyant income returns combined to give Amsterdam an attractively priced office market at mid-year, making it a city where an investor might see the early signs of cyclical recovery.
Baron is motivated by the idea of bringing work to the workers – rather than having individuals go to a workplace.
The concept's initial target population – big corporations – proved the wrong one, he says, with such firms having the longest-term contracts with facility managers, on which they would lose money by opening up to other centres. Baron says the focus of smart working was then shifted to small and medium-sized companies – or, exceptionally, large companies with flexible approaches.
It is worth noting that, last year, companies seeking between 1,000sqm and 2,499sqm were the biggest movers in the wider Dutch office market, according to data from NVM. The Dutch property association also estimates that vacancy involves at least half of all floor area offered for rent or sale.
In a market where high vacancy is seemingly ever-present, the concept of flexible use of office space may seem untimely. For now, though, Amsterdam needs to continue its assault on the high levels of redundant offices and get investors to venture beyond Zuidas.
Amsterdam: Filling the void
1

Currently reading

Amsterdam: Filling the void

2

3