A European value-add real estate fund managed by NREP has received over €3.6bn in capital commitments from a diverse group of investors.
Urban Partners – a capital pooling platform created by NREP, Velo Capital, Luma Equity and venture capital firm 2150 – said NREP's NSF V fund was oversubscribed and had an aggregate demand from investors exceeding €4.2bn.
Urban Partners said the majority of NSF V's commitments came from existing Urban Partners investors, with the total investor make-up being globally diversified, predominantly comprising pension funds, insurance companies, and sovereign wealth funds.
NSF V invests to address underserved real estate segments across the Nordics and selected Northern European markets. The focus is on residential rental properties, modern logistics facilities, care homes and offices, where the company can create value through customer-centric and decarbonising solutions.
Urban Partners said the fund has already committed approximately one-third of its capital through 33 investments.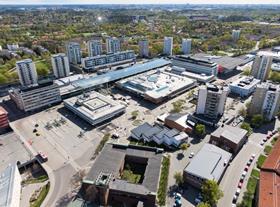 NSF V's investments include the Vällingby Centrum project in Stockholm, the initial homes for OsloBolig and the Eteläesplanadi 2 office building in Helsinki.
Claus Mathisen, CEO, Urban Partners, said: "The phenomenal support generated for NSF V in the context of a fragile economic climate, is testament to the track record of its predecessors and an endorsement of Urban Partners' ambition to transform the green credentials of cities and make them more liveable.
"With NREP, we have proven the commercial upside of being a change-maker for almost two decades, with spearheading initiatives when it co­mes to both decarbonising solutions and addressing societal challenges."
Rune Kock, NREP's CEO, said: "The significant scale of NSF V enables NREP to make a meaningful impact through our focus on customer-centric and decarbonising ­real estate strategies, and set a positive example for the industry to follow and ultimately scale."
Earlier this month, real estate investor NREP partnered with real estate credit company Velo, private equity investor Luma and 2150 to invest in assets, companies and technologies that will accelerate decarbonisation and transform urban neighbourhoods.
The companies launched Urban Partners, the "first dedicated pool of constructive capital – with returns being measured alongside impact - with €5bn available to invest".
To read the latest edition of the latest IPE Real Assets magazine click here.

News editor, IPE Real Assets