M&G has acquired 370 homes in partnership with three UK housing associations for its shared-ownership fund.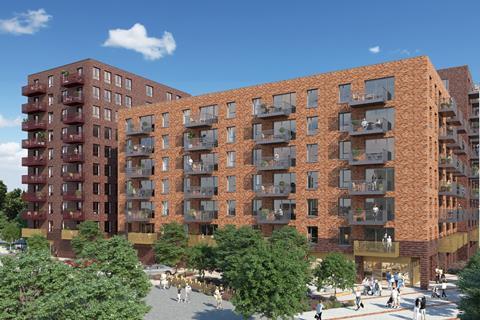 The M&G Shared Ownership Fund struck a series of deals worth a combined £62.7m (€72.3m) with Chelmer Housing Partnership (CHP), Hyde Group and Park Properties Housing Association (PPHA).
The investments come two and a half years after M&G launched the fund in 2021, with backing from UK pension funds and the government, and acquired 422 homes from Hyde in London and Kent for £61m.
The fund was created to provide investors with index-linked rental income while helping first-time buyers priced out of the housing market by enabling them to part-buy, part-rent a professionally managed home.
M&G said that the evolving dynamics in the UK housing market – including the recent closure of the government's Help to Buy scheme, which reduced deposits needed for first-time buyers – meant that the shared-ownership investment opportunity was even greater than it was when the fund was first launched.
Fund manager Chris Jeffs told IPE Real Assets: "The need for further investment into the shared ownership sector is significantly more stark than it was two years ago. The end of the Help to Buy scheme, a sharp increase in mortgage costs and the slowdown in housing delivery means that homeownership is significantly less attainable across the majority of the country.
"This has fuelled increased demand for shared ownership across a broader geography, which provides a compelling opportunity for investors to make a meaningful contribution to solving the housing crisis at an attractive risk-adjusted return."
"We have had to be very patient in order to allow the market to respond to the economic turbulence we have seen over the last year"

Chris Jeffs
Since launching the fund, the UK economy has experienced persistently high inflation, rising interest rates and mortgage costs.
"As a responsible investor, we have had to be very patient in order to allow the market to respond to the economic turbulence we have seen over the last year," Jeffs said.
"This patience has allowed us to come back to the market at pricing that reflects the current state of the market. This time has also allowed us to develop long-term, flexible partnerships that deliver for all, including our customers."
House prices have also been falling in the UK, with the average price in September 4.7% lower than a year ago, according to Nationwide. Asked whether investors should be concerned about gaining UK housing exposure at this time, Jeffs said: "House price falls are clearly a risk that we assess and critically price before transacting; however, the long-term, index-linked cashflows unique to shared-ownership investment provide excellent mitigation to house price volatility."
Asked how scalable the shared-ownership sector was as an institutional asset class, Jeffs said: "We believe that shared ownership and the wider affordable housing market provides an exceptionally scalable opportunity for investors.
"Savills suggest that there is £23bn of private capital seeking access to the sector and the market share of affordable homes owned and delivered by private capital is growing meaningfully year on year. However, given the growing attractiveness of the tenure for customers and investors alike, we see shared ownership accelerating significantly in importance for investors."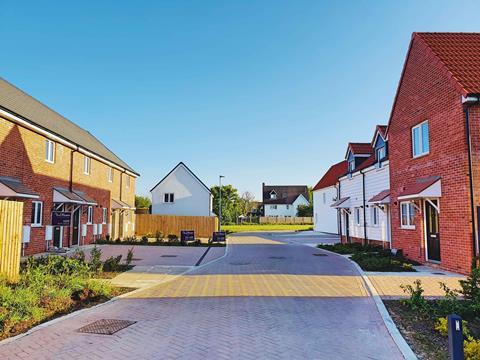 Housing associations look to private investors
M&G intends to directly fund the development of new homes or buy existing and pipeline stock, which it says will enable housing associations to recycle capital into new homes. The housing associations will meanwhile continue to manage the properties on behalf of M&G.
M&G said the partnerships with CHP, Hyde and PPHA reflected research that showed growing appetite from housing associations to partner with investors and for-profit registered providers (FPRP). Savills recently found that FPRPs now own more than 28,150 affordable homes – a 35% increase since March 2022.
Alex Greaves, head of UK and European living at M&G Real Estate, said: "These latest strategic partnerships mark a crucial step in our journey to meeting the significant demand for the shared-ownership model in areas of the country where it is most needed.
"It's also a brilliant example of how the private and public sectors can collaborate to make a positive impact on an underserved market. We're delighted to be working with Hyde again and look forward to a long and productive partnerships with CHP and PPHA."
Paul Edwards, CEO of CHP, said: "We're proud of our track record of building new affordable homes across Essex and are excited to be combining our expertise in this new and important partnership.
"Working with M&G we have brought in more investment for new homes, whilst still providing our great local customer service for the homes M&G have purchased. We are looking forward to continuing this relationship so that we can proactively tackle the housing crisis together in the longer term."
Guy Slocombe, CIO for Hyde, said: "This deal demonstrates how this model allows us to accelerate the delivery of more affordable homes while enabling us to quickly recycle the capital we generate into new schemes.
"By combining our expertise in managing homes well with the investment M&G offers, we are bringing new investment into the sector, and it is playing an important role in meeting the challenges of the housing crisis."
Guy Horne, CEO of HSPG, said: "We are delighted to partner with M&G on our first transaction together, which introduces additional long-term capital into the sector. By continuing to manage the homes, we will give our tenants consistent and high quality service.
"As our partnership develops, we are excited to deliver more affordable housing up and down the country as we help people gain access to home ownership."