Efforts to achieve net-zero should be seen as an opportunity to outperform the market rather than an unavoidable cost, according to Alex Knapp, European CIO at Hines, who addressed the IPE Real Estate Global Conference & Awards in Milan this week.
For too long, investors have viewed the path to net zero as "something they must do", "something that costs money" and "wouldn't it be great if we could avoid it", he said. But Knapp suggested that investors should look at it from the perspective of generating total returns. Investing capex in net zero, he suggested, "is the avenue to [achieving] outperforming assets".
But it still poses challenges. "Our answer has been one of using blunt force", said Knapp. "We've hired a team of 30 professionals and that's growing because it is technical work. Part of the reason we're doing that is because, from an investment perspective, we are big believers in the idea that this is going to be a risk area for real estate if we don't address it. But equally we're doing it because we actually see this as a profit opportunity. And that's really important."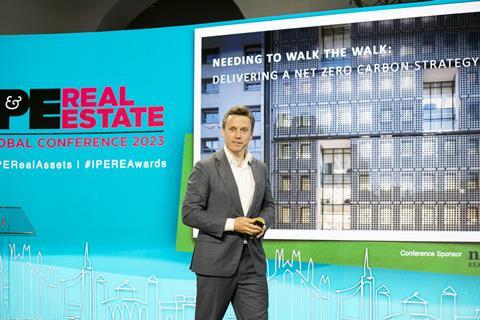 He added: "We invest in this and we get the outperformance. This is the alpha we're going to create and this is how we're going to have better assets than the rest of the market. So we're leaning in. We'll see in a few years if we're right or wrong, but for now that's the bet."
In the meantime, there are significant challenges. "We're doing a lot of reporting, and one of the tragedies I think of this whole energy transition topic is just how much work we all have to do to prove that we're doing the work right. The spectre of greenwashing haunts us all and so we have small armies of people working late into the night documenting what we're doing for all these awards we're trying to win and for all the other processes we're trying to follow to prove to our investor base that we're actually doing the work."
Knapp made the case for appointing a dedicated decarbonisation team, whose first job is data capture. "We're spending a lot of time trying to capture the data from existing buildings," he said. "But there are a lot of specialisms within the decarbonisation process, such as capex planning, which is obviously a big part of it. Then there's power purchase. What we're imagining over time is we're going to grow little verticals that are specialists in quite specific things, rather than trying to have generalists covering too much ground too thinly."
Challenges: Reporting standards and capex costs
Another challenge facing investors is inconsistency in global report standards. "We're trying to come up with clever ways to manage that," Knapp said. "So we're trying to consistently apply [Carbon Risk Real Estate Monitor (CRREM)] across our own portfolio and within that a capability to evaluate in real-time different capex alternatives and the impact that they're having and trim the pathway for that asset.
"It's with the vision that what we're doing in London is the same as Milan, or what we're doing in logistics is the same as residential over time. We're putting in a lot of effort, but we're just at the foundational stages. We have a lot of work still to do."
Knapp said Hines has using its pan-European core fund as "a sandbox of experimentation". He explained: "We're continuing to invest in it and the investor base in that fund is very committed also to the same agenda. And we're making some meaningful progress. It's a showcase for what we can do but then we need to apply it to our much bigger and broader portfolio – both the standing assets and the transitional assets as well.
"And one of the interesting learnings that we've got from our core fund experiment is that incremental approaches really are the way forward and actually you'll be surprised at how much low-hanging fruit there is in every portfolio."
Another potential stumbling block for investors is the question of who benefits from the improvements and the payback of net-zero capex. "Yes, the tenants are going to get part of the benefit of this payback," Knapp said. "But guess what? Their lease is going to expire, we will have cheaper utility costs and a greener building that's more attractive to higher-end tenants – so we're going to get the ultimate benefit."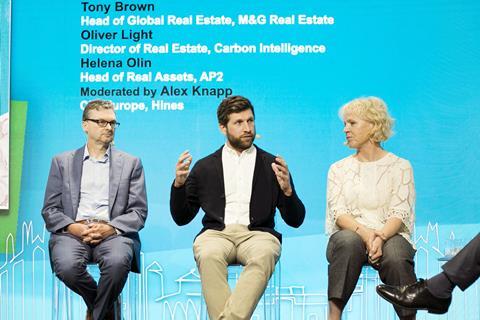 Helena Olin, head of real assets at AP2, said the Swedish pension fund had achieved a 90% fall in carbon emissions across some of its office portfolios. "We do have solar panels – outside the buildings we buy land and we build solar panels, and we've set new targets they are completely Paris aligned," she said.
Tim Barlow, managing director of sustainable investing at Canada Pension Plan Investment Board (CPP Investments), acknowledged that the path to net zero was "a struggle". He said: "Up until the beginning of last year, we didn't have a systematic approach to sustainability within real estate. We had a systematic approach across our broader fund. But we have over 50 different partnerships and over 22 jurisdictions and each one of those partners is on their own sustainability journey.
"Data management is really at the core of it. That was, for me, a starting position at least on our transition risk journey to identify the hotspots within our portfolio where we should really start to focus on."
Barlow added that CPP Investments was focusing efforts on putting together a process "which can be scalable, replicable and produce tangible results to the deal teams". He added: "You need to be thinking about this when you're engaging with your partners and when you're speaking to the whole gambit of advisers that we deal with, around where you're going to get most effective impact on the abatement potential within your portfolio. And start to think about this as a real business plan."

Prior to joining IPE in June 2022, Lauren worked as editor, real-time analysis at the Wall Street Journal and as a senior financial journalist at a variety of UK nationals including The Sunday Telegraph and the Mail on Sunday. Lauren has always had a passion for business journalism and the built environment, having graduated in Urban Estate Management, before taking an English degree at the University of London. Away from the office, she's preparing for a marathon-length hike in aid of The Alzheimer's Society.
View full Profile