Three years ago, Milan hosted the Expo 2015 world fair. As IPE Real Assets reported at the time, "if ever there was a year when Milan could put itself in the shop window, this was it". Generali Real Estate SGR chief executive Alberto Agazzi said in 2015: "it will have a positive impact on Milan's infrastructure, as well as the visibility of the city and the local economy".
In the same year, Qatar Investment Authority took full ownership of Porta Nuova, the ambitious, 400,000sqm regeneration project that created a new business district in the centre of the city.
Three years later, at the 14th IPE Real Estate Global Conference & Awards – held this week at the historic Hotel Principe Di Savoia and the modern Unicredit Pavilion – it became clear that Milan had indeed been progressing in line with Agazzi's expectations. But the event also coincided with an acutely uncertain phase in Italian politics as two eurosceptic parties continued attempts to form a government.
Guiseppe Sala, the CEO of the world fair in 2015, winning him the nickname Mr Expo, is today mayor of the city. At the conference he divulged plans for the next phase of Milan's urban development. "Milano is undertaking a thorough transformation process," he said.
And the momentum behind Porta Nuova, which transformed the skyline in the years leading up to Expo 2015, was shown to be far from over. The project, which regenerated former rail and industrial land into a new commercial district, was the brainchild of US developer Hines and COIMA, the real estate company of Italy's Catella family. The project won Best Urban Regeneration Project at MIPIM this year.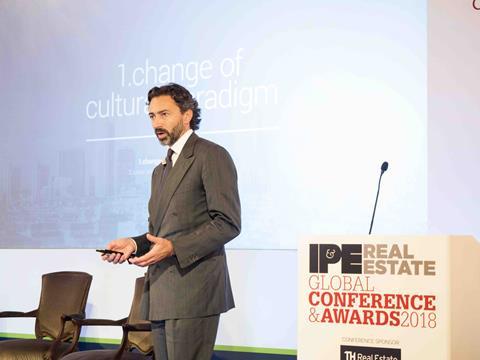 At the conference, Manfredi Catella, CEO of the company, showed how the subsequent phase, dubbed Porta Nuova Next Generation, would build real estate on 200,000sqm of land in the area, along with green and public spaces, by 2021. Coima has already started and last year announced it would develop GIOIA 22, an office tower, with funding from the Abu Dhabi Investment Authority.
But Catella showed how Coima's vision for the area went much further. The next steps would be to redevelop the 60,000sqm neighbouring Farini Valtellina site. But even grander in scale is the 570,000sqm Farini Railway site, which would form the final part of the puzzle. Coima hopes to develop this site from 2020 to beyond 2030.
Taken as a whole, the project encompasses 1m sqm. It is smaller than London's 1,500,000sqm Canary Wharf – which set a precedent in the early 1990s – but Catella was quick to point out that it was on a similar scale and would be happening in the centre of the city, rather than on the fringes.
"Porta Nuova is not about what we've done," Catella said, adding that the next phases of regeneration would not be a case of replicating and extending the first. In an ever-changing world, Porta Nuova was already old, he admitted, and its investors needed to devise a city for 10 years' time – a concept Coima was still grappling with.
Coima has embedded environment social governance (ESG) factors into its approach, from building affordable housing to achieving energy efficiency ratings, engaging with local communities and building public spaces. The Farini Valtellina site, for example, is expected to retain 70% of its area for green spaces.
Coima's most obvious 'green building' is the Bosco Verticale, or vertical forest. The residential tower has become an icon of Porta Nuova and a symbol of real estate sustainability.
Sustainability was a key thread of the conference. And a discussion on climate change, moderated by David Ironside of LaSalle Investment Managemet, led to a call to the industry for greater availability of dats on energy efficiency usage.
Capital owners like pension funds are leading the charge. Dutch pension fund manager PGGM is seeking to assess its €20bn real estate portfolio as part of efforts to manage climate-change risk across all its asset classes. "We are working through that," said Mathieu Elshout, senior director of private real estate at PGGM. "We need the help of managers to provide that."
In a wide-ranging on-stage interview with conference chairman Piet Eichholtz, the global head of real estate at another major investor revealed how ESG was being factored into investments. Cornel Widmer of Zurich Insurance Group said the institutional investor systematically rates assets for a range of risks, including ESG. The less sustainable an asset, the higher the hurdle rate it requires.
It is undertaking a large capital expenditure programme for its domestic real estate portfolio in Switzerland. "It would be easier to sell poorly efficient buildings, but we want to have an impact," Widmer said.