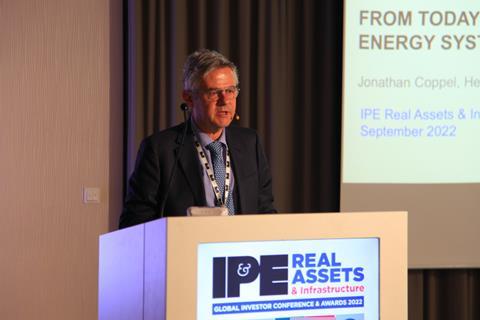 While global investment in energy rose by 8% to an estimated US$2.4trn (€2.4trn) in 2022, according to the International Energy Agency (IEA), the ability to build major projects could be hampered by inflation, supply-chain issues and a shortage of the specialised labour that's needed.
Speaking at the IPE Real Assets & Infrastructure Conference in Munich, Jonathan Coppel, head of the Energy Investment Unit at the IEA, said: "The uncertainty as to the level of inflation is something that frets investors. There are other forces affecting investment in the energy sector – obviously, the energy crisis, the climate goals and the very sharp increases in prices. So there's a lot going on that's influencing these investment decisions."
Coppel told the gathering of pension funds and real assets investment managers that IEW had recently identified a steady upturn in investment in clean energy, including renewables, nuclear efficiency, electric vehicles, clean fuels and related infrastructure.
"For several years, we've witnessed a fairly modest rise of 2% per year in the level of investment in renewable power, efficiency and electric vehicles. But we've seen a rapid increase in the last two years, particularly since the signing of The Paris Agreement.
"Part of the explanation for this rapid growth is also coming from the fiscal stimulus measures that have been used to exit from the COVID-induced economic slowdown, largely in OECD countries."
Coppel said it was "very difficult to look for silver linings" in the current energy crisis, but acute price increases "can be a catalyst for investment in renewables".
He said: "There may be parallels in the current context that will spur even greater increases in investments in energy security, but at the same time, they also work in terms of that transition towards a clean energy system."
However, Coppel stressed that there is a lot of regional variation in clean energy investment trends, that he would like to see addressed. "Virtually, all of the rising clean energy spending is concentrated in the advanced economies and China, but in other emerging markets and developing countries investment remains stuck at 2015 levels," he said.
"Some of the explanation for this dichotomy relates to more scarce public funds that can be used to support sustainable recoveries. There are other high costs and rising borrowing costs in emerging market and developing economies.
"For example, we estimate that in emerging market economies the cost of investment, including the financing costs in renewable power, can represent nearly 50% of the total costs. So that's a real critical factor, and that's one of those things that's also dependent on the broader macro economy."
Coppel believes "much more" needs to be done by governments, international development institutions and private investors to bridge the widening regional divergence in the face of energy transitions.
And while Europe is "seeing some diversification out of oil and gas into clean energy technologies", he said, "the investment to forge a way out of today's crisis or to bring down emissions to net zero by mid-century is not yet rising quickly enough".
The IEA warns that, to achieve this, investment in energy transitions would need to rise to well over $4trn by 2030.
Karin Kaiser, head of private markets Europe at renewables fund manager Greencoat Capital, said a focus on energy security, brought into sharp focus by Russia's invasion of Ukraine, was more vital than ever.
In May, the European Commission unveiled its €300bn REPowerEU plan to wean itself off Russian fossil fuels, but Kaiser said this winter would "be a test of European solidarity, because for now the key lever is energy savings". She said: "But we need to ask what will the situation look like beyond the next winter and in the mid to long term."
Kaiser anticipated a rapid switch to electric heating systems as well as a move to green hydrogen solutions, which she said was a key pillar in the EU's energy security strategy.
Kaiser agreed with Coppel that the ambition to reach net zero – and energy security – by 2050 could be held back by rising costs, supply-chain issues and labour issues.
She added that the sheer scale of what was needed, the unreliability of wind power, insufficient solar energy production, regulatory and planning red tape could also provide unwanted hurdles.
"There are two big points: the instability of the grid and how we can achieve better of interconnectivity across Europe," she said.
"There's not much happening out there at the moment. In fact, most countries have already fallen behind they would have planned long before the crisis started, and I'm not seeing funds doing much to accelerate this at the moment.
"So we have an ageing grid in Europe, and input that wasn't designed for much capacity of distributed renewable generation. So this is a key area that I think requires further investment."
Kaiser stressed that energy transition and security must go hand in hand. "This is actually a great opportunity to accelerate the energy transition and something that we quite excited about. If we're serious about the transition and energy security, we need to invest in renewables and storage in the grid and and how this affects power generation over the short term.
"Another big question is whether we have the right technical expertise to provide flexible low carbon technology."
To read the latest edition of the latest IPE Real Assets magazine click here

Prior to joining IPE in June 2022, Lauren worked as editor, real-time analysis at the Wall Street Journal and as a senior financial journalist at a variety of UK nationals including The Sunday Telegraph and the Mail on Sunday. Lauren has always had a passion for business journalism and the built environment, having graduated in Urban Estate Management, before taking an English degree at the University of London. Away from the office, she's preparing for a marathon-length hike in aid of The Alzheimer's Society.
View full Profile