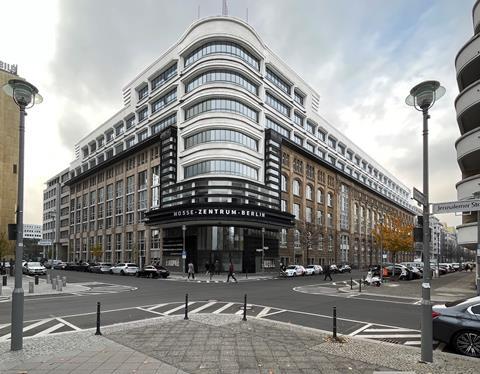 Pan-European real estate fund manager Henderson Park has acquired the historic Mosse-Zentrum office building in central Berlin from German fund manager Real IS.
Henderson Park said it would modernise the 37,000sqm office, built in the 1900s, through a value-add "manage to green" refurbishment, targeting a minimum LEED Gold certificate.
The fully-let building is being sold by the European core-plus real estate fund Real IS BGV VI, which raised more than €600m from German investors in 2016.
Mosse-Zentrum once served as a printing house and office of the Berliner Tageblatt newspaper and is located in the Zeitungsviertel, or newspaper quarter.
Plans also include refurbishing the ground floor lobby and façade, upgrading outside areas and installing communal hubs, including co-working space, and adding food-and-beverage provisions.
Henderson Park said Berlin's central business district was experiencing strong occupier demand, supported by a sub-2% vacancy rate and a limited supply of modern space.
Henderson Park has appointed Stoke Park Capital as its local operating partner for asset management and the implementation of its business plan.
Christophe Kuhbier, managing director at Henderson Park, said: "With corporates all over the world reassessing their office requirements in light of changing working patterns and a competitive talent market, it has become acutely apparent that occupiers will not compromise on the quality and sustainability of their workspace or the services it provides.
"Our investment focus remains on the best located and connected office properties in leading European cities offering grade-A potential through active asset management with sustainability at its core."
Robert Hellerschmied, director at Henderson Park, said: "Mosse-Zentrum still has significant underlying potential which we, alongside our operating partner, intend to unlock through a range of green refurbishment initiatives that will create a workspace fit for modern occupiers and in line with our own ESG policy.
"We are also delighted to have worked together with Real IS in such a collaborative and professional manner to execute this transaction and are grateful to take over the ownership of this landmark asset."
Axel Schulz, global head of investment management at Real IS, said: "The Berlin-Mitte submarket is a highly attractive office location in Germany's burgeoning capital, which benefits from low vacancy rates. We are pleased to be able to reinvest for our investors the funds acquired through the sale."