Fundraising by real estate investment managers fell by more than a third in 2020 compared with 2019, according to an annual survey by real estate fund associations ANREV, INREV and NCREIF.
However, 2019 was the highest year on record with €196bn raised, and the €123bn of capital raised in 2020 was greater than the volume secured in 2016.
Nearly a third of fund managers failed to raise any new capital in 2020, of which many cited a lack of available investment targets as the main reason. The number of vehicles raising capital dropped year on year from a record 982 in 2019 to 699 last year.
Despite this slowdown, the average volume of capital raised by individual vehicles was higher in 2020 than in 2019, with the exception of those a North American regional strategy. The average capital raised for funds with global strategies was €800m versus €500m in 2019.
More than two thirds (76%) of investment managers expected to see an increase in capital raising activity over the next two years.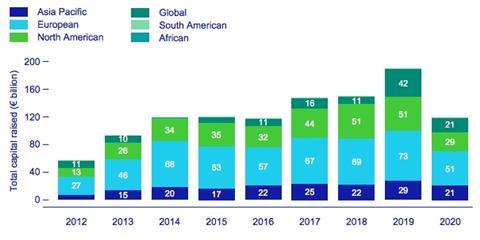 The largest portion of capital (41%) was raised for Europe-focused funds, with vehicles targeting North America and Asia-Pacific representing 24% and 17%, respectively. Global vehicles accounted for 17%.
Of the total capital raised, a record 60% was for non-listed funds, which INREV said emphasised the continuing strong appetite for such vehicles among institutional investors around the world.
Of the €51bn raised for European strategies, 39% was for non-listed funds, while separate accounts were the second most important vehicle, securing 23%.
Non-listed debt products accounted for the largest increase in capital raised for European strategies, jumping from 4.6% in 2019 to 19% in 2020, with a strong preference for senior debt.
For the first time since 2015, insurance companies became the most important source of capital for vehicles with a European strategy, accounting for 37% of the total capital raised in the European region.
More than half (56%) of the new capital raised for European strategies was allocated to funds with vintages preceding 2011. While newly launched funds – with a 2020 vintage – represented only 4% of the new capital raised.
Funds launched in 2019 accounted for 14% of the total capital raised in 2020 – the first time since the series began in 2011 that funds raised more capital in their second year than during their first.
The share of new capital raised for European funds following a multi-country and multi-sector strategy increased from 41% in 2014 to 62% last year. Single-country multi-sector funds were still the second choice for investors, with a share of 14%, while single-country single-sector funds and multi-country single-sector funds accounted for 12% and 11%, respectively.
The largest proportion of capital raised for European single-sector strategies was targeted towards residential/multi-family apartments (38%), followed by industrial/logistics (33%) and offices (16%). Funds offering retail strategies accounted for just 8%.
INREV said the move towards multi-sector and multi-country strategies "reflects investors' growing appetite for diversified strategies through large, stable, income-producing assets with low leverage".
Lonneke Löwik, INREV CEO, said: "The fall in the level of capital raised in 2020 compared with the record-breaking achievement of 2019, obviously reflects the impacts of COVID-19.
"Not all capital has been invested and there is less investible product available. However, this research also highlights a clear sign of continuing strong investor appetite for non-listed real estate, a positive outlook on future capital-raising activity among investment managers, and a general expectation that new products will emerge."
Asia-Pacific association ANREV said that, although the US$26.2m (€21.7bn) raised for Asia-Pacific strategies in 2020 was below the record of US$32.6bn raised in 2019, it was comparable with 2018 (US$26.9bn) and 2017 (US$26.2bn).
"This is a positive indicator that real estate has retained its attractiveness despite the COVID-19 pandemic," ANREV said.
Amélie Delaunay, director of research and professional standards at ANREV, said: "This year's capital raising survey shows incredibly encouraging data on investor appetite for non-listed real estate in Asia-Pacific and globally.
"Although the amount raised for strategies in Asia-Pacific and globally fell in 2020, it should be seen in the context of recent years, which indicate a normalisation of capital raising activity in 2020 rather than a sharp dip in appetite.
"To raise similar levels of capital as in previous years during one of the most tumultuous years in living memory speaks volumes about the level of interest and healthy appetite for non-listed real estate as a component of investor's portfolio.
"With more than two thirds of investors anticipating an increase in near-term capital raising activity, we can expect to see fundraising figures hold up well for the foreseeable future."
To read the digital edition of the latest IPE Real Assets magazine click here.