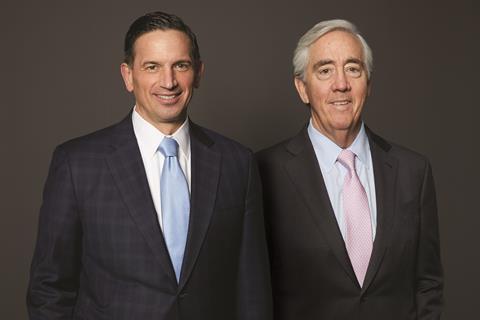 Joseph Harvey will succeed Robert Steers as CEO of Cohen & Steers next year.
Harvey, who joined real assets investment manager nearly 30 years ago, will assume the top role on 1 March 2022, while also remaining president of the firm.
Steers, who co-founded the company with Martin Cohen in 1986, will become executive chairman. Cohen remains chairman of the board of directors.
New York-headquartered Cohen & Steers, was one of the early investors in real estate investment trusts (REITs) in the US, and has since established itself as one of the largest investment managers in listed real assets, managing more than $100bn (€86.4bn).
Harvey, who joined as a REIT analyst in 1992, before becoming a portfolio manager and then CIO from 2003 to 2019, has long been tipped to succeed Steers. He also became acting CEO during a period this year when Steers was on medical absence.
Earlier this year, Steers told IPE Real Assets: "We had shared publicly that Joe is identified as my successor and, for the three months that I had to be on medical leave, Joe and the executive committee as a whole demonstrated the success of our succession planning process, because the company didn't skip a beat."
Steers said Harvey had "demonstrated this year he's ready to go, and so at some point in the not-too-distant future, he'll assume permanent CEO".
In a statement today, Harvey said: "I am honoured to have the opportunity to lead our firm's next phase of growth, while continuing to deliver the excellence, innovation and outstanding performance that investors and shareholders have come to expect from Cohen & Steers.
"We remain committed to being the largest, independent specialist manager focused on real assets and alternative income, while innovating investment strategies that deliver alpha, income, diversification and inflation protection."
Steers said: "Joe has been here since the early days of Cohen & Steers and has been integral to our firm's many accomplishments, generating superior investment performance, broadening our investment capabilities, expanding globally, going public and leading our firm through many cycles.
"I have had the privilege of working with Joe for the past 29 years and know that he will be highly effective at taking our firm to new heights."
Harvey will take over at point when Cohen & Steers is managing more than $100bn.
The company which is known for specialising in REITs and other listed real assets, recently re-hired its former CIO, James Corl, to expand into private markets.
Steers told IPE Real Assets that the intention was to the position the company "at the intersection of public and private" real assets and to "offer investment and asset-allocation advice to clients looking at real estate, holistically – not simply public or private".