CBRE Investment Management has acquired a 10,910sqm housing portfolio in Berlin.
The 142 housing units, located in five separate buildings in the central Mitte district were bought for an international mandate.
The apartments are part of the Mittenmang urban quarter, completed three years ago. The Mittenmang urban quarter consists of freehold and leasehold flats, micro-apartments and subsidised housing.
One of the properties, in Klara-Franke-Strasse, also includes an 80sqm office and 70 parking spaces.
The seller is Lakeward Real Estate, an international real estate private equity investment firm based in Switzerland.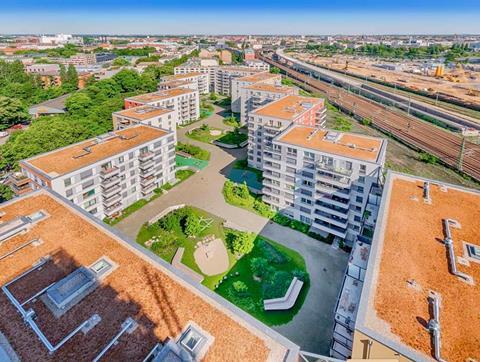 Sebastian Ehrhardt, head of transactions DACH at CBRE Investment Management, said: "The apartments stand out thanks to the high quality of the building and the location, making the asset an ideal investment for our international mandate.
"Adding to that, the development was made with social responsibility to the Berlin neighbourhood in mind, which fits well with our ESG strategy. Mittenmang was conceived with a focus on adding value to the community and at locally affordable pricing."
Jean-Antoine Robert, senior portfolio manager at CBRE Investment Management, said: "Mittenmang fits our mandate's long-term investment strategy of acquiring future-proof assets with sound demand fundamentals.
"We believe this centrally located property will continue to attract strong tenant demand and deliver stable cash flows."