Singapore real estate giant CapitaLand is better known for running listed real estate investment trusts (REITs), but last year it launched the CapitaLand Open End Real Estate Fund (COREF), entering a growing market for pan-Asia-Pacific private real estate funds.
CapitaLand has launched the fund relatively quietly, but it has big ambitions for the vehicle after having raised US$500m (€474m) in a first close. "This is going to be the flagship regional fund," Simon Treacy, CEO for private equity real estate, told IPE Real Assets. "It is going to grow into a multiple-billion-dollar fund in the next 10 years. We want it to be the dominant fund in this region."
The rationale is simple. "After 20 years of developing a major real estate operation through private equity, in terms of clubs and discretionary and non-discretionary funds – in addition to operating platforms from India to Australia and China to Japan – we are well placed to find buying opportunities at different points of the risk cycle," he said.
CapitaLand has been best known as the company behind some of Singapore's largest REITs and business trusts, perhaps less so as a manager of private funds. But after last year's strategic restructuring and demerger from its development business, its S$83bn (€56.7bn) investment management arm is now under the umbrella of CapitaLand Investment.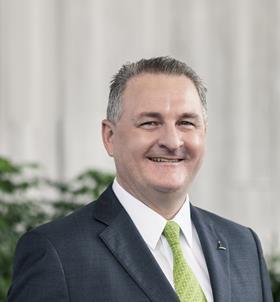 Last year, CapitaLand Investment hired two big guns from global real estate: Treacy, formerly Blackrock's global CIO, and Patrick Boocock, former managing partner and head of Asia-Pacific at Brookfield Asset Management, as CEO of private equity alternative assets. Treacy and Boocock have been tasked to spearhead growth in CapitaLand Investment's private equity deals and COREF is a key initiative.
COREF will pursue core-plus investments, which Treacy said is a "nice space" into which to direct the group's resources. "The thesis is that we have 11,000 people in Asia who have hands-on experience with assets and are ready to extract value from assets with an active asset-management approach," he said. "This plays into our strength. As one of the largest regional groups we can look at assets quite differently, and provide more alpha return."
So far, COREF has acquired interests in three offices – two in Japan and one in Singapore – for a total of US$490m.
Although CapitaLand has a significant presence in China and India, Treacy said that, during the initial three-year "build-out" phase, COREF will not invest in China or outside its four target markets of Singapore, Japan, Australia and South Korea.
It will focus on office, industrial and daily-convenience retail assets, sourced from within the group and within the wider market, including off-market deals and public tenders. It will not invest in speculative developments.
The market for core real estate funds in Asia-Pacific is becoming increasingly crowded. As recently reported by IPE Real Assets, fund managers of Asia-Pacific core funds are preparing for renewed interest from global investors.
"We are competitive now and we still have more capacity to co-invest to take down the right deal," said Treacy. "We have a significant balance sheet as the CapitaLand Investment group as a whole moves to an asset-light strategy."
Kevin Chee, who moved from running one of CapitaLand's public REITs to become managing director of private funds, responsible for COREF, prior to the recent CapitaLand strategic restructuring, said CapitaLand Investment was a cornerstone investor with a 20% interest in the fund.
He said the balance of the initial capital was raised from Europe and Asia. "As the fund grows bigger," he said, "we will continue to align our investments with those of our investors. We are talking to new investors and getting good traction. As an open-end fund, we continue to raise capital. We want to raise as much as we can as we have a long pipeline of potential deals to bring to our investors."
The fund was launched in August last year. Chee said travel restrictions combined with border closures have not been easy for the marketing team, but with the situation improving, Chee and his team are planning to meet more investors.
"The universe of investors is wide. [But] not everyone in Europe knows about CapitaLand. We will have to start to build up our name and promote ourselves in Europe," he said.