US real estate private equity firm Ascentris has formed a partnership with fellow manager CA Ventures to develop a 395,000sqft industrial project in Atlanta.
The joint venture has secured a construction loan from Stifel Bank and Trust for the speculative development of the project comprising two buildings.
Tricia Noble, partner and managing director with Ascentris, said: "Atlanta's industrial market continues to be robust, and we believe the property's strong local distribution location, proximate to significant population growth, and high-quality construction will make for a successful development."
Steve Rowley, CA Industrial's VP and southeast market officer, said: "We are pleased to contribute to the further economic growth of the region through the development of McEver site, which will create jobs for Buford citizens while fulfilling the region's demand for industrial and logistics facilities.
"We look forward to strengthening our partnership with Ascentris through the lease-up and delivery of this premium asset."
Ascentris has also made its first-ever investment in the Salt Lake City market with a joint venture with Lowe Property Group (LPG) to recapitalise and redevelop the 193-unit The Residences at Sugar Alley.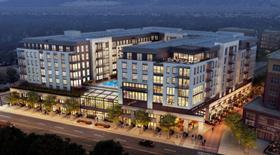 LPG, with its partner EightBay Advisors, began development on Sugar Alley in 2020. In October 2022, when the property was approximately 85% through construction completion, a fire occurred that burned the property's wood frame structure down to the three-story concrete podium.
Ascentris re-capitalised the property and, together with LPG, will re-develop The Residences at Sugar Alley.
The asset will be redeveloped over eight stories for residential, 17,000sqft of retail on the ground floor and three levels of structured parking.
To read the latest edition of the latest IPE Real Assets magazine click here.