3i Infrastructure is taking full ownership of ESVAGT, a provider of emergency rescue and response vessels to the offshore energy industry in and around the North Sea and Barents Sea.
The infrastructure fund manager is buying the 50% stake it does not already own for £268m (€315m) from AMP Capital, with whom it jointly acquired ESVAGT in 2015.
3i held a strategic review of its investment in the Danish company this year, inviting offers for its stake in the company, but decided against selling.
It said binding offers for 100% of the equity were received but "not at a compelling price", and so it elected to offer to buy AMP Capital's stake.
The fund manager said that 3i Infrastructure and AMP had helped the company shift its strategic focus towards service-operation vessels (SOVs), which represented less than 10% of earnings when it was acquired in six years ago.
Since then, ESVAGT has delivered six new SOVs and entered into a joint venture with Crowley to support the emerging offshore wind energy market in the US.
The demand for SOVs is expected to grow in line with the expansion of the offshore wind industry in the coming years.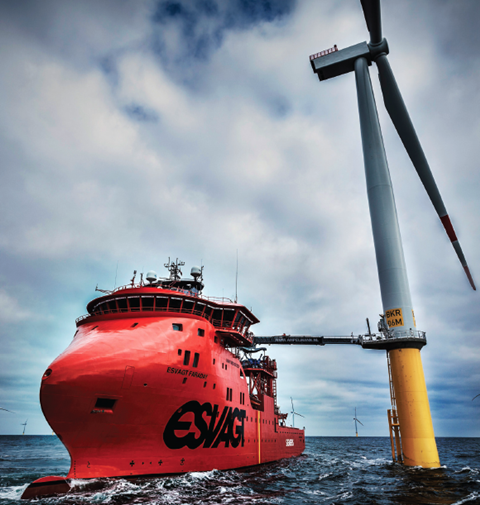 Richard Laing, chair of 3i Infrastructure, said: "ESVAGT's transition into a market leader in European offshore wind has been a major achievement. We believe that it is well-placed to benefit from continuing attractive growth prospects in the wind sector and we are delighted to be acquiring 100% of the business."
Phil White, managing partner and head of infrastructure at 3i Investments, and investment manager of the company, said: "We very much look forward to continuing to work with CEO Peter Lytzen and the ESVAGT team to take advantage of the future growth of the offshore wind market, both in Europe and the US."
Phil Pacey, principal at AMP Capital and asset manager for ESVAGT, said: "We have been invested in ESVAGT since 2015 and are proud to have supported management in growing a leading SOV platform that has created significant value for our investors.
"ESVAGT has a crucial role in servicing offshore energy, and our sale reflects the maturity of our investment and the attractiveness of the market for high-quality assets that support the energy transition."