Norges Bank is moderating its real estate ambitions while opening up to unlisted renewables. Rachel Fixsen explores what is happening at the sovereign wealth fund
Two big changes to Norway's sovereign wealth fund (GPFG) announced this year have made it clear that its NOK9trn (€940bn) real assets allocation has embarked on a new course. Aspirations around unlisted real estate appear to have been tempered, while unlisted infrastructure has finally been given the go-ahead.
In February, Norges Bank Investment Management (NBIM), which manages the fund, announced that it would disband the separate property arm it launched four and a half years ago and bring unlisted real estate management back into its main operations. The decision can be seen as part of the gradual reining in of its ambitions for unlisted real estate over the past few years. In 2016, it raised its allocation target to 7% – a lofty ambition given the fund's ever-growing size. Now the aim is to make real estate 3-5% of the fund, including both listed and unlisted investments, and with no specific limit for either.
Nothing NBIM has announced means the current unlisted allocation – 3% at the end of 2018 – will fall. But the fund could move to have a more equal balance between unlisted and listed real estate investments. Listed real estate has remained steady at about 25% of the overall property portfolio – amounting to NOK81bn compared with the unlisted total of NOK247bn.
In February NBIM said the real estate portfolio should be broadly diversified, with a simple strategy giving weight to cost-efficiency and investments that required limited resources. It also said there would be limits on how much the fund invests in future developments, but it did say there should be "sufficient flexibility to take advantage of special investment opportunities that may arise in the unlisted real estate market".
Then, in April the finance ministry announced that it would allow the fund to invest in unlisted renewable energy infrastructure, via its existing mandates for environment-related investment. This is the first time the GPFG will be able to invest in unlisted infrastructure – something NBIM has been putting the case for in recent years. Explaining the reason for the decision, the ministry said the market for renewable energy was growing rapidly, and that a lot of the opportunities were to be found in the unlisted market.
The top limit of the environment-related mandates is to be increased to NOK120bn to accommodate the new investments, and the ministry is also proposing a separate cap on the holdings of 2% of the fund to limit risk.
Sony Kapoor, managing director of the think tank Re-Define, who has advised Norway's government on the fund's policy, says his organisation has been pushing for the fund to start investing in unlisted renewables for 11 years.
"I do think it is too little too late, but it is still an important move in the right direction, particularly because renewable energy is one of the few assets that performs well in an adverse climate scenario," he says. "We showed in 2018 that if the fund did not divest fully from oil and gas, then they needed to invest more in renewable energy.
"It is a political compromise, which is something at least, but they have also disappointed in two ways – by limiting the amount and scope of renewable investments and by not divesting fully from oil and gas."
London-based independent adviser Georg Inderst sees the move as not overly ambitious, even despite of fund's size, because renewable energy will form part of an established part of the portfolio. The environmental mandates already have NOK54bn of listed equities and green bonds, according to the NBIM's letter to the ministry in October 2018.
"Doubling the upper limit of the special environment-related mandates to NOK120bn implies a maximum for unlisted renewables of well below 1% of assets and, furthermore, a very gradual approach, with internal management, is envisaged," he says.
In absolute terms, though, there could still be €6bn or so of capital flowing into the sector if NBIM decided to use this latest freedom.
"However, it won't be easy to deploy the money for the manager, given the strong demand against a tight supply of attractive renewable assets in the space," says Inderst. "Renewable energy already constitutes over half of institutional infrastructure investments. Moreover, more investors continue to plan higher allocations in this sector – this despite often stretched valuations exactly in the areas where GPFG will be targeting: projects in developed markets with low operational and market risk."
Inderst also thinks it unfortunate that an institutional investor, even one of this size, and with a long-term horizon, should invest little or nothing in emerging-market infrastructure, where the needs are highest and the investment opportunities are better.
The finance ministry was specific about its aims for the new infrastructure investments to be conducted cost-effectively. NBIM said in 2018 that it expected costs for renewable energy to be similar to unlisted real estate investments at 0.23%. This could be a challenge, according to Inderst.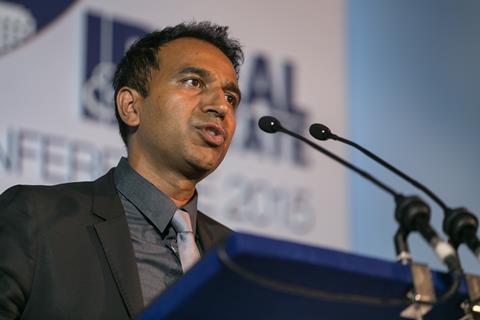 Kapoor also regrets the decision not to allow the fund to invest in renewable assets in non-OECD countries. "I think this is a bad move, because it misses out in the area where the biggest opportunities lie, such as Indian solar power, where the business is subsidy-free and geographically where solar power is easiest to generate," he says.
With the Norwegian government being very conscious of political and regulatory risk, NBIM will proceed cautiously and gradually, and the focus will be on operating assets – rather than greenfield sites or developments – in developed markets, says Stephen Ryan, a Dublin-based independent investment adviser and a former research manager at INREV.
"The opportunity set is likely to be dominated by wind and solar-energy projects, on the basis that hydropower is often in state hands," he says. "Its strategy in this space will not be defined by any benchmark index."
Ryan says the fund will try to use its real estate expertise. NBIM has been at pains to point out, in its letter to the finance ministry at the end of October, that "it will be possible to make these investments with far fewer employees than for the management of unlisted real estate investments".
Financially sound
Meanwhile, Espen Henriksen, associate professor of financial economics at BI Norwegian Business School, says the ministry's recommendation to add unlisted renewable energy infrastructure to the GPFG seems financially sound.
"Without jeopardising the integrity of the asset-management model, this recommendation will give the fund manager the opportunity to prove its ability to build competence, both to select the most promising among unlisted renewable-energy infrastructure companies and to manage these assets well."
A key feature of the Norwegian asset management model has been to almost solely invest in listed assets, Henriksen says. "Insignificant exposure to opaque markets and unlisted assets and low idiosyncratic, operational risk have allowed for higher systematic market risk and a higher equity share than what would otherwise have been advisable." Henriksen says this remains the case even after the recommendation to allow for investments in unlisted infrastructure for renewable energy.
He says the financial and democratic success of the sovereign wealth fund's asset-management model has been based on broad support for its financial objective and, in particular, for not using the fund to pursue political objectives. "Hypothetically, if the ministry had opened up for unlisted infrastructure investments without clear economic criteria, it would have necessitated political discretion. And herein would have lain the danger: opening up for political discretion could have encouraged political symbolism which may ultimately have undermined the core success of the model."
As it is, though, the recommendation seems to balance the option of allowing wider investments in this important and growing sector with protecting the integrity of the model, says Henriksen.
"The recommendation comes with financially sound and clear economic criteria. The most important ones being that these investments are subject to the same transparency requirements as the fund's existing investments, that they will be evaluated within the fund manager's current performance measures, and that there will be no changes to the fund manager's tracking error."
Inderst, meanwhile, raises a point about another type of political risk. Up to now, the ministry had resisted allowing any form of unlisted infrastructure investment for various reasons, especially political and regulatory risks for a sovereign wealth fund of such size.
One of the two main arguments put forward in October by NBIM to rationalise the fund's entry into unlisted renewable energy infrastructure concerned a perceived dip recently in the kind of political risk that has dogged some subsidy-dependent, solar-power investments in the past.
While one of NBIM's arguments was that renewables have now become more competitive versus conventional energy sources, Inderst said, the manager also felt there was a now "somewhat reduced regulatory and political risk". Inderst says this lessening of risk was also due to some regimes now offering long-term power contracts with fixed prices.