Not long after Aon acquired Townsend, StepStone revealed that it planned to acquire Courtland Partners. What do these mergers say about the real estate investment advisory industry?
In close succession this January, two mergers reshaped the real estate investment advisory landscape: StepStone Group Real Estate confirmed that it would acquire Courtland Partners, and Aon Group closed its acquisition of The Townsend Group. Both deals speak to the evolution and growing complexity of the real estate and real assets investment market.
The acquisition of Courtland, expected to close in March, will make StepStone one of the largest providers of real estate investment solutions, with more than $2bn (€1.6bn) of assets under management and about $100bn of capital allocations under advisement – the group expects to deploy about $10bn a year through primary fund investments, co-investments, secondaries, and recapitalisations.
Aon's acquisition of Townsend has gone a long way to cement its position as an alternative investment adviser, a capability developed through the acquisition of Chicago-based Ennis Knupp and Associates as well as Hewitt, the benefits consultant. Aon's advisory business, Aon Hewitt Investment, has $4.1trn of non-discretionary assets and $100bn of discretionary assets under advisement. Townsend will be adding $176bn of institutional real estate assets under advisement as well as $14.5bn of real estate equity and debt investments to this total.
Courtland and Townsend have certain similarities. Both are very successful firms that were looking to grow to the next level.
"We were always looking for the next stage of growth, and we realised we would not be able to do that organically," says Gianluca Romano, managing director of Courtland Partners Europe. "Some sort of strategic partnership was always on the table."
Both were facing the need to change their ownership structures. At Courtland, the need for change was accelerated by the passing of founder and majority owner Michael Humphrey in 2016 – his ownership stake had passed to his estate, which was not a logical owner for the company.
Aon will be Townsend's third owner since 2011, when it was acquired by private equity group GTCR, before being taken over by NorthStar Asset Management in 2015. "It was in the best interest of all stakeholders, beginning with our clients, that we partner with a firm with the synergies that would enable us to continue focusing on investing well and creating superior returns for our clients," says Townsend CEO Terry Ahern. "Aon provided us with those synergies."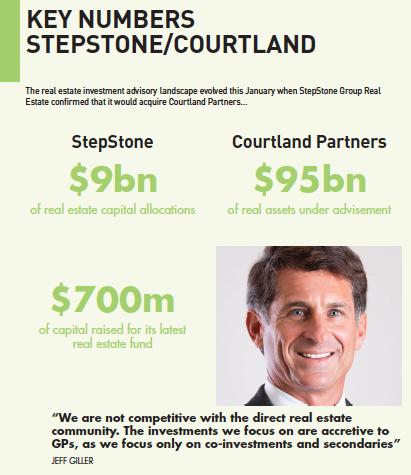 And both found new owners that were a good strategic fit. StepStone was looking to enhance its research platform, according to head of StepStone Real Estate, Jeff Giller. Courtland has one of the best and largest research teams in the business.
Although the firm was not actively looking for a partner when it was presented with the possibility of acquiring Courtland, StepStone was seeking to build out its business. On its own, its real estate business accounted for $7bn of assets under advisement and $2bn under management and a 24-person team. In the real estate advisory industry, StepStone's client base was largely offshore, so it does not share any clients with Courtland (there is some overlap on the private equity side).
Giller believes that the combined business will manage any potential conflict of interest issues. "The conflicts people often think of when advisers also manage assets are when products are competitive with other managers they are evaluating or when they recommend their own products to clients they are advising," he says. "But we are not competitive with the direct real estate community. The investments we focus on are accretive to GPs, as we focus only on co-investments and secondaries, which provide liquidity to their LPs and help them right-size deals for their funds."
Giller also stresses that the firm will never recommend one of its products to its clients.
StepStone's ability to manage conflicts of interest was important to Courtland. "StepStone had the most rigorous and comprehensive way to manage conflicts and stay true to being a fiduciary adviser," says Romano. "It is an issue that needs to be managed, and StepStone has the best ways to manage it."
StepStone's acquisition of Courtland Partners comes four years after the New York-based firm first moved into real estate by bringing in the management team of Clairvue Capital Partners. Jeff Giller who leads StepStone Real Estate today, was also the head of Clairvue, and before that the CIO of Liquid Realty.
For Townsend, Aon is bringing a new potential client base as well as expertise in sales and marketing, which the firm was missing. "We will have access to Aon's trusted relationships," says Ahern. "There's an increasing focus on illiquid alternatives, and we can more quickly provide opportunities to their clients. At the same time, we can further build our platform and attract and keep intellectual capital."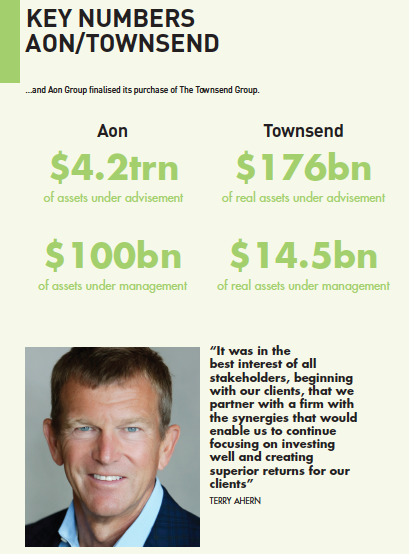 Russ Ivinjack, senior partner and head of Aon's US investment committee, says: "We sought out Townsend because real estate and real assets are systematic to our clients' portfolios. The depth and breadth of Townsend's platform will allow us to provide a broader array of strategies and execution, including co-investment."
In providing some context to the Aon-Townsend deal, Ahern also sheds light on the Courtland-StepStone acquisition. He notes that the complexity of the institutional real estate industry has grown exponentially since he entered the field in 1986. "Today you need significantly more resources not just to invest but also to provide advocacy and oversight," Ahern says. "Some firms are trying to build up internal resources; others are staying as they are, as specialists."
Equally, in 1986 a relatively small number of managers – about 20 – controlled 75% of the available assets and the focus was largely on core. Today, "the delta in returns is dramatic compared to then, and strategic decisions are the fundamental drivers of returns", Ahern says. As a result, manager selection is significantly more meaningful today.
In his view, confronted by increasing complexity, investors have two options. They can turn to big allocation funds, which are essentially a one-stop shop and might provide good performance. But investors may not be getting the best possible exposure. Or they can turn to an adviser "that gives them to option to look at the entire universe across all managers – you don't have to default to a big allocator fund", Ahern says.
"That is the niche we fill. The world has changed, and we have the infrastructure to help them find solutions with the opportunity set that is in front of them. And Aon saw the need for that type of resource."
Townsend's growth has mirrored changes across the industry – it started as an advisory firm for US public pension funds before moving into discretionary asset management and then into special services and co-investment.
Similarly, one of the motivations behind the Courtland-StepStone acquisition was to place all those capabilities under one umbrella, meeting the needs of investors by providing the full range of solutions. While Courtland is bringing its research expertise and a strong client base among US pension funds and Taft Hartley multi-employer plans, StepStone is providing expertise in secondaries and co-investments.
"Some clients want to continue receiving independent advice, and some are looking for more customised solutions, such as co-investment – they want to look under the hood, working closely with their manager and being more strategic," says Romano. "We have a strong track record in providing independent advice but some clients are looking for more customised investment solutions."