New York Life's Candriam has bought a 40% stake in UK-based real estate manager Tristan Capital to expand its presence in alternatives assets
New York Life Investment Management (NYLIM) sees long-term growth potential in real assets and took the first step in pursuing that opportunity when its primary international unit, multi-specialist Candriam Investors Group acquired a 40% stake in UK-based property investment manager Tristan Capital Partners in February.
With interest rates rising from a historically low base, institutional investors will continue to look for income from illiquid assets classes, including property and infrastructure. The European market presents the prospect of adding significant new client relationships in a region where Candriam, which has €112bn of assets under management (AUM), has limited exposure as a real assets manager.
"Over the next five years to 10 years, the illiquid side of alternatives will remain one of the most attractive growth areas within asset management due to institutional investors increasing their allocations to these strategies as they diversify their sources of return," says Naïm Abou-Jaoudé, CEO of Candriam and chairman of New York Life Investment Management International, a division of NYLIM.
Abou-Jaoudé says the collaboration with Tristan marked the first step to grow the business by turning to external growth opportunities; since being acquired by New York Life in 2014, Candriam has so far increased its AUM by 70% purely through organic growth. The new focus on external growth came after a strategic review 18 months ago, when Candriam hired Elias Farhat as chief strategy officer.
"We announced to the market two years ago that we were looking to start our external growth after very strong internal growth," says Abou-Jaoudé. "We said also that we wanted to focus our action in two directions – complementary products and complementary clients. In complementary products, we were looking into European private equity, infrastructure, and everything around illiquid assets which we didn't have in Candriam."
The arrangement with Tristan ticked the right boxes. With €9.1bn in AUM and an 18-year track record, employee-owned Tristan brought a seasoned management and investment team with expertise across Europe, as well as offices in cities, including Paris, Stockholm, Milan, Frankfurt, Madrid and Warsaw.
Tristan's funds deploy capital through strategies including its core-plus Curzon Capital Partners series of funds, and value-added/opportunistic European Property Investors Special Opportunities funds.
Candriam acquired a 40% stake in Tristan, with a first option to increase that holding over time, says Abou-Jaoudé. The two firms also agreed a strategic partnership enabling Candriam to offer property investment management to clients alongside its existing offerings in fixed income, equities, alternatives, sustainable investments and asset allocation.
Candriam declined to say how much it paid for the stake in Tristan, the structure of the purchase, or the valuation of Tristan implied by the purchase price.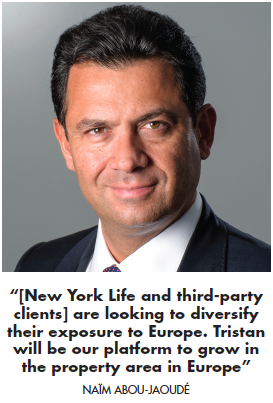 Acquisitions are often undertaken when both entities see the potential to achieve growth in excess of what could be achieved on their own. That was the logic behind the Candriam-Tristan tie-up, with a global purview, Abou-Jaoudé says.
Just over half of the $300bn (€243bn) of AUM in alternative assets at New York Life's 10 boutique investment management subsidiaries is invested outside the US.
The new partnership gives New York Life the opportunity to bring its expertise in US property investment management to the UK and EU, as well as to invest there, he says. NYLIM manages $50bn in real estate on behalf of New York Life's general account and third-party clients, in core, core-plus and debt strategies. "They are looking to diversify their exposure to Europe," said Abou-Jaoudé. "Tristan will be our platform to grow in the property area in Europe."
Tristan's strategies will also be made available to the Asian distribution network of New York Life Investment Management International, for which Abou-Jaoudé is also responsible, encompassing Korea, Japan and Australia. "We cover institutions, sovereign funds and large pension funds all over the world," he says. The new arrangement will make Candriam more competitive in a global market where many investors have been consolidating their external manager relationships and concentrating on firms that can provide a range of strategies. "Now we can bring a global offer in property, covering the US market in core, core-plus or opportunistic in equity and debt, and in core-plus and opportunistic in Europe," Abou-Jaoudé says.
To accelerate global growth, NYLIM has hired the former chief marketing officer for EMEA at BlackRock Asset Management to serve as its first global chief marketing officer. NYLIM CEO Yie-Hsing Hung said the newly-created role demonstrated the business had evolved from a US-focused organisation to a global asset manager.
While Tristan helps fill in the European property hole at New York Life Investment Management International, Candriam remains interested in further expanding its presence in illiquid sectors by adding other real assets capabilities. In addition to considering European private equity and private debt managers, "infrastructure is on our map", says Abou-Jaoudé.
In terms of capital flows "institutional investors are increasing the percentage of allocation in real assets and also trying to enhance their returns because interest rates are so low", he says. "It could be private debt, property, or infrastructure. They are looking for illiquid assets."