European listed property companies have fared worse than the broader stock market, and they offer interesting entry points
It has been two months since the public market noticed prospects for economic troubles from a new and potent virus, sending broad European equity indices down about 25%. European listed real estate has fared slightly worse. Green Street's 41-company coverage universe, which amounts to 80% of the total listed European property market by value, is down more than 30% over the same time span.
Are public real estate companies in the bargain bin? On average, no, according to a few timeless concepts that investors in the public and private real estate markets should know and use to maximise returns. However, some property sectors currently offer much better entry points in the public market than in the private market and some sectors are downright cheap.
The recession we have entered will be especially steep. A social distance-induced recession is a concept that even a Hollywood writer could not have come up with. How it impacts sectors of the economy is equally unprecedented. That said, the depth of the recession will be limited, at least for some time, by governments and central banks reacting faster in the first 18 days of March than they did in the first 18 months of the 2008-09 recession. Income support for individuals, business loans, and quantitative easing rounds inclusive of corporate bonds have all injected much needed support into the system.
Nevertheless, real estate is near the top of sectors negatively hit. This is visible in rent deferral and rent relief requests that have been raining on owners. In the UK, about a third of retail rent payments were made for 2Q 2020, a historically low percentage. The office and industrial sectors fared much better, but nonetheless fell well short of the type of rent collection they normally expect at the start of a quarter. This experience will be repeated throughout other countries under lockdowns. It is the start of a partnership in pain between landlords and tenants, that should result in deferred income in the best cases and in lost income from weaker tenants, especially small businesses.
A diminished near-term income picture does not in itself warrant a sizable change in asset values, but prospects for a recession and the risk that some business models will be diminished post-COVID-19 do warrant lower values. The public market offers an early read on real estate values. Listed real estate share prices suggest that properties are worth about 20% less versus February 2019. This is far from a perfect tool. Yet, more often than not, the public market serves as a directional pricing crystal ball for the next year in private real estate markets.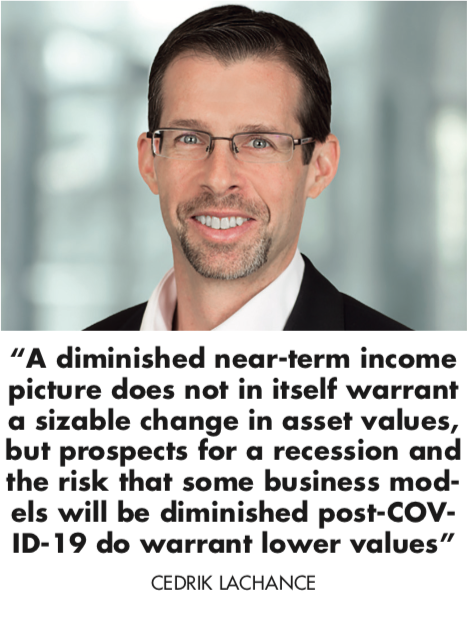 Digging a layer deeper than these averages that could occur over 12 months, we believe private-market prices are unchanged in various niche sectors such as self-storage and medical office, and about flat to marginally lower, depending on the country/market in residential or industrial. However, real estate values are on shaky footing in several other sectors. Student housing (-5%), office (-6%) and retail (-15%) asset values have decidedly moved lower already, and these changes were recently made in our spot NAVs for European listed property companies. Share prices suggest even lower property prices in the future.
Is private real estate cheap? Like so many investment questions, it deserves a relative answer. Private-market real estate values are best compared to the corporate bond market rather than a 'risk free' government bond, as corporate bonds reflect the credit quality of industry or tenants that occupy the space. When looking at the historical relationship between real estate expected returns and corporate bond yields (both investment-grade and non-investment-grade rated), we expect real estate to slightly underperform corporate bonds. For this analysis, the starting real estate values are Green Street's spot market values, which are more real time and therefore often lower, than appraised real estate values published months ago.
Is public real estate cheap? The public market trades at about a 10% discount to our spot estimates of private market values. As a result, in many property sectors it offers a better entry point than investing in the private market. The public market offers unique opportunities to those that have the flexibility to invest either in public or private markets.
For instance, retail real estate trades at a 16% discount to our spot asset values (and a 35% discount to the asset values last published by European property companies) in the public market, which leaves little reason for a pension fund to purchase retail in the private market when it trades much cheaper on a listed exchange. Deploying capital in both public and private real estate by taking advantage of pricing disparity in one market versus the other is one of the best ways to create real estate alpha.
Which sectors offer the best value? Property sectors have different economic sensitivity levels, as measured by swings in fundamentals, to a recessionary environment. In a normal recession, assuming this qualifier ever applies, lodging, office, retail, and industrial are generally most negatively affected. By contrast, residential sectors, from student housing, to multifamily and nursing homes are shelters in the storm. Medical-office buildings and self-storage also generally prove recession resistant.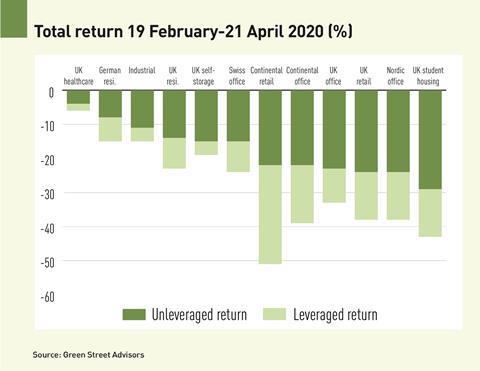 But in a social distance-induced recession, norms do not apply. With the disintegration of the travel industry and mandated closures of most stores, lodging and retail real estate have been vastly more negatively impacted by Covid-19 than any recession poor-case scenario would suggest. With schools closed and the virus most damaging to an older population, the student housing and nursing homes sectors have also suffered greatly. On the positive side, industrial business is benefiting from increased e-commerce demand and residential real estate, even with a population suffering from lower income or greater unemployment, is on sound footing.
These trends have been largely reflected in the public market. At the time of writing, the UK medical-office sector had performed best in the downturn, followed by the German residential business, both meeting expectations for reaction to a recession. On the other side of the spectrum, office and retail have underperformed. We would argue that retail should have underperformed even more in the public market.
On the positive, side, there are good pockets of value in Nordic office and self-storage. And for the more adventurous investor, student-housing providers should experience the biggest rebound if the world returns to normal in two months and the next school year is not affected.
Cedrik Lachance is director of REIT research at Green Street Advisors
Analysis: COVID-19, the great real estate catalyst
1

2

3

4

5

Currently reading

Green Street: Are there bargains to be had in European REITs?