Real estate stocks have fallen recently. But a misunderstanding of the relationship between REITs and interest rates is creating an opportunity
Despite a generally healthy real estate market, real estate investment trusts (REITs) have been held back amid heightened short-term sensitivity to interest rates. While rates could remain a factor, we see the recent pullback as a chance to build allocations to REITs: they look attractive next to stocks, bonds and private real estate; equity correlations are at a 16-year low; and better fundamentals may be on the horizon.
Rising rates do not happen in a vacuum. One of the things we find some investors and the financial press consistently get wrong about REITs is their relationship with interest rates – that if rates are rising you should not own REITs. This belief, however disconnected from historical evidence, often seems too ingrained to suggest otherwise.
Interest rates are part of the equation, and sudden moves in bond yields can create volatility. However, REITs are not bonds. In an improving economy, landlords can raise rents as tenants fight for more space, potentially increasing cash flows to offset the effects of higher rates. In other words, it should matter why rates are rising, not simply that rates are rising.
Rising treasury yields have been historically positive for REITs when accompanied by a stronger economy. This has not been the case recently.
What has driven recent underperformance? Since the start of 2015, REITs have been among the most out-of-favour segments of the market, delivering flat returns even while growing cash flows at 7-8% per year. REITs have pulled back sharply in early 2018, trailing the broad market by 12% through 15 February, bringing one-year underperformance to 24%. REITs have also fallen behind private real estate, compared with a 3% annual return premium to the private market over the past three decades.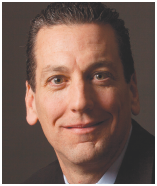 We believe a perfect storm of factors have contributed to the negative sentiment. Firstly, interest-rate sensitivity has been unusually high, with rates coming off historically low levels amid the unprecedented unwinding of quantitative easing (QE). Markets are also anticipating the need for faster rate hikes in response to tax cuts, tight labour markets and rising inflation.
In addition, REIT fundamentals have slowed as the cycle has matured, while corporate tax cuts should not directly benefit REIT earnings. The benefit is likely to be more gradual as a result of stronger demand, and many investors may benefit from lower taxes on REIT distributions.
We believe an opportunity is emerging. Considering these unusual circumstances, we believe interest rates could continue to be an outsized factor in the current environment, and volatility could persist. However, waiting for the ideal environment in any asset class is not practical in our opinion. In the meantime, we are seeing credible indications of value on multiple fronts.
While there is no way of knowing exactly when a bottom will occur, we believe an opportunity is shaping up for increasing REIT allocations, taking advantage of their attractive valuations and diversification potential.
Correlations with stocks at a 16-year low
REITs have the potential to be strong diversifiers with financial assets, due to the low correlations to stocks and bonds. We believe the need for diversification is especially important at a time when bonds face challenging return prospects in the face of QE unwinding, which could suppress their effectiveness in countering the volatility of stocks.
As we can see in figure 1, REIT earnings multiples have contracted over the past five years, while those of the S&P 500 have expanded. This accounts for most of the broad market's outperformance compared with dividends and earnings growth. Paradoxically, the market seems less concerned about the risk that higher interest rates and QE unwinding poses to stocks, even though multiples are inflated in comparison.
As for bonds, REITs are often valued in terms of the income they provide in relation to bonds. REITs currently offer a yield premium of 175bps over 10-year treasuries, wider than the historical average of 114bps and indicating relative value compared with fixed income.
As we can see for private real estate, REITs have traded at a 2.7% average premium relative to net-asset value (NAV) since 1994 (figure 2). This premium partly reflects the expected value REIT managements may add over and above the underlying real estate. As of 15 February, REITs were trading at a 4.3% overall discount, based on our estimates – meaning investors gain access to properties for less than what private investors are likely to pay, while getting the management operations for free.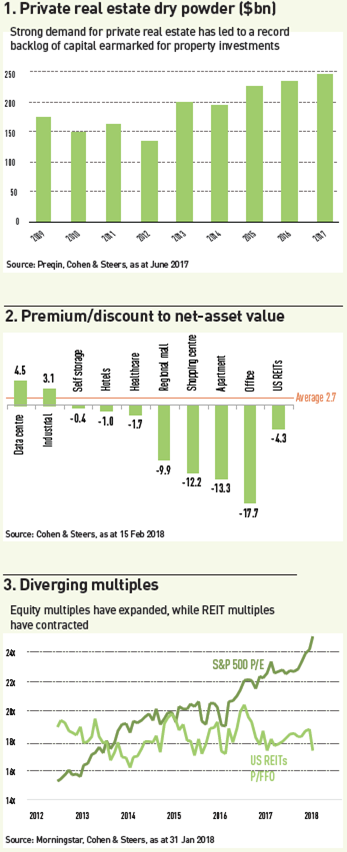 Since the early 1990s, there have been 11 occasions when REITs have ended the month at a NAV discount after spending at least six months at a premium. Most of these discounts occurred in periods of economic expansion and strong fundamentals, like now. In the 12 months following these occurrences, REITs generated an average total return of 16.1% and, in the majority of cases, returned to trading at a premium to NAV.
In our view, NAV discounts alone should not be viewed as a buy signal, but rather as context for understanding the relationship between REITs and the health of the underlying property market. When the economy is improving and real estate fundamentals are strong, yield-driven corrections have historically been a time to consider adding an allocation to REITs.
We are confident in the prospects for economic growth over the coming year, supported by a continued upturn in the business cycle, regulatory relief and continued job growth amid one of the broadest global expansions on record – with added fuel from $200bn in tax cuts.
Furthermore, we believe property supply in the US appears to be peaking, which could lead to some acceleration in fundamentals later in the year. In this context, we believe a reasonable framework for return expectations is roughly 9%, composed of mid-single-digit cash flow growth plus 4.7% dividend yields, assuming no multiple expansion.
Managers of private equity funds are holding on to a record $250bn of uninvested capital, or 'dry powder', earmarked for real estate (figure 3). Fundraising efforts have increased for 2018, suggesting this amount is only likely to grow. With the recent underperformance of REITs, private fund managers are warming up to acquisitions through the listed market, particularly for companies trading at deep and sustained discounts.
While we cannot say when REITs will reverse their recent underperformance, we see this as an attractive opportunity to begin 'legging' into higher REIT allocations, taking advantage of low relative valuations, strong diversification potential and robust demand in the private market.
We believe commercial real estate should continue to see improving operating fundamentals in most global markets amid solid economic growth, steady job creation, reasonable new supply levels, and monetary conditions that should remain relatively accommodative even as stimulus is gradually withdrawn. We continue to have a positive view of the US REIT market overall, although certain overseas property markets appear to have more runway for growth.
Among the potential opportunities in the US are offices, residential and data centres. We anticipate demand for commercial real estate in the US will moderately outpace new supply across most sectors in the coming months, but cyclical and secular changes to some sectors will result in widely divergent operating results. West Coast central business district offices should continue to benefit from strong job creation and low speculative supply, while New York and other East Coast office markets are decelerating due to substantial supply and weaker demand.
Residential sectors – including apartments, single family homes and manufactured homes are also benefitting from healthy demand, while supply remains in check. Data centre growth prospects remain attractive, in our view, due to the structural growth in e-commerce and cloud computing, coupled with the high costs and technical requirements of building new space.
Property markets in continental Europe are likely to continue to benefit from strong economic activity in the region. We favour residential property owners in most markets, Spain and Germany in particular, but more recently Sweden's expensive housing market appears to be slowing after years of healthy gains. Economic growth is likely to remain robust in Spain, with office landlords being a primary beneficiary. Offices in France also appear attractive, given the sector's strong fundamentals.
In the UK, we are focused on less-cyclical sectors. In light of our relatively negative view of economic prospects for the UK, we favour companies we believe feature more defensive or structural growth characteristics and that will likely remain relatively insulated from an economic deceleration. These include logistics warehouses, student housing and healthcare landlords.
We remain positive on developers in Japan, given attractive valuations and solid fundamentals. We maintain our preference for certain Japanese REITs that offer the ability to deliver compelling dividend yields and/or earnings growth. In Australia, the Sydney office market is expected to experience net demand growth as new supply tapers off, boosting property occupancy and rental rates. We also favour logistics landlords, which are experiencing strong demand from the growth in e-commerce.
Thomas Bohjalian is executive vice-president and head of US real estate at Cohen & Steers