New York continues to demonstrate its resilience as one of the world's biggest global real estate investment targets. Christopher O'Dea reports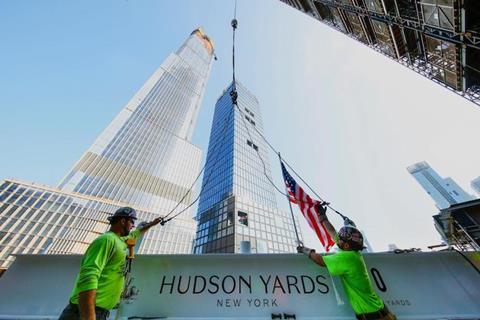 Founded as a trade and commercial centre by the Dutch West India Company in 1624, business continues to reign supreme, and modern New York City stands apart as a global headquarters city for the largest companies in almost every sector of the economy, with 45 Fortune 500 companies calling New York City home.
Although modern New York City ranks as only the 10th-largest city in the world by population – with Tokyo being first, according to 2017 data from the Weissman Centre for International Business at the Zicklin School of Business at Baruch College/CUNY – there is no doubt that the Big Apple punches far above its weight in terms of economic clout and the appeal of its property market.
New York City proper encompasses an area just under 305 square miles, anchoring a metropolitan area that produces $1.6trn (€1.4trn) in GDP annually, more than Australia and almost as much as Canada or South Korea, according to the Weissman Centre and the Martin Prosperity Institute. Each year, more than 58m international and domestic visitors spend over $40bn on goods and services in New York City.
The city's appeal as a property investment market rests on its historical foundation as a home for major corporations – even as the composition of the corporate worlds has changed to reflect the greater influence of information technology companies in a digital network economy. The rapid change in the media sector, for example, has dramatically reduced demand from companies such as publishers, broadcasters and advertising agencies for the cavernous floor plates of Midtown towers. But at the same time emerging tech companies have soaked up retrofitted loft-style spaces, and flexible space providers have emerged as a new model for providing office space to the increasing number of companies that want to keep their options open rather than commit to costly large spaces that might be little-used by today's mobile workforce.
New York City survived fires and cholera outbreaks, recovered from financial disaster in the 1970s and rebounded from the 9/11 terrorist attack on the Twin Towers. As the transition to the digital economy picks up speed, and environmental and affordability issues take on increased prominence, can New York City stay on top of the heap? Property investing is all about track records, and the track record of New York City's property markets suggests the city will remain on top for some time to come.
"A number of things have knocked New York for a loop, but it always comes back, especially the property markets," says David Friedman, commercial real estate regional director at TD Bank for the New York City Metro market. "There's really no stopping New York."
Describing New York City as one of the preeminent destinations for institutional property investment capital "hits the nail on the head", says Indraneel Karlekar, senior managing director and global head of research and strategy at Principal Global Investors. "New York is one of the largest and most liquid global investment markets when it comes to commercial property. If you think about global gateway cities which investors consider a go-to or have-to in their portfolio, there is a handful of cities and New York is, if not the prime destination, then certainly amongst the world's greatest investment destinations such as London, Tokyo, or Singapore. From a strategic perspective, I think that New York has been and will remain a major destination for global capital."
Pension funds, insurance companies, private investors and endowments have long targeted New York as a key component of their property investment strategies. There are two ways to think about the appeal of New York City property to institutional investors, Karlekar says. One is the diversity of investment opportunities that New York presents. "If you dial back 20 years, New York was probably viewed as a big market for office investments," he says. "Obviously, it has got a very large stock of office assets, one of the largest in the world, and it is also an important retail destination, with Fifth Avenue being one of the world's greatest retail corridors."
Today, investors will find diverse opportunities in New York. Office not only remains a key part of the market, but has become a bigger and more varied sector. In retail, the pattern of consumer behaviour has changed. Karlekar says: "Retail is still important, but it's perhaps not as important on Fifth Avenue as it was 20 years ago, as the focus of retail has shifted to Soho and other parts of New York." As the city's business base has grown, so has the need for multifamily property – distinct from the luxury condos that grab headlines – that has become a major sector for institutional investors in Manhattan, Brooklyn and the other boroughs.
"Perhaps most interesting," Karlekar says, "is that New York industrial or logistics has become quite a sought-after property type." Stable demand has emerged from e-commerce vendors ranging from Amazon to grocery provider Fresh Direct, which need strategically located properties with specific capabilities to provide same-day delivery across the five boroughs.
The second way of looking at New York is through the lens of transaction volume. "Of the global markets that tend to attract the most capital from an investment perspective, New York consistently has been one of the top performers in terms of just transaction volume across the different property types," Karlekar says. "This diversity of investment opportunities as well as the liquidity, I believe, continues to make New York a very, very attractive market for pension funds."
The combination of diversity and liquidity has an important impact at the portfolio construction stage of the investment process. "Given its size and diversity, a pension fund can fill almost any asset allocation bucket by looking at New York," Karlekar says. From a holistic, four quadrants perspective, he notes, the New York market offers investors the ability to allocate to equity and debt, through public and private vehicles, ranging from open or closed-end private equity funds to CMBS bonds that contain New York City assets or REITs that only invest in New York City property such as SL Green. "You can actually fill your four buckets in just New York," he adds, "although obviously you don't do that if you want a diversified portfolio."
The New York market offers similarly broad opportunities from the risk management perspective. "For a pension plan that wants to invest only in core high-quality assets in gateway markets, New York checks all the boxes, with very high-quality assets, some fantastic tenants with strong credit ratings," Karlekar says. "New York City can accommodate a significant portion of a core allocation."
New York can also accommodate funds that wish to climb the risk curve, and the city's long track record as a business and financial centre provides a foundation for higher risk-reward strategies. "In New York, an investor can buy empty buildings and make the bet they can be leased up, or invest in an up-and-coming neighbourhood where new talent is moving in. Some investors have done very well with such strategies," he notes.
The most ambitious can "really up the risk and do some development, making the bet that New York City will continue to attract global talent," he adds. "That is really something that is unique to New York City and I think it's something that clients look at when they are considering the market." A prime example, he says, is the Hudson Yards development, which has been "the centrepiece of New York property markets over the last four or five years".
One thing that has been clear over the past several years is that "companies are still looking to expand and locate in New York", says Friedman. While financial services companies are still the largest user of New York property, business from the healthcare and tech sectors have "begun to take a meaningful role, and the city and metro area have truly diversified, reducing reliance on any one industry", he says. In addition to urban industrial property, Friedman notes, the metro is seeing steady demand for suburban industrial assets on Long Island and in New Jersey, which can support delivery to Manhattan in less than 24 hours. "This is a function of New York truly being a global city, that's always a potentially attractive option for capital investment from domestic pension funds, foreign pension funds or other international investors, which view New York as the premiere global city for property investments."
That top-of-the-heap mentality underpins New York's resilience. Friedman says there are all of the product types, with redevelopments on the West Side and in Downtown. One of the clearest signs of New York's historical resilience is "the re-emergence of the Sixth Avenue quarter, that a few years ago was a cause for concern about how that sub-market would survive as the majority of the office market moved west". But several years on from the westward migration, Sixth Avenue is "one of the hottest office sub-markets in the city, with substantial absorption", he adds.
The rebound required some work. Many assets on Sixth Avenue are owned by institutional investors, which made significant capital contributions to make the space competitive. While there is "no doubt the rent market for Sixth Avenue has reset because of the newer product, institutional owners are finding ways to re-skin, repurpose, and re-imagine buildings that make those assets appealing to traditional office users," Friedman says. As a result, the market share loss of the Sixth Avenue sub-market to newer areas has been less than was projected several years ago.
Big Apple takes bite out of rent
New measures intended to protect renters in New York could worsen the housing crisis - Stephanie Schwartz Driver
The New York state government rolled out sweeping tenant protection measures in June, including those focused on New York City's rent regulated apartment stock.
The Housing Stability and Tenant Protection Act of 2019 replaces previous rent regulation which expired on 15 June. But according to the real estate industry, regulations intended to benefit tenants may end up damaging affordable housing in an already strained market.
Multifamily investment in the city in the first half of the year had slowed due to uncertainty around the 15 June deadline for renewal of rent regulations. Transaction volume decreased by 48% from the third quarter of 2018 through the first quarter of 2019, and dollar volume fell by 43%, according to research by B6 Real Estate Advisors.
There are close to 1m rent-regulated apartments in NYC. Of these, about 22,000 are rent-controlled, a legacy of the 1940s when rents skyrocketed after World War II. For a tenant to benefit from rent controlled status, they must have been occupying the apartment pre-1971, in a building constructed before 1947.
In rent-stabilised apartments and affordable housing, rent increases are capped annually by the NYC Rent Guidelines Board. Before the new regulations, there were exceptions to the cap – for example, if a landlord made substantial building improvements, rent could be raised by up to 6%.
The legislation aims to make it harder for landlords to remove apartments from rent stabilisation and to limit the amount they can raise rents once an apartment is taken out of rent control. But it also limits rent increases to cover the cost of infrastructure maintenance and improvements.
Although the bill has been signed into law, the real estate industry is expected to challenge it in the courts. "The harmful impact of this legislation will be profound for New York City's economic future," said John Banks, who stepped down as president of the Real Estate Board of New York lobby organisation shortly afterwards. "This legislation will keep rent lower for some, but also significantly diminish housing quality and lead to less tax revenue to pay for vital government services. It will worsen the city's housing crisis."
Real estate owners maintain that the new law will discourage landlords from investing in their buildings if they cannot raise regulated rents in line with infrastructure improvements. It will also serve as a disincentive to include affordable housing in new developments. Major capital improvement rent increases will be capped at 2% (down from 6%), and individual apartments improvements will be capped at $15,000 over 15 years.
"There are significant unintended consequences to these new regulations," says Tyrone Barnes, vice-president at Taconic Investment Advisors, a developer and operator of commercial and residential properties in New York City. "It seems like there was a narrow focus on building owners without thinking about solving the housing problem in New York City in general. This does not create a single apartment in a city that already does not have enough housing. It does not solve that problem."
Barnes stresses that the new regulations will be a disincentive to landlords and building owners to make meaningful building improvements because there is no mechanism to fund the work. "These buildings work on very thin margins, and much of this building stock is over 100 years old. Without the tools provided by the former regulation, properties will not be able to fund repairs with their existing cash flow… nobody is thinking about what we will do if housing stock starts disintegrating. Under the old laws we spent more than $15m on capital improvements, and now the playbook has changed. We create really safe and functional places for people to raise their families."
These changes at the state level are taking place at a challenging time for NYC building owners – they are also confronting the Climate Mobilization Act, passed by the City Council in April. This package of seven bills requires buildings over 25,000sqft to cut greenhouse gas emissions by set targets, starting in 2024, moving toward an 80% reduction by 2050 – an escalating set of fines will be levied on those owners that do not comply.
Under the Climate Mobilization Act, buildings with rent-regulated tenants are subject to alternate requirements. While the mitigation measures are less intensive than those required for commercial buildings, they are still costly, and there is no mechanism to fund these essential improvements.
Financial institutions with exposure to mortgages backed by rent-regulated buildings have been affected by investors dumping shares in New York Community Bank, Signature Bank, and Dime Community Bank, among others. "If we do not have the cash flow to afford capital improvements, we cannot go to the banks either, because the banks that lend to this asset class got crushed," Barnes says.
Barnes maintains that these regulations will have a negative impact on business in NYC. "If I were thinking of opening a new business or expanding on the East Coast, why would I invest in New York City," he says. "If it is no longer the case that people can get a decent place to live, they will go elsewhere."
While the rent reset has not been to a higher level, the Sixth Avenue corridor has stabilised after the competition of the past several years. It has been a building-by-building process, Friedman says. Properties owned by investors that have significant capital invested in the projects and healthy balance sheets at the enterprise level, and which have presented compelling business plans to reposition assets have been able to secure loans to finance the transition, he says.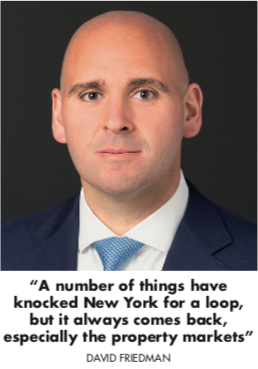 A big win for Sixth Avenue was the 2017 decision by Fox News, the news division of Rupert Murdoch's News Corp, to remain in its space at 1211 Avenue of the Americas, the official name of the thoroughfare that runs south across Manhattan from Central Park to TriBeCa. Fox had been looking at options beyond Midtown, including Hudson Yards and Downtown. After a search, Fox not only stayed but took more space in the iconic international-style tower that was built as part of the expansion of Rockefeller Centre in the 1960s. "That space having stayed under lease to News Corp definitely buoyed the market," says Friedman. "It was a huge win for the Sixth Avenue corridor to not contend with that vacancy."
Given the technology infrastructure required to operate a global broadcast and digital media company today, the cost of moving the Fox headquarters to new premises would have been significant; by staying put, Fox News, already the most popular cable news channel in the US, instead invested in a new state-of-the-art newsroom, new studios for its talk-show hosts, and morning news studio facing Sixth Avenue.
For New York City, the repositioning of a Sixth Avenue landmark for the digital media age marks one more notch in New York City's property market track record, and after nearly 400 years, the Big Apple is still at the top of the heap