---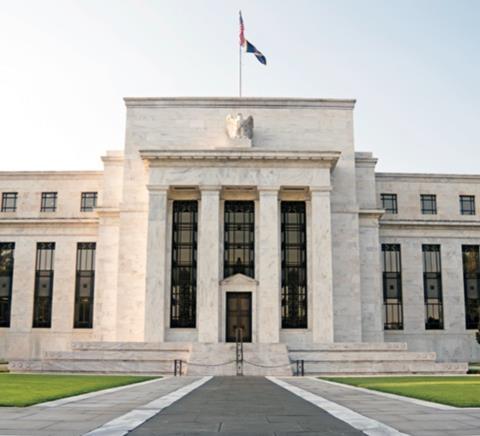 There are three reasons why US mortgage REITs could be about to experience a boost. Vanessa Drucker reports
Mortgage real estate investment trusts are looking well-positioned for the next chapter of the credit cycle. Indeed, 15 years ago, many of them were investing in 'non-agency' (non-government-backed), private-label mortgage-backed securities. Today's players, however, differ greatly, in a business dominated by a handful of large companies that are taking little credit risk.
Moreover, unlike many other financial companies, their industry survived the upheavals of the 2008 credit crisis and emerged with increased positions. It proved its resilience and demonstrated prudence, boosting confidence among investors.
"Mortgage-backed securities have a fairly high cash flow, too," says Calvin Schnure, senior vice-president, research and economic analysis, at NAREIT, the industry's premier trade association. Schnure points out that "the debt-to-equity ratios are also much lower than a decade ago, and their capital cushions have improved".
Mortgage REITs are a uniquely American construct, so European and other non-US investors may not be fully familiar with how they operate. "Since REITs pay out all income in dividends, it's important to focus on total returns. Looking at a stock price alone may be misleading," says Gary Kain, CEO and CIO of AGNC Mortgage Management, one of the premier mortgage REITs.
Agency securities are those underwritten by government-sponsored entities (GSEs), popularly known as Fannie Mae and Freddie Mac. Overall, most of the investors are commercial banks, pension funds, mutual funds and some foreign investors, while mortgage REITs account for only about 3% of purchasers.
These vehicles come in several flavours. Typically, the class is associated with residential mortgages (with leading firms like Annaly and AGNC), but commercial property also plays a part (featuring names such as Starwood and Blackstone.) "The two groups of residential mortgage-backed securities and commercial mortgage-backed securities are driven by distinct sets of fundamentals, and the nuances between both are sometimes misunderstood. That misconstruction may provide attractive entry points because of the different drivers," says George Bahamondes, senior analyst real estate finance at Deutsche Bank Securities.
The operational model is highly dependent on the level and direction of interest rates. When mortgage REITs buy agency mortgage-backed securities, they are investing in fixed yields, which they are financing by a floating rate. They earn money on the spread between the interest income and the funding costs, but the secret sauce is leverage. "At eight to nine times, the added leverage is what makes it a viable business," Bahamondes explains, adding, "credit risk is assumed not to exist because the government is backing them".
The salient risk lies in interest rate moves for the floating costs, and unanticipated spikes in rates can wreak havoc. The metric is one-month Libor, so if short-term rates are rising, the cost of borrowing increases. So yields must increase in line for the portfolio to continue to make a decent margin.
"The group tends to be more interesting in declining-rate environments, as margins widen when the Federal Reserve cuts," says Brock Vandervliet, an executive director and senior analyst at UBS. Mortgage REITs are usually short-duration, with funding from market sources of days or three months, and to the extent that the Fed is cutting, those market rates reset almost immediately lower.
The other key ingredient in the sauce is prepayments. When mortgage rates decline, homeowners are more likely to refinance, which adds additional amortising expenses. When investors buy the GSE securities, they are not exposed to the credit risk of the underlying mortgages, but are vulnerable to the prepayment characteristics.
"In times like these, we're paid more to manage prepayment risk because it has become an at-the-money risk, versus the past few years while it was still out-of-the-money," Kain notes. He observes that his company is distinguished by its asset selection and how it hedges. In general, a portfolio manager might try to pick a more profitable company, or one with better credit and less default risk.
"In our case, however, we try to achieve outperformance by picking a weaker prepayment candidate," Kain says. That means focusing on smaller loans in particular locations, with appropriate coupons for those environments.
Investors will be asking what factors primarily drive the price levels of mortgage REITs. The answer is fairly straightforward – above all, the shape of the yield curve. "At the end of the day, you'll see some degree of variations on the margin, but the yield curve drives 90% of it," according to Scott Crowe, chief investment strategist at CenterSquare Investment Management.
Operating in a flat, pancake curve is painful for the mortgage REIT sector, because firms will be investing at the same rate level as funding costs, which means they cannot make profits. Still, Brock Vandervliet, analyst at Nomura Securities, is optimistic. "Right now, we are tracking the implied lower level of interest rates, expecting four rate cuts by the end of 2020," he says. "What's exciting about this yield curve is that there is some slope to it, and probably will be more as the Fed cuts. It's a great environment for REITs if the funding costs drop, and yet the yields remain stable."
Another key element is the role of the central bank. During the financial crisis, as part of its quantitative easing (QE) programme, the Federal Reserve stepped in to bolster its purchases of agency mortgages. In the course of that operation, it acquired about 25% of the outstanding agency mortgage-backed securities. The central bank undertook that action intentionally, with such a significant bid, to signal to the market that it was ready to stand by. The purchase was so big, in fact, that it increased the cost of buying mortgages in the forward market. "The mortgage REIT sector shrank when the Fed stepped up its purchases of mortgage-backed securities, effectively crowding it out," Schnure says.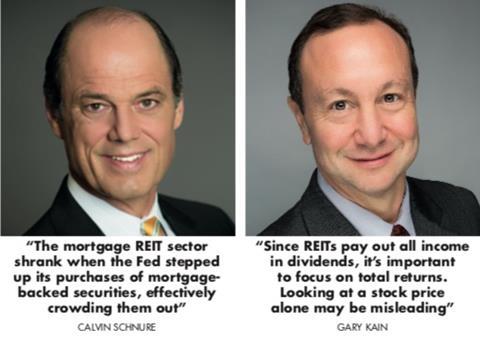 A decade passed. Between August 2007 and September 2017, the Fed's balance sheet ballooned from about $870bn to $4.5trn, and the central bank prepared to unwind, moving towards a more neutral stance. It started a tapering-off plan in October 2017, aiming to reduce its balance sheet to below $3trn by 2020. It now lets the mortgage-backed securities run off at about $25bn each quarter.
As the Fed withdraws, reducing those purchases, it allows mortgage spreads to widen. "In the short run, that may hurt book value, but it actually becomes easier for us to make money, going forward," Kain says.
A third potential tailwind may be the rather distant possibility of GSE reform. Fannie and Freddie have been in government-run conservatorship since 2008, as part of a plan designed to maintain credit for new mortgages, prevent foreclosures and reduce taxpayer risk.
The government is now attempting to overhaul the system, shrinking the GSE footprints over five to 10 years by reducing the size and types of mortgages available to the GSEs, and opening the housing market to the private sector, to spur competition.
It is interesting that mortgage REITs operate on similar principles to Fannie and Freddie in how they hold and fund investments and manage risks in their retained portfolios. Schnure likens them to "private-sector clones" of the GSEs. Yet they differ from commercial banks, which must rely on deposits and other business lines like home lending.
And unlike commercial banks, they can raise capital specifically to invest in mortgage-backed securities. An advantage to the mortgage REIT model is its flexibility and ability to respond to market incentives. Managers can raise equity capital or debt quickly. Banks, on the other hand, must raise funds through the more sluggish process of collecting deposits
If the GSEs should contract dramatically, mortgage REITs could benefit. With most of their portfolios housed in agency mortgage-backed securities, those securities would then trade with a scarcity premium, since new mortgages would no longer be guaranteed. At the same time, rates would go up and prepayment risk would sink. Some mortgage REITs have already been buying and restructuring mortgages into private bonds, and might increase that practice if the GSEs retreat.
Nevertheless, investors should not hold their breath. "No one wants to upset the apple cart," says Crowe. "At this point in the cycle, no politician would be willing to take the hard medicine and pull out the GSEs from providing liquidity to the housing market."
Kain agrees, adding that, "there will be a lot of noise around bringing the GSEs out of conservatorship, but it will be hard to execute".
He says: "They may reduce the footprint, but it will be on the margin – maybe 5-10% – rather than a game changer. The mortgage market is used to a very significant backstop from Fannie and Freddie, plus $200bn of an explicit Treasury backstop. They'd need an explicit guarantee from Congress, who can't co-operate on anything nowadays."