The economic and political fortunes of Brazil are unpredictable, says Florence Chong. But some investors have made big bets on the country
Caution is the watchword in Brazil. But there is more optimism as the country emerges from what was its worst recession, nurtured by a climate of political uncertainty.
While many investors took fright and left, some stayed on to deepen their commitments. They continue to believe that the B of the original BRIC countries (Brazil, Russia, India and China) still has the best growth potential of all emerging markets.
Foreign institutional investors are returning – statistics published by the Central Bank of Brazil show a strong increase since April 2018. Banco Central do Brasil says that, in the first four months of this year, Brazil attracted foreign direct investment (FDI) inflows of more than US$28.1bn (€24.8bn). The bank says that in the 12 months to April 2019, FDI net inflows totalled US$92.5bn, equivalent to 4.96% of GDP, the highest percentage since May 2011. Brazil's FDI (in all sectors) peaked at US$101bn in 2011 before the economic crisis unfolded from 2014.
Whether the upward trend is sustainable will depend on the performance of the government and whether the Brazilian economy continues to improve. But some believe that, with his pledge of market-friendly, pro-business policy and reforms, President Jair Bolsonaro could reset Brazil's appeal as an investment destination.
All macro indicators, for now at least, are looking up. GDP growth has picked up, inflation and interest rates are at an inflection point, and improving. Among new initiatives proposed is reform of Brazil's pension system.
But there are obstacles to overcome. Brazilians have taken to the streets recently to protest pension reforms, which include raising the minimum retirement age. "Pension reform is an important initiative and we expect that, once passed, it will be very favourably received by both domestic and international investors," says Syl Apps, managing director at Hines.
"We think today is, without exception, the most compelling investment environment we have seen in the more than 20 years we've been on the ground there," says Apps, who has oversight of Hines' Brazilian operations.
"Look at current prices and investment opportunities and you see compelling opportunities. We are seeing a prototypical countercyclical investment environment today. We see discounts to peak values in the office sector of 50% to 60% in real terms. If you are a US dollar investor, São Paulo office is probably at a 75% discount to peak in real terms."
Apps says the recovery of São Paulo's commercial property market is about 18 months ahead of Rio de Janeiro. The Rio office market remains highly stressed.
"The really smart investors are seeing that as well, and I think that has really triggered the renewed interest," he says. "In the last 18 months we have seen large, globally-relevant pension, sovereign wealth funds and limited partners come back to Brazil."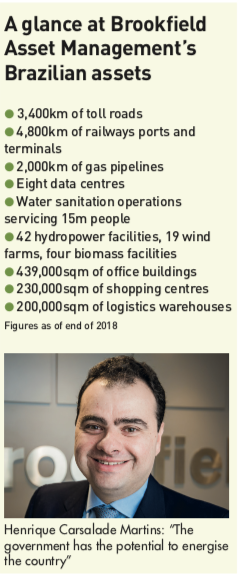 Henrique Carsalade Martins, Brazil CEO at Brookfield Asset Management Brazil CEO, says: "We have noticed increased competition and corresponding pricing for assets as investors return to the market."
Brookfield has been in Brazil for more than 100 years – the company was founded as the São Paulo Tramway, Light and Power Company in 1899. "Looking ahead, we are optimistic that the government has the potential to energise the country's economic reform, create healthy market competition and attract investment," Martins says.
Brookfield is looking for value investments and potentially to harvest capital as a recovery continues to unfold. Staying power is the essence of success in investing in Brazil, according to those who have become the country's largest foreign investors. Brookfield is close to the top, if not the single-largest investor in Brazil today.
By the end of 2018, Brookfield owned and operated a wide range of infrastructure, real estate, renewable power, and private equity assets in Brazil worth about US$23bn (€20.5bn).
"Our long history, along with having local on-the-ground operations, has provided us with deep knowledge of the market," Martins says. "That has enabled us to invest in high-quality assets across economic cycles to deliver strong returns to our investors. We believe in Brazil's strong fundamentals, including sound rule of law and a functioning democratic process, as well as an openness to and need for foreign capital to improve infrastructure and services."
Brookfield continued to invest through the Brazilian recession and during the political turmoil created by a corruption scandal that implicated the government of the day. "While these and other factors made many investors wary of Brazil, and led direct investment to all but stop, we continued to believe in its significant growth potential," says Martins.
"As contrarian, value-oriented investors, our experience shows us that the best opportunities are often found in regions or sectors undergoing periods of financial or operational challenge – and Brazil was no different.
"While investor sentiment was generally negative on Brazil, we took a contrarian view, acquiring a number of premier assets that, in normal periods, would not be available at a reasonable value."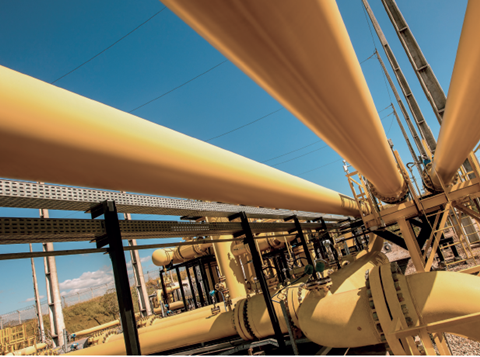 During the downturn, Brookfield bought assets that included a 90% stake (for US$5.2bn) in NTS, the natural gas unit of Petrobas. It also acquired Odebrecht Ambiental, Brazil's largest private-water sanitation business, servicing 15m Brazilians for about US$1bn. "We have doubled our AUM in Brazil since 2016," he says.
Apps says Hines saw an opportunity to move into for-sale residential in São Paulo during the recession "to take advantage of lack of liquidity in the sector at the time".
The Houston-based fund manager has since acquired or developed more than 9,000 residential units for sale in the city.
Over the past 20 years Hines has established a large, vertically integrated platform in Brazil, with a local staff of 125. Hines has committed more than R$6.9bn (€1.5bn) of equity and developed over 3m sqm of office, industrial and residential real estate in Brazil.
"Our investment performance over those 20 years has been strong, and I think our deep, in-country operating capability, combined with Hines' global platform, has been able to deliver for our investors," Apps says.
Growing logistics market
Singapore-headquartered global logistics specialist GLP is now a market leader in Brazil, significantly boosting its presence in the country in 2014 by acquiring BR Properties for US$1.4bn. In 2018, GLP expanded its partnerships with GPA, Brazil's largest retailer, and Mercado Livre, an e-commerce company. In that year, GLP Brazil recorded its highest level of new leasing – up 57% over 2017.
"We see sustained leasing momentum, with demand mainly driven by the e-commerce and pharmaceutical industries," says Mauro Dias, president of GLP Brazil. "Today they make up 35% and 9% of our portfolio in Brazil, respectively. Ongoing economic recovery and improving credit markets are expected to support domestic consumption, while companies continue to look to GLP for modern logistics solutions to increase supply chain efficiencies."
Dias adds: "We believe Brazil's logistics industry is supported by strong fundamentals. With a population of more than 200m, it is one of the most underserved logistics markets globally. It is also one of the fastest-growing e-commerce markets in the world. Put together, it offers considerable long-term compelling opportunities for growth."
GLP Brazil has capitalised on market conditions to build up a pipeline in São Paulo. Diaz says: "We expect to start about 480,000sqm of new developments in Brazil over the next two years to meet growing customer demand."
Today, GLP manages US$3bn of funds in Brazil, and sees room to further grow its platform given investor demand and attractive market opportunities.
Blackstone established a presence in Brazil in 2010, purchasing a 40% stake in Brazilian alternative asset manager, Patria. The platform runs private equity funds and covers investment in infrastructure, such as toll roads, agribusiness, real estate and debt. In April, Blackstone transferred its 35% stake in the Brazilian real estate developer, Alphaville Urbanismo, to its partner, Patria Investmentos.
Another global logistics player, Australian-based Goodman Group forged a strategic relationship in 2010 with the Brazilian company WT Torre to establish a local platform. In 2018 it bought out its Brazilian partner and launched a US$700m venture there with four large global investors.
Goodman Group CEO, Greg Goodman, says: "Things in Brazil take time. It takes two to three years to buy a site, get the planning and develop the site." It can be more difficult buying sites in Brazil than in other emerging economies, he says. "We like it that the barrier to entry is high. It means less competition and, when you do a project, it means demand is strong."
GIC marks five-year presence
The sovereign wealth fund has invested in Brazil for more than 20 years but opened a São Paulo office in 2014
Long-time investor Singapore's GIC, is actively looking at sectors like real estate, infrastructure and technology in Brazil, according to its CEO, Lim Chow Kiat.
"There are sectors we are positive on, especially those related to consumers – such as healthcare and education," Lim told an audience in Brazil. He said GIC already had exposure to all of these areas. "As the economy grows, we will look to build on them."
Some 3% of GIC's total portfolio is in Latin America, with investments across a range of asset classes including private equity, real estate, infrastructure and equities. A large proportion of these is in Brazil.
GIC first ventured into Brazil more than 20 years ago and in 2014 it established an office in São Paulo to have "boots on the ground", in Lim's words. In March, GIC celebrated the fifth anniversary of that office. "For the last five years, with the challenging environment in Brazil, GIC not only stayed on, we took the opportunity to expand our capabilities and partnership," Lim told guests.
"Brazil is a very large economy. It has the ninth-largest GDP in the world. It is an important market for global investors like GIC." Lim notes the long history of high real interest rates in Brazil has instilled discipline in the use of capital for many Brazilian entrepreneurs.
In some other economies with abundant savings, he said, there is little cost to borrowing, so entrepreneurs sometimes misuse resources. Because Brazil does not have that luxury, capital is more likely to be put to better use there, he said. If interest rates could indeed be brought down, there would be much upside for enterprise growth.
"We believe Brazil is on its way to recovery. There are, however, still important tasks to be completed, such as social security reform, privatisation and tax simplification," Lim said.
"If government policy is done well, Brazil can usher in a period of low inflation and low nominal and real interest rates, which will help engineer growth and outperformance for Brazilian businesses."