---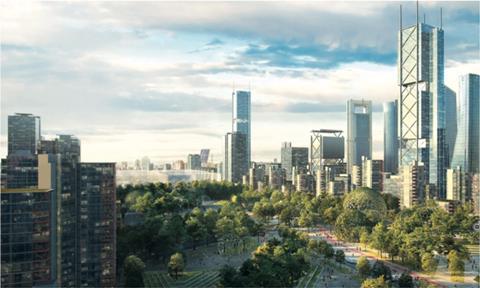 After decades of delay, Madrid's Nuevo Norte has been given the go-ahead, signifying the beginning of a new era for the Spanish city's real estate sector. Paula Garrido report
This summer, and after nearly three decades of setbacks and political deadlock, Madrid Nuevo Norte (MNN) was given the green light by the city's local authority, marking the beginning of one of the largest urban-regeneration projects in Europe.
MNN will not only transform Madrid's skyline but it will also help consolidate Spain's capital as one of Europe's leading cities and transform it into a magnet for investors.
The new project – which still needs further approval from Madrid's regional government – will be built around the Estación de Chamartín, Madrid's second-largest transport hub, whose railway divides the city in half, limiting east-west connectivity. The regeneration will move the railway underground and a new business area – likened to London's Canary Wharf – will emerge around the station.
In total, the project will develop some 2.5m sqm, spreading across more than five kilometres from Plaza de Castilla. The mixed-use space will offer 10,000 residential units, offices, commercial spaces and green areas. According to Madrid's council, MNN could have an economic impact of €18bn and create 240,000 jobs.
The news has been widely welcomed by a real estate sector that has struggled to meet growing demand for new, high-quality office, residential and commercial assets in central locations.
"Most investors are looking to buy within the M30 ring road because that's where occupiers want to be, although we have seen major deals with regards to out-of-town business parks," says Humphrey White, managing director head of capital markets at Knight Frank in Spain. "There is a lack of quality space within the municipality of Madrid and this ticks all the boxes, as there will be metro stops, residential, grade-A office space, all in one area. Availability of true grade-A space in Madrid is [about] 2% at the moment, so this is welcome news."
Spain was badly hit by the 2008 global financial crisis and the dramatic burst of its property bubble. Its recovery has been slow and painful, but today the national economy is leading euro-zone growth. According to the European Commission, GDP growth in Spain is expected to be 2.3% this year – almost double the 1.2% of the euro-zone average.
Improving economic fundamentals and an increase in office-based employment has meant that Madrid is often cited as one of the most sought-after investment cities by international institutional investors. An enviable transport network and infrastructure, as well as being the capital of the world's second most-visited country and a hub connecting Europe with Latin America, have all contributed to the internationalisation of the city.
Its business-friendly environment and high quality of life mean that those who come to the city to work, often stay for longer.
Over the past decade, an increasing number of investors – private-equity firms, family offices, pension funds and insurance companies – have targeted the market, lured by the still relatively affordable prices and strong growth potential and rising rents, across all sectors.
José Miguel Setién, head of office business at JLL in Spain, says: "At the end of the crisis, Madrid's market was very cheap compared to other cities. That allowed for the purchasing of quality products at very competitive prices, and the market has been very active." However, activity regarding new developments has been limited, he says, especially in central locations where there is a lack of land. "A lot of the activity during the last five years has been focused on renovating old buildings, something that had stopped during the crisis."
Such buildings are on the radar of investors like Real IS, which last year purchased a seven-storey building in the iconic Calle Alcalá, marking the German investor's return to Spain. Built in 1847 and renovated in 1994, Calle Alcalá is let to a government department.
According to CBRE, uptake of office space in Madrid in the first half of this year exceeded 375,000sqm, an increase of 47% over the same period of 2018. The high demand, coupled with the limited new supply, has lowered the vacancy rate in the office market – at the end of the June, it stood at 9% of the total office stock in the capital, compared with 9.8% a year earlier.
Factors including changing work habits, driving restrictions in the city, and the preference by younger workers to work and live in the city centre, have benefitted providers of flexible, co-working spaces such a WeWork, which operates from six different locations in the city.
According to Knight Frank, pricing and availability constraints in the CBD are pushing investors to look at new emerging-core or fringe-of-core locations in the capital, areas with good transport links and former industrial assets with looser planning permissions.
Pheonix rising
It has been slow, but Spain's real estate sector is bouncing back from the devastating effects of the 2008 crisis
The 2008 global financial crisis was one of the most challenging periods in Spain's recent history, shaking the structure and prospects of its real estate market.
In response, a number of measures were introduced to clean up, stabilise and boost the growth of the sector.
One initiative was the creation of the Management Company for Assets Arising from the Banking Sector Reorganisation (Sareb), founded in 2012 to help clean up the country's financial sector and, in particular, the banks that became financially distressed as a result of their excessive exposure to real estate. It received some 200,000 assets valued at nearly €51bn, of which 80% were developer loans and 20% real estate assets. Sareb's mission is to divest assets over 15 years.
A number of alternative investment firms have recently announced transactions involving Sareb's assets. Värde Partners has signed an agreement with the so-called 'bad bank' to manage a portfolio of over €800m residential development assets in Spain.
Another step taken was the creation of SOCIMIs – or Spanish REITs – which led to a large number of domestic and international investors listing their real estate investment companies in Madrid and, as a result, investing more in the capital.
Today there are more than 70 SOCIMIs listed on the MAB, Madrid's alternative stock market, representing €50bn of assets under management.
Demand for residential properties in central Madrid is also increasing. Madrid's metropolitan area is home to 6.5m people, making it the third-largest urban area in the Europpean Union, after London and Paris. The city's large and efficient public-transport network has allowed large residential neighbourhoods to emerge around its periphery.
But new residential stock within the city's perimeter is still limited and demand remains high, as Spaniards' renewed confidence in the economy is driving them back into the 'ladrillo', or bricks and mortar.
In July, Spanish asset manager Azora and CBRE Global Investment Partners announced the acquisition of two plots in the so-called green corridor of Madrid Río – within the M30 ring road – to build 345 residential units, including parks.
Others investing heavily in the capital's residential market include Hamburg-based Aquila Capital. The firm's head of real estate, Rolf Zarnekow says: "The first thing Spaniards like to do once they have a bit of money in their account is to buy flats but there wasn't much available. That was evident in 2014-15 when there was no supply."
The investment manager started to invest in Madrid in 2014, acquiring nine plots of land in the south of the city, with plans to build 1,300 residential units to sell. But a strong, and unexpected, demand from institutional investors seeking to gain exposure to the city's private-rented sector (PRS), made the firm change its original business plan.
At the end of last year, it signed an agreement with Vivenio, the real estate investment trust managed by Dutch pension fund APG and Renta Corporación, for asset management services for a residential portfolio of nearly 1,000 housing units, with a value of over €200m, to be built by AQ Acentor, Aquila's developer in Spain. The portfolio includes 500 affordable-rent units with a 15-year lease in Madrid.
"We have around 6,000 resi units under development [in Spain], and probably half of them are being constructed as rental units and [are] already sold to major European institutions," Zarnekow says.
With the majority of the residential rental market in the hands of private landlords, institutional participation in PRS investments is small, but growing. Other firms moving into the sector in recent months include Greystar Real Estate Partners, which has just bought a property in the central Gran Vía, comprising 100 residential units.
The government's recent introduction of rental caps and revision of lease terms have been a source of concern for investors.
However, the current political instability – Spain could be heading for its fourth general election in as many years – makes it difficult to predict what a future government might do with regards to the rental market.