It can offer secure future cash flows quickly, cheaply – and from a diverse universe. Christopher O'Dea assesses listed infrastructure
Stable yields from illiquid assets; the ability to buy or sell the yield stream as needed; and someone else looks after most of the credit analysis and governance – that is the sort of investment proposition pension managers are always looking for. And they can find it in listed infrastructure funds.
The main attraction of infrastructure is well known – the assets provide stable cash flows based on long-term contracts that typically allow for inflationary increases. This has made infrastructure assets so popular that investors and managers believe their biggest concern in the year ahead is that there just are not enough assets available to absorb all the capital allocated to infrastructure without pushing prices to unattractively high levels. Funds targeting private-market infrastructure deals are sitting on dry powder that are either at, or near, record highs. But at the same time, pension fund investors still need to deploy capital in accordance with asset allocation programmes that typically contemplate a multi-year period to put money to work in infrastructure.
This presents an opportunity for managers of listed infrastructure funds, which invest in the publicly-traded shares of companies in businesses ranging from marine port operation and mobile phone towers, to electric power generation and water supply. These funds invest across the full spectrum of the asset class, use a vehicle structure suited to market conditions, address pension governance and portfolio construction needs, and enable pension investors to offset likely constraints on the ability to commit capital to whole assets.
"There's a finite number of infrastructure deals that are investable," says Benjamin Morton, co-portfolio manager of the Cohen & Steers Global Infrastructure Fund. A significant factor in the market is that managers that invest directly – buying physical ports, roads and power plants – instead of traded shares, have plenty of capital to put to work. "Returns are being bid down tremendously and it's going to be tough for some of those funds to meet their hurdle rates," he says.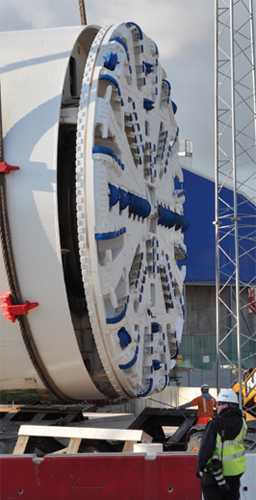 Listed infrastructure funds can help investors avoid the risk inherent in private-capital funds that typically have a limited number of holdings, often as few as five to 10 assets. While providing access to long-term cash flows, such funds concentrate risks, including the single-asset risk of each operating unit, as well political and regulatory risks arising in a limited number of jurisdictions.
Listed funds invest in more holdings, says Morton, between 30 and 40 names for focused strategies and 60 to 80 names for diversified strategies. And because each holding is a publicly-traded company, each security owns between five and 50 assets. "With listed companies, you can target a wide range of sub-sectors and geographies," Morton says. "It's a great opportunity to add a lot more diversification."
That diversification is coupled with other advantages. One of the primary benefits of listed funds is that their liquidity facilitates portfolio construction and implementation of asset allocation decisions, says Duncan Hale, head of infrastructure research at Willis Towers Watson. "Most direct infrastructure funds have a five-year drawdown period, so this is a way to get some of the beta once you've decided on an allocation – and if you do want to go direct you can gain some exposure through a listed fund," he says. Clients typically allocate 4-5% to infrastructure, Hale says, and will use listed infrastructure funds as a funding mechanism, placing 50% of the target allocation into a listed vehicle during the drawdown period for a private capital fund targeting illiquid assets.
Listed funds are used more frequently by smaller clients that prefer the liquidity, or which do not have the necessary scale to access direct infrastructure deals. "To invest in a core infrastructure portfolio is far easier in a listed fund than to buy the assets themselves," says Jeremy Anagnos, CIO of infrastructure strategy at CBRE Clarion Securities.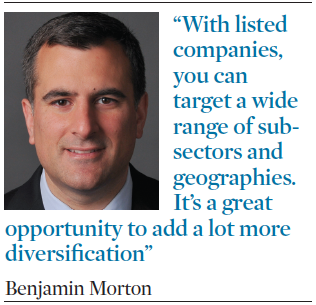 Listed funds also reduce the governance burden on a pension fund, removing the need to have in-house expertise to understand regulatory, political and details unique to each asset type before investing. "The pace with which political and regulatory factors change is accelerating," Anagnos says. "Listed funds are more liquid and flexible, enabling investors to make changes," he adds. "When you're locked in for 15 to 20 years, you're not able to react as global conditions change."
Emerging schools of thought
A variation on the listed infrastructure theme is a listed vehicle that makes just that kind of long-term direct investment. In the case of International Public Partnerships (INPP), a London-listed investment company with £1.4bn (€1.8bn) in assets, the time horizon can be very long. The weighted average investment life of INPP's assets is expected to rise from 21 to 43 years following its investment – as part of a consortium – in Thames Tideway Tunnel, a tunnel beneath London that will drain rainwater to prevent sewers from backing up into the river during downpours.
"It is certainly a far less institutionalised sector than real estate is today"
James Wilkinson
That long tenor is the linchpin in the company's strategy, which is to deliver a sustainable yield from high-quality revenue sources – in this case, operating essential infrastructure under concession contracts with governments in the top tier of the OECD. The focus on operating assets under agreements with governments that have a record of meeting payment obligations, in countries with strong traditions of upholding government contracts with private parties, makes INPP's yield "a proxy for the credit quality of sovereign debt", says Giles Frost, director at Amber Fund Management, the investment manager for the company.
In contrast to open-ended funds that invest in traded shares, INPP takes ownership positions in assets ranging from Thames Tideway Tunnel, to offshore power generation and US military housing. With revenues fixed, the company locks in operating and maintenance costs to generate returns, which currently consist of a 4.8% annualised cash yield plus annualised capital growth of 2-3%, Frost says.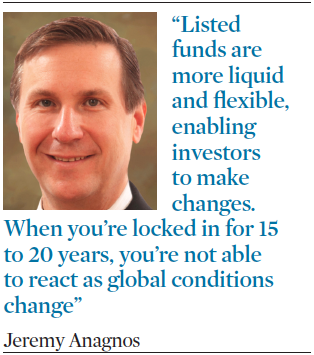 The CBRE Clarion fund, which invests in listed securities, delivers an average dividend yield of 3.5% to 4% on a payout ratio of 60-65%, says Anagnos, and targets annual dividend growth of 6-8% for a total returns in the low double digits.
Within the listed fund sector, there are two "schools of thought", says Hale. The American school is equity-oriented, investing in a wide range of infrastructure sub-sectors as well as infrastructure related businesses which could include diversified utilities, master limited partnerships (MLPs), construction and airport services firms included in some indices tracking infrastructure. An Australian school is more limited, focusing on traditional water, transport and regulated utility shares. Four years ago, Willis Towers Watson applied its hallmark smart-beta approach to develop its own listed infrastructure fund, applying a set of portfolio construction rules across the limited universe of infrastructure stocks followed by active managers.
"We're still in a position where we need a smart-beta solution that clients can use to access infrastructure early"
Duncan Hale
Filtering the universe is a two-step process at Cohen & Steers. It first ranks securities based on the sensitivities of each sector to macro factors. While infrastructure stocks share common fundamentals based on the long-term nature of the cash flows of underlying businesses in essential services, "a marine port is a very different asset from a regulated utility," says Morton. Ports and toll roads tend to be more sensitive to economic growth, while assets like satellite companies are less so.
The dispersion among sectors can be as much as 30 percentage points. "We take a view on the economic drivers to develop an outlook on each of the sub-sectors," Morton says. Focusing on long-term drivers enables construction of a stable portfolio; turnover is only 50-60%, significantly below the average for equity funds. The second stage is old-fashioned bottom-up work, performing discounted cash-flow analysis as the basis for valuation.
Ultimately, what will drive growth is increased investment and interest in infrastructure as an asset class. According to a 2014 estimate by Cohen & Steers, new infrastructure investments in developed and emerging economies could total an additional US$40trn (€35.4trn) by 2030, reflecting a need to upgrade existing assets in many developed countries and the ambitions of emerging economies. In a 2014 survey of senior executives at 134 pension funds in 15 countries, State Street found that 39% of funds intended to increase their infrastructure allocation. A survey by the UK's Pensions and Lifetime Savings Associations found that open defined benefit pension schemes had increased their infrastructure weightings fourfold since 2008, and in Australia, the OECD estimates that superannuation funds' allocation rose threefold between 2002 and 2010.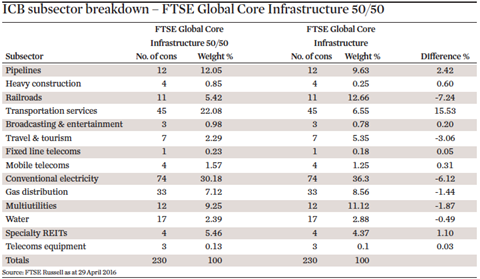 The emergence of schools of thought about portfolio construction illustrates that listed infrastructure is developing into a section of the infrastructure market. Most participants say it is at the stage where real estate securities were about 15 years ago. "It is certainly a far less institutionalised sector than real estate is today," says James Wilkinson, co-global CIO for global real estate securities at BlackRock. One way listed infrastructure will become more investable is the development of market data and definitions. "There remain debates about what infrastructure is," says Wilkinson, "while real estate is very well served by data and index providers."
The need for clarity reflects governance requirements. "Investors today need to be able to benchmark their managers," says Wilkinson. A step forward, he says, is the new FTSE Global Core Infrastructure 50/50 index, which covers 230 issuers and about US$2.1trn in market cap. According to London Stock Exchange (LSE), industry weights are adjusted semi-annually in three broad industry sectors – 50% utilities, 30% transportation including capping of 7.5% for railroads/railways, and a 20% mix of other sectors including pipelines, satellites and telecommunication towers. Company weights within each group are adjusted in proportion to their investable market capitalisation, and companies must derive 65% of their revenue from its LSE-defined core activity – the development, ownership, operation and/or maintenance of transportation, energy and telecommunications infrastructure.
Consultants would welcome a tighter focus on core activities. In the past year, some infrastructure indexes included negative performance from utility companies that had higher exposure to commodity prices. "That dilutes the purity of the infrastructure premium that could be captured," says Hale. The new index "is an improvement", he adds, "just as the Brookfield index was an improvement on what we had before that."
But listed managers should take note of Hale's assessment of the listed infrastructure scene. "We're still in a position where we need a smart-beta solution that clients can use to access infrastructure early."
Real Assets: The bigger picture
1

2

3

4

5

Currently reading

Listed Markets: The future, delivered now

6