Listed infrastructure is a natural choice for insurers and proposed changes to Solvency II will only make the case stronger, write Fraser Hughes and Gareth Mee
Against a challenging economic backdrop, institutional investors are navigating a prolonged low-interest-rate environment in their search for yield. A growing subset of insurers are turning to listed infrastructure as an attractive asset class to invest in for two key reasons:
• Availability of assets. A shortage in high quality alternative assets with an attractive yield, which match the liability profile and risk appetite of insurers, has resulted in firms experiencing difficulties in sourcing appropriate direct investments in the private market;
• Capital efficiency. Return on capital is a crucial metric by which insurers assess their investments. As a result of the European Insurance and Occupational Pensions Authority's (EIOPA) recent activity in encouraging investment in the listed infrastructure market (discussed below), the return on capital of such investments may materially improve.
One of the first concrete actions that the European Commission (EC) decided to take under the Capital Markets Union was to look at whether infrastructure should become a separate and distinct asset class under Solvency II. With a view to encourage investment in infrastructure, in its September 2015 advice, the European Insurance and Occupational Pensions Authority (EIOPA) recommended the introduction of a new asset class of qualifying infrastructure investments. Based on this advice, the EC adopted an amendment to the Solvency II Delegated Act in April 2016.
In October 2015 the EC asked for further technical advice on the identification and calibration of infrastructure risk categories. It should be noted that this advice has not been formally accepted by EC yet and no indication has been given of when it will legally become part of the Solvency II Delegated Act. However, it is worth gauging the possible benefits for insurers.
The main recommendations in the latest advice were:
• Introduce a new asset class for infrastructure corporates. High quality equity investments in these infrastructure corporates to have a risk charge of 36% plus symmetric adjustment. Under the current treatment the risk charge for EEA listed and unlisted equities in infrastructure corporates are 39% and 49% plus symmetric adjustment, respectively;
• Widen the existing infrastructure project asset class to include certain "project-like" infrastructure corporates. These requirements apply to all investments. This category has a lower risk charge of 30% for equity;
• Do not change the treatment of infrastructure corporate debt as there is too little evidence to support a change.
The trend to switch from defined benefit (DB) to defined contribution (DC) schemes as well as the buyout and buy-in of DB schemes by insurers is driving growth in assets under management over the long term for insurers. According to UBS Asset Management, over the last decade, DC assets have grown in the UK at a rate of 7.1% per annum while DB assets have slowed to a rate of 3.4% per annum.
At the end of 2015, the split was 68:32 for DB/DC assets in the UK. The markets with a bigger proportion of DC assets relative to DB in 2015 are Australia with 87% and the US with 58%. As allocations to asset classes such as real estate, infrastructure and commodities are envisaged to increase significantly in the future, according to many market experts, demand for investment vehicles in these asset classes will continue to strengthen.
"The broad diversification benefits of investing in a portfolio of listed infrastructure companies are attractive, with core exposure to a range of essential assets such as transportation, multi-utilities, energy generation and transmission. Each company will typically own between five and 50 assets"
The latest advice from EIOPA, coupled with expected growth in long-term assets under management for insurers, offers an opportunity for both private and listed infrastructure investment. Both options can offer a variety of benefits to investors depending on their investment horizons and the underlying exposure they seek.
Global listed infrastructure annualised total returns and risk-return ratios have beaten the equities market consistently (see Infrastructure outperformance). Listed infrastructure companies generally operate with regulated (index-linked) contracts, which cut out income fluctuations and act as a hedge against price inflation. The broad diversification benefits of investing in a portfolio of listed infrastructure companies are attractive, with core exposure to a range of essential assets such as transportation, multi-utilities, energy generation and transmission. Each company will typically own between five and 50 assets.
The public markets offer the security of governance, transparency and reporting requirements/standards. In particular, a key benefit for insurers is the liquidity offered by listed infrastructure companies, which compares favourably against long drawdown periods for direct infrastructure investment. In addition, understanding the changing regulatory and political environment for infrastructure investment means liquidity offers the ability to adjust exposure accordingly, which is something that cannot be done easily in the private market.
With the Solvency II risk categories in mind, EY and the Global Listed Infrastructure Organisation (GLIO) analysed a selection of 25 common constituents across the key global listed infrastructure indices (table 2) to understand if investment in these companies could benefit from a lower capital charge under the standard formula as per EIOPA's latest advice. At a high level, the proposed qualifying requirements for infrastructure corporate equities aim to target companies whose infrastructure assets provide or support essential public services, generate predicable cash flows and are located in the EEA or in the OECD.

Table 2 ranks the constituents by full market capitalisation, and includes current dividend yield and mid to long-term annualised performance figures for five, 7.5, and 10 years. The final column indicates if the company is likely to benefit from the lower capital charge. Top of the list is the National Grid (UK), an electricity and gas utility company focused on transmission and distribution activities in the UK and the US, which is likely to satisfy the qualifying criteria for the lower capital charge.
In addition to the companies selected for analysis, it is important to note that some companies (such as water companies) which have previously been treated as a type-2 securitisation (and hence received a 100% capital charge under the Solvency II standard formula) could now qualify as an infrastructure corporate equity under the new advice. This could potentially significantly increase the attractiveness of these assets.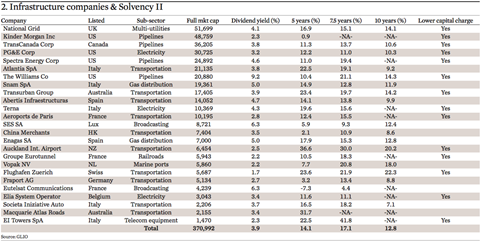 Further analysis is required on the companies not classified as a 'yes'. In particular Article 164a(1)(f) states that "the infrastructure assets and infrastructure project entity should be located in the EEA or in the OECD". In the majority of company cases in the table, the largest portion of assets will be located in the EEA or the OECD.
Atlantia is a good example; it manages over 3,000km of roads and two airports in Italy, making up approximately 90% of its revenue according to its latest annual figures. The remaining 10% of Atlantia's revenue is generated from approximately 2,000km of roads in Brazil, Chile, India and Poland, which sit outside of the EEA or OECD. Unfortunately, it may well be the case that EIOPA would seek to apply the higher capital charge, despite the limited exposure to non-EEA or OECD countries, in order to ensure that all investments are seen as the lowest possible risk.
Infrastructure outperforms
Free-float market capitalisation coverage ranges from US$600bn (€534bn) for GPR to $1.7trn for the FTSE Core Infrastructure index. Annualised total returns for all holding period for mid (three years) to long terms (12.5% years) outpace global equities measured by FTSE considerably. Moreover, these returns are achieved with significantly lower volatility, which results in Sharpe ratios that beat FTSE equities in all cases.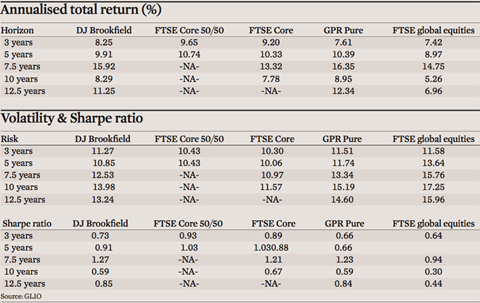 EIOPA may be more inclined to soften the requirements if the reduced capital charges were not having the desired effect of increasing institutional investment in infrastructure; therefore, there may be further opportunities for investors in the future. It will be interesting to see if this is something that EIOPA leans towards over time, perhaps following a consultation with industry to assess the effectiveness of the lower capital charges on achieving the wider political aim of driving infrastructure investment in Europe.
Once the advice is formalised and approved by the EC, the favourable treatment to these infrastructure investments would provide insurers a better alternative to vanilla infrastructure investments. In the current low yield environment, the potential higher-yielding and lower-risk charges from listed infrastructure would improve insurers' solvency.
In addition to EIOPA's advice, the recent development and launch of GLIO has further bolstered the opportunities for investments in infrastructure. EY has joined as a founder supporter of the organisation to help promote consistency and breadth of application of the infrastructure definition, and encourages insurers to consider joining in order to help broaden the investable universe in infrastructure.
GLIO promotes listed infrastructure companies to the global investment community, and its presence in the market is anticipated to make it easier for insurers to access and understand the listed infrastructure market. We believe that insurers can play an important role in the future of funding much needed infrastructure investment over the course of the next 15 years.
We note that the investment management supporters of GLIO have dedicated teams that manage infrastructure investment portfolios on behalf of major players in the insurance industry, so have the appropriate positioning in the market to share knowledge and experiences regarding this asset class.
Fraser Hughes is CEO of GLIO, and Gareth Mee is executive director at EY
Listed markets: Property - Full recognition at last
1

2

3

Currently reading

Listed markets: Taking stock of infrastructure