REITs are no longer being lumped in with financial stocks by index providers. Managers will need to reallocate significant capital to REITs or explain why they are underweight, writes Christopher O'Dea
There is a first time for everything. September brought a big first for the global listed property market. For the first time since the Global Industry Classification Standard (GICS) was created in 1999, a new sector classification was added, making property the 11th GICS sector.
The change, which moved property out of its former home within the financial sector, is expected to have a significant impact on listed property, potentially spurring new capital inflows from generalist equity funds and reducing the volatility of listed property shares as the investment community increases its knowledge of listed property company business models and valuations.
Market participants say the move is acknowledgement that property companies are distinct from other businesses, including financial services firms. They have produced a superior total returns with strong income, low correlations with broader equity and bond markets, and high dividend yields. But the high multiples at which many listed property shares trade has kept generalist equity investors from allocating capital to the sector.
Now property is a sector in its own right, all that is set to change. "The GICS change is a positive thing for REITs, potentially driving demand and reducing volatility," says Thomas Bohjalian, executive vice-president and portfolio manager at Cohen & Steers. The firm has pioneered investing in listed property shares over the past 30 years and was managing $61.5bn (€54.8bn) as of July. Bohjalian, who has authored a detailed report on the implications of the news GICS classification, adds that with real estate standing on its own, "investors are likely to become more aware of REITs and their attractive historical attributes, helping to correct equity managers' long-standing aversion to real estate."
A much needed boost for Europe
The European Public Real Estate Association (EPRA) has estimated the European listed real estate could attract €75bn in additional investment flows as a result of the GICS changes.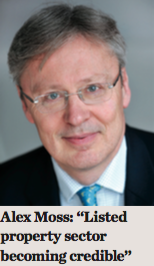 According to the research, led by Alex Moss, managing director of Consilia Capital, the 10-year volatility of the FTSE EPRA/NAREIT Developed Europe index is 19.4%, significantly lower than the 29.52% for MSCI Europe/Financials over the same period.
The report says the volatility of listed securities had been the main reason why European institutional investors did not allocate to listed property. Although capital flows resulting from the classification change are not expected to be immediate, the potential volume is "enormous" should investors adjust their allocations accordingly, EPRA says.
The research estimates that roughly half of European institutional real estate investors (which own roughly $3trn (€2.7trn) in assets) do not currently invest in listed real estate, while the remainder on average allocate about 2.5%.
If the former were to match that allocation, it would divert €75bn of capital to the market.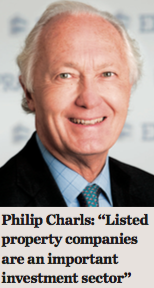 Launching the research at the EPRA annual conference at the beginning of September, EPRA CEO Philip Charls said: "A standalone real estate sector is recognition that listed property companies are an important investment sector in their own right, standing shoulder to shoulder with telecommunication services, healthcare and other mainstream industries."
Moss said: "The GICS move is likely to be replicated by other major equity indices providers, given the momentum of growth in the global listed real estate sector. We are witnessing the increasing maturity of real estate as an asset class with the listed property sector becoming a credible and sizeable complement to fixed income and general equity investments."
While generalist equity asset management firms have historically not employed dedicated analysts to cover property securities due to their status as a subset of the financial sector, Lazard Asset Management predicts asset managers will dedicate resources to covering REITs. "More research will be available and investors will become better acquainted with the sector's unique fundamentals, likely resulting in new or increased allocations to the asset class," according to a Lazard analysis of the likely impact of giving property its own slot in the spectrum of world industries. "This increased attention on real estate is also likely to boost the number of real estate-focused products brought to market."
The GICS system is a four-tiered, hierarchical classification of global industrial and business activity produced by collaboration between MSCI and Standard & Poor's Financial Services. Upon moving property to its own new code – the number 60 – GICS will consist of 11 sectors, 24 industry groups, 68 industries and 157 sub-industries. The Real Estate Investment Trusts Industry is being renamed to Equity Real Estate Investment Trusts. Equity REITs and real estate management and development companies will shift into the newly formed sector, while mortgage REITs will remain in the financials sector under a newly created industry and sub-industry called mortgage REITs.
The GICS hierarchy is the backbone of the global investment industry, playing a major role in financial analysis and the structure of research teams, asset allocation, performance reporting and evaluation, and the design of investment strategies and products. The new property group will be reflected in the S&P US Indices in September 2016, after the quarterly share rebalance of the S&P 500, S&P MidCap 400, and S&P SmallCap 600. The need for benchmarks against which asset managers can portray their goals and results is driven by marketing, client service and governance considerations. "Investors today need to be able to benchmark their managers," says James Wilkinson, co-global CIO for global real estate securities at BlackRock.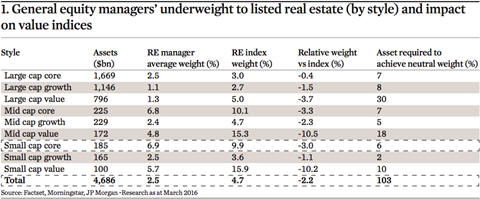 The decision to elevate real estate in equity indexes is a testament to the increasing role of real estate in global equity markets, according to Bohjalian's report. As of March, there were 323 companies in the FTSE EPRA/NAREIT Developed Real Estate Index, representing a market capitalisation of $1.5trn. Property made up 3.3% of the MSCI World Index and 2.7% of the S&P 500 Index. In the US, property made up about one-fifth of the financials sector, which accounted for 15% of the S&P 500; if the new real estate sector were split out, it would consist of 27 stocks, with a market cap of $52bn. That is about the same size as the utilities, materials and telecom services sectors, Bohjalian notes. In addition to core REIT sectors, he adds, the S&P real estate sector will include several timber and infrastructure REITs and one non-REIT property company, which are not part of the FTSE NAREIT Equity REIT index.
That confronts equity managers with a significant number of potentially investable companies. According to JP Morgan Research, long-only 1940-Act equity funds have an average real estate weight of 2.3%, compared with 4.4% for their benchmarks, representing a 2.1% underweight. Based on $5trn in assets under management in such vehicles, Bohjalian estimates that managers would have to move over $100bn to adopt an index-neutral weighting, representing more than 12% of the total value of the US REIT market.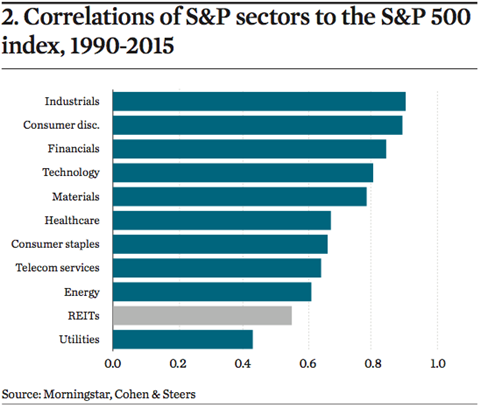 That could be conservative. Lazard notes that over $7.8trn in assets is benchmarked to the S&P 500 Index, with more than $2.2trn directly indexed via exchange-traded funds, mutual funds, and other investment products. "Following the addition of real estate as a new GICS sector," Lazard says, "equity managers benchmarked to the S&P 500 will need to increase exposure to real estate securities in order to maintain a market weighting".
AMP Capital also suggests that small and mid-cap value managers show the largest average underweights on a percentage basis. Under the new changes to GICS, listed real estate will represent the second-largest sector in the most widely followed indices for these strategy types (Russell 2000 Value index and Russell Mid Cap Value Index). "The propensity to narrow the underweight to listed real estate is therefore expected to be highest for these managers and equates to around US$28bn," Amp Capital says in a research paper (see figure 1).
While property investment companies may share certain similarities with other capital intensive businesses, Bohjalian contends "their cash-flow-oriented business models and ties to real estate markets have produced a distinctive risk-return profile". In fact, Cohen & Steers' analysis shows that REITs have been less tied to broad-market movements than most other sectors of the economy, posting a correlation to the S&P 500 of just 0.55 as of December, 2015 (see figure 2). Only utilities had a lower correlation.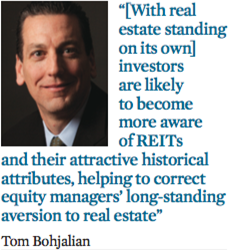 There is no question that listed property returns as measured by REIT performance have bested those of the S&P 500 over five, 10 and 20-year periods – even after backing out expansion in multiples presumably brought on by ever-lower interest rates during the decades-long bull market in bonds, according to Green Street Advisors. But Green Street says that whether or not added attention to listed property begets increased capital allocations will depend on whether the sector's persistently high multiples prove justified.
The advisory firm finds enough evidence to support the view that they are. The long-term outperformance of listed REITs "can be directly attributed to superior operating results", according to a Green Street analysis of the outlook for capital allocations to REITs under the new GICS classification.
Listed property has delivered higher profit growth over the past 20 years and, going forward, there is reason to believe that REIT profits may stack up even better on a relative basis. In that context, "the high multiples REITs have commanded in recent years should be viewed as a reasonable price that needs to be paid for the sector's above-average long-term growth".
REITs have generated an 11% annualised return over the past 20 years, outperforming the S&P 500 by 300bps. Green Street's analysis concluded that, although multiple expansion during the bond bull market did play a meaningful role in that outperformance, REITs "still handily won the race" by 120bps after holding multiples constant over the period.
By standing on their own, Lazard argues, "REITs are likely to be more broadly owned and trade on their own fundamentals." That is likely to "translate to lower volatility and less correlation with financials". The historical outperformance of REITs has been accompanied by higher level of volatility than the equity market, which Lazard believes is a side effect of property being either overlooked, or tarred by the same brush that investors have used to render the results of financial companies.
"One explanation for the elevated volatility is that REITs have had a narrower ownership base compared to other asset classes," Lazard says. And despite REITs having much lower debt levels than financials, "they have traded like financials because little to no distinction has been made by investors as a result of property being lumped with financials".
After the GICS realignment, "ignoring real estate will be much harder", Bohjalian says. "It will be reported as a separate line item in performance attribution reports, showing clients how a manager's real estate positioning affected their returns." As that percolates though the industry, "we believe the potential risk of a negative attribution effect from being underweight will give managers strong motivation to own more REITs".
There is evidence that the shift is under way. Bohjalian says the number of institutional searches for standalone REIT managers has averaged 25 searches per year from 2011 through 2015. At the same time, he adds, REIT assets under management have more than doubled. "Considering that there have been 26 searches in the first half of 2016, a pace set to double that of recent years," he says, "it is safe to assume that institutional allocations to REITs should remain steady to higher than what they currently are."
Giving listed property its own industry code "should increase institutional flows into the sector", says Steven Marks, managing director at Fitch Ratings and head of the agency's US REITs group. While the new classification has not entailed any changes in credit analysis, Marks says some REITs are beginning to revise disclosure language to make the specialised terminology of REIT operations and accounting more accessible to financial analysts.
The opportunity to attract new investors has not been lost on bellwether REITs. "This is a very important year for REITs," equity residential CEO and president David Neithercut said early this year. "I think it's a terrific opportunity for us to market to a wider set of people whose eyes are open to the benefits of owning real estate in a public format." Managers of diversified equity strategies that do not own listed property should expect a call. "We intend to be pretty aggressive this year in reaching out to generalists."
Listed markets: Property - Full recognition at last
1

Currently reading

Listed markets: Property - Full recognition at last

2

3