US public pension plans have been increasingly adopting real-assets allocation frameworks to boost income. Christopher O'Dea looks at their innovations at a time of growing conservatism
A real-assets approach to asset allocation has taken hold in recent years, bringing traditional property investments under the same roof with farm and timberland, natural resources and infrastructure. It has been part of a seismic shift away from the traditional 60% equities/40% bonds allocation split.
Commercial property started to receive meaningful allocations around the year 2000 – much of it to conservative core strategies – but higher-risk property strategies have begun to attract capital from return-seeking funds. Allocations to infrastructure and infrastructure debt have soared recently as yield-starved funds search for income.
Of new investment commitments announced by US public pension plans in 2017 – and tracked by eVestment's Public Plan IQ database – 340 were to real assets strategies, second only to private equity.
Growing commitments to real assets comes at a time when US public pension plans are adopting more conservative postures – closely monitoring and minimising risk and focusing on income generation. This conservatism is reflected in the fact that 85% of respondents reduced their investment return assumptions during 2017 – or planned to do so, according to the 2017 Public Retirement Study of 164 state and local government pension funds, representing $1.8trn (€1.4trn) in assets.
The study by the National Conference on Public Employee Retirement Systems reveals that significantly more capital and risk budget is being allocated to private markets and real-assets strategies, at a time when low-cost, passive, indexed products are prevailing in traditional quoted markets.
In effect, many investors have transformed a significant portion of their portfolios into a series of income-replacement sources intended to offset low bond yields. But now, late in the market cycle, the stakes are rising. Some income sources will prove durable, but a receding tide may leave some strategies stranded as returns abate.
And returns are clearly decelerating. The annual gross-of-fees return on the NCREIF Fund index – Open-end Diversified Core Equity (NFI-ODCE) index for 2017 was 7.62%, down from 8.77% in 2016, and below the annualised since-inception return of 8.72%, according to the National Council of Real Estate Investment Fiduciaries, NCREIF, which calculates the index.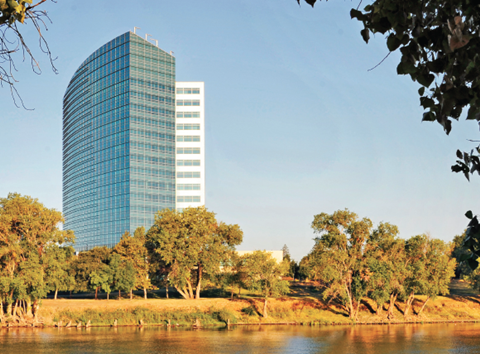 The Pension Real Estate Association in its annual investment intentions survey with ANREV and INREV highlights that core strategies still make up nearly 80% of institutional property assets globally.
Moving into 2018, real assets strategies remain primarily focused on property, with the balance between the relative safety of conservative core strategies and the higher risk of return-seeking value-add and opportunistic strategies often taking centre stage.
The property portfolio at the $225bn California State Teachers' Retirement System (CalSTRS), stood at $26.6bn as at the end of 2017, 11.8% of CalSTRS's total assets – and about 15 times the size of its $1.75bn infrastructure portfolio.
Core strategies accounted for 62% of CalSTRS's property allocation as at June 2017, roughly the midpoint of the 50-75% range for core. Value-add and opportunistic allocations each dropped from 20% of the property portfolio in March 2017, to 15% and 17%, respectively, by June. The inflation-sensitive bucket, in which infrastructure is housed, was 78% infrastructure and 22% inflation-linked bonds at June 2017, little changed from the 76%/24% split in March 2017.
CalSTRS believes the recent lower performance of the NFI-ODCE index is a "tangible concern".
While property-market fundamentals are "generally stable in terms of demand for space from tenants and muted development supply", CalSTRS notes "anecdotal evidence" that performance of apartment investments in gateway US markets is "starting to show signs of slowing". While total returns and income returns on the NFI-ODCE were still above long-term averages when CalSTRS made its 2017-18 investment plan, the fund noted that slowing appreciation "causes unease about the demand for real estate in general".
While the investor is targeting an absolute objective for core property of 7.7% and 9% for non-core, and a relative objective of exceeding the NFI-ODCE index by 70bps, the outlook is tough. "We believe it will be a challenge to attain an 8% overall return, especially if the US economy slows down," CalSTRS says. "Beating our benchmark will also be a challenge as we are overweighting lower-risk strategies."
CalSTRS created its inflation-sensitive bucket in 2015, targeting a 5% absolute objective – and by last summer had already sharpened its approach to the new allocation.
"We've seen a number of our clients move to be less siloed and take a broader view of thinking about real asset types, whether it's real estate, infrastructure or natural resources," says Paul Jayasingha, global head of real estate manager research at Willis Towers Watson. "That's been driven by the fact that from a pension scheme's point of view, what they're really interested in is the nature of the returns, the nature of the cash flows, and the nature of the risks, rather than the specific asset classes."
The holistic view has prompted consultants to adapt. "We've shifted our research approach last year," says Jayasingha. The firm now organises research into four buckets. Secure incomes are very-low-risk strategies in which income streams have strong contractual underpinning, which could range from infrastructure to natural resources. Core covers strategies seeking returns of up to 10%, in which all sectors compete for capital. There is a bucket for listed vehicles, and an alpha bucket for strategies that have an expected return above 10%.
Asset allocation "comes down to what is the best strategy in each of those buckets for helping our clients build a more focused, more manageable portfolio", Jayasingha says. "It comes down to the objectives of the pension fund, which is to pay pensions, but not necessarily to invest in real estate," he adds.
"What they're really interested in is characteristics such as long-term cash flow and inflation linkage," he says. "You can get those from infrastructure as well," he says, and the real-assets framework facilitates making decisions. "We find we can best deliver solutions by working in this less siloed way."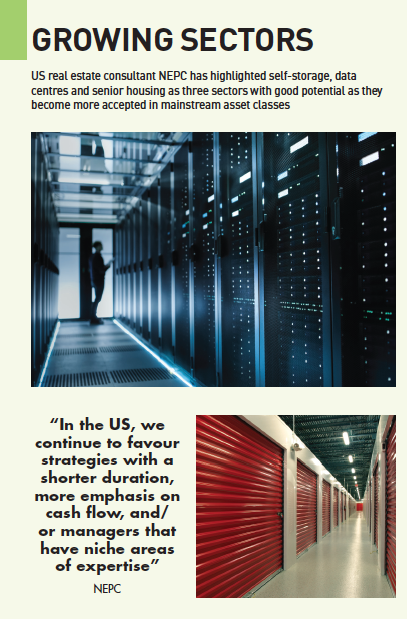 The shift has been led by clients. "Clients have been saying for years they need long-term income streams but they can't get those at attractive rates in the liquid bond markets," Jayasingha says. "It's very much been driven by clients' need for long-term sustainable income in a low-yield environment."
Income needs are apparent in a sample of US public fund property allocation plans provided to IPE Real Assets by eVestment's Public Plan IQ, a research service covering US state and local government pension plans. The Ohio Police & Fire Pension Fund benchmarks its $2.1bn property allocation to the NFI-ODCE, looking to exceed the index by 50bps net of fees over full market cycles, according to a 2018 property investment plan for the fund by The Townsend Group.
The Ohio pension plan has exceeded NFI-ODCE returns by actively managing open-ended fund allocations, and the report says it may consider small adjustments to core-plus holdings after a first-quarter review of open-end funds, with a view towards maintaining a lower risk profile through allocations to core-plus funds. The investor also aims to make durable capital structures and risk controls a priority over maximising returns, while underweighting the current vintage of property funds – that is, reducing commitments at the top of this cycle to conserve capital for deployment in the next cycle.
The State Universities Retirement System (SURS) of Illinois, which has 9.5% of total assets in property, is on target to reach its 10% target allocation during 2018, according to a 2017 report by NEPC. The investor currently has 40% of its assets in listed property funds, with 36% in private core and core-plus strategies and 24% spread across private value-add, opportunistic and debt strategies. Within the private capital bucket, the NEPC report advises reducing the core allocation to 60% of private capital from 74%, while raising the value-add and opportunistic allocations to 17.5% from 13%, and adding a new 5% exposure to private property debt strategies.
For NEPC, "opportunity remains in non-core strategies", according to the report. "In the US, we continue to favour strategies with a shorter duration, more emphasis on cash flow, and/or managers that have niche areas of expertise."
The report suggests "multiple expansion potential" exists in "emerging" assets such as self-storage, senior housing and data centres, "as they gain acceptance into mainstream asset" classes. For Illinois SURS, the report notes that reducing listed holdings "will dampen volatility of the real estate portfolio but will also increase illiquidity", while the fund should "consider global secondary RE funds as part of non-core allocation to mitigate J-curve and provide vintage year diversification of underlying funds".
Investor appetite for information about property and real assets sectors is increasing in line with rising allocations, and they are adopting digital analytics to get a better view of performance and rigorously assess track records during due diligence.
Last year eVestment rolled out a real assets version of its TopQ private markets performance analytics and reporting platform. The specialised tools were developed after pension funds using the original private-equity system suggested their real assets colleagues could benefit from more in-depth quantitative assessment, says Graeme Faulds, eVestment's director of private markets solutions.
While the metrics are similar, such as IRR, real assets analysis requires much larger data sets because the assets make regular income payments over long periods of time, as well as specific parameters for real estate, infrastructure and other real assets sectors, such as building occupancy levels or the phases of infrastructure projects.
To date, says Faulds, real assets investors "have been more focused on the non-quantitative aspects of due diligence". Strong uptake of the TopQ real assets platform reflects the impact of digitisation across the asset management industry. "We're seeing an increasing focus on quantitative analysis within real assets, and I think that will continue to grow."