The G7 summit in Quebec was a picture of discord and controversy. But important collaboration was taking place behind the scenes, writes Joel Kranc
The G7 leaders' summit in Quebec in June will be remembered for the headlines of disagreement – rather than consensus – among the world's largest economies. It did not take long for the choreographed photo-ops and expected communiqué to be undermined once President Donald Trump lambasted his Canadian host for unfair trade practices while on his way to meet with North Korean leader Kim Jong Un in Singapore.
But despite the chaos and confusion that ensued, there were pockets of agreement at the G7 summit. They just did not make the headlines. A group of global institutional investors, led by Caisse de depot et placement du Quebec (CDPQ) and the Ontario Teachers' Pension Plan (OTPP), in collaboration with the Canadian government, pledged to commit resources, expertise and networks to initiatives including infrastructure financing and development in emerging economies.
Two other initiatives were aimed at opening opportunities for women in finance and investment, and speeding up the implementation of climate-related disclosures under the Financial Stability Board – Task Force on Climate-related Financial Disclosures (FSB-TCFD) framework.
Among the other partners involved in these initiatives are Alberta Investment Management Corporation (AIMCo), Allianz, Aviva, California Public Employees' Retirement System (CalPERS), Generali, Natixis Investment Managers, OPTrust, PGGM and the Ontario Municipal Employee Retirement System (OMERS).
"We wanted to make 'a dent'," says Barb Zvan, chief risk and strategy officer at OTPP. "And we thought the best way with the G7 is really through a collective movement that brought in, at the beginning, some large institutional investors with government support. And what we were hoping, as we get these initiatives up and running, is it would span the group of institutional investors."
Zvan says the initiatives the group selected are all things investors struggle with. The genesis of the group started with the federal government reaching out to CDPQ, which in turn contacted OTPP. The two large institutional investors reached out to their own networks that were in relative agreement about the issues at hand.
The institutions will launch an infrastructure fellowship programme for senior public-sector infrastructure managers in emerging and frontier markets. This will include a three-month intensive business school programme as well as an internship in the infrastructure teams of some of the world's leading investors participating in the initiative. The fellowship programme will welcome its first cohort in the summer of 2019, when about 12 fellows will participate in a custom-designed programme, initially in partnership with York University's Schulich School of Business, in Toronto.
Canada Pension Plan Investment Board (CPPIB), which has achieved gender parity in its own board of directors – and supports Women Capital in Markets – is joining partner institutions to launch an initiative to increase career opportunities for women in finance. It is committed to develop and implement diversity policies inspired from global best practices, including the 2016 IFC report SheWorks: Putting Gender-Smart Commitments into Practice. CPPIB will also establish a partnership with the CFA Institute and its global network of societies to set up an internship programme, focusing on encouraging university women studying in developing markets to learn about, prepare for, and gain experience in the investment industry.
In relation to FSB-TCFD, the partner institutions will set up an advisory committee to assess and support existing efforts to adopt TCFD recommendations, as well as publish sample guidance for other institutional investors in the next few years.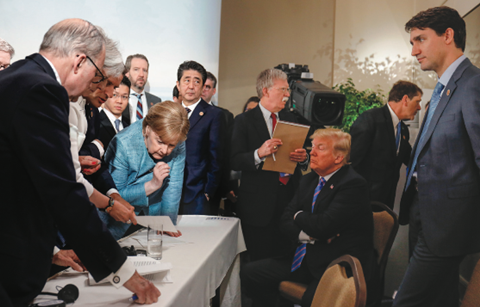 The investors will also promote the adoption of the FSB-TCFD recommendations through the companies they invest in, and use the guidance developed by the advisory committee for their own FSB-TCFD disclosures.
Zvan says each issue is looked at equally, although the most urgent relates to climate-change reporting. She would like the group to be able to provide guidance to others on best-practice climate-change reporting by the end of the year.
Zvan says: "We will look at what other people are doing and say, if you're going to publish according to the TCFD as an institutional investor, here are some of the things you can do."
The group, notes Zvan, is currently interviewing for climate-change experts to help move that part of the process along this summer. The infrastructure internship and women in finance issues will likely get going in earnest later this coming fall.
Fortunately, the politics of the G7 summit has little to no effect on what the group is trying to accomplish. "These are important issues that transcend who is at the political pulpit from time-to-time," says Kevin Uebelein, CEO of AIMCo. "We need to take such a long-term view [beyond] when Trump is gone or Trudeau is gone. But, frankly," he adds, "I think it makes the importance for institutional leadership in these areas even more important, because, at least from my perspective, you've got the US backing away from these issues… it's imperative the rest of us pick up the slack and not let these issues in any way slow down."
Although the infrastructure initiative is an ongoing process to create an educated investment community in frontier markets, the group hopes to have the initiatives on climate and women up and running in about three years. At that time it is hoped the CFA and York University will be able to run those programmes on their own, with support from the group of investors.
Zvan says there are other issues such as sustainable development that may be part of the future of the group. "I can envision, if a good working partnership develops among the 12 happens, this can be repeated in this [and other] initiatives."