Swiss investors are happy with their existing infrastructure investments but struggling to find new ones. Barbara Ottawa reports
At a glance
• More Swiss money earmarked for infrastructure than invested
• J-curve effect proves difficult to explain to trustees
• Low energy prices create domestic infrastructure investment opportunities.
One of the most difficult things about investing in infrastructure is to explain the nature of the investments to Stiftungsräte – or trustee boards – of Swiss Pensionskassen, which often include lay members, representatives of staff and employers.
"It takes some time and money to get to the right 'cruising altitude' with infrastructure investments and this is difficult to explain to the trustee boards and often meets resistance," says Rolf Ehrensberger, CIO at the CHF8.6bn (€7.9bn) PKE Pensionskasse for the energy sector.
For Swiss Pensionskassen, the high initial costs generated mainly by due diligence are a particular problem because of regulation requiring all allocations to be priced with a total expense ratio (TER) and published in annual reports.
But, overall, Ehrensberger is very happy with his fund's infrastructure investments, which make up 2% of the portfolio. "Especially those funds and investments we already have are performing well," he says.
Given their cost structure, infrastructure investments often generate lower yields in the initial phases, therefore suffering from the so-called J-curve effect.
This is also experienced by the CHF9.6bn ASGA collective pension fund, which is still building its infrastructure portfolio to reach its allocation target of 5% by 2020.
"The investment return of our infrastructure portfolio has been below the long-term expectation of 6% in local currency last year because of the J-curve effect," notes Ehrensberger.
At the CHF21bn (€19.2bn) Pensionskasse for Swiss retailer Migros (MPK), CEO Christoph Ryter, says it "is too early to talk about returns from the infrastructure portfolio in detail". The pension fund has built its exposure to CHF300m over the past year and Ryter says the "development is generally positive". The eventual target allocation is 1.5% but "this might still be increased", he points out.

Over a three-year period the MPK will apply the KGAST index for direct real estate investments in Switzerland plus 100bps as a benchmark to measure target returns of the infrastructure portfolio.
A part of this is invested in the IST3 fund, which was started in 2013 by eight pension funds to pool assets earmarked for infrastructure investments. Last year the fund had its second closing at CHF150m, after a first closing a year earlier at CHF300m. However, only one-third of the money is currently invested, with rest waiting for good investment opportunities.
"The fund remains closed until the committed money has been invested," says Markus Anliker, managing director of the IST3 fund.
One hurdle to add new investments to the fund is that each asset cannot make up more than 10% of the total CHF450m.
"So the assets should not be too large or too small – they have to be just right," adds Ehrensberger, whose fund is also invested in this collective infrastructure fund.
Ehrensberger is convinced "infrastructure is the perfect asset class for Pensionskassen if you can find the right investment opportunity".
But Sergio Bortolin, managing director at ASGA, says "there are fewer attractively valued investments on the market" and therefore "selection is the key even more in this investment environment".
Ryter adds that "investment opportunities in Switzerland remain limited".
Because of this, many infrastructure investors, including the IST3 fund, are looking for opportunities across Europe and even in countries of the Organisation for Economic Co-operation and Development (OECD).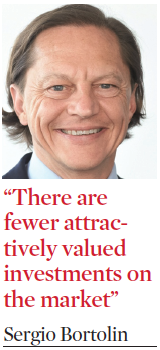 The most recent IST3 investments made were "in water infrastructure in the UK and secondaries", notes Anliker.
The MPK too has made "some of its investments outside the IST3 in Europe".
At ASGA investments in infrastructure are sought globally "with a focus on the OECD countries", says Bortolin. However, the last investments were mainly made in Europe including the UK, he added.
Ehrensberger stressed that there is "currently a lot of money chasing assets and new players continue to enter the market".
And this is not only becoming a problem in the limited Swiss market but also in other European markets. Bortolin says: "We are seeing more transactions in Europe with large players – for example, Canadian investors."
Overall, Ehrensberger sees the PKE's infrastructure exposure as being on track, although he admits the process was slower than expected because of a lack of investments with the right risk-return profile.
"We are not taking more risk but we have cut our return expectations a bit – along with the rest of the interest-rate level," he explains.
There is another reason why the PKE has not reached its 3% target allocation for infrastructure – the fund is not growing. Ehrensberger says the Swiss energy industry is "not a segment where new jobs are being created". For the CIO this is, in today's low-yield environment, "an advantage, to some extent, because we do not have to find as many new investments".
For other Pensionskassen the domestic-energy sector crisis offers opportunities. Bortolin says: "The low energy prices are forcing Swiss energy providers to reduce their debt quota and sell off infrastructure assets. [While] this increases investment opportunities to a certain extent, it is still only on a small scale by global comparison."
One advantage for Swiss investors is that their home market is not on the agenda of most global infrastructure managers, only some specialists and boutiques.
Indeed, one IST3's first major investments was a large share in the operator Swissgrid. At the end of April the former Swissgrid owner Alpiq, the country's largest energy provider, reported a major loss. It was considering selling up to 49% of its hydropower portfolio. Investors did not want to comment on whether they will be taking part in a tender process.
The youth branch of the Swiss green liberal party issued a press release in April calling on the government to "loosen regulations for Swiss Pensionskassen to allow them to invest in Swiss infrastructure".
Last year, a Swiss MP issued a motion to parliament to get the regulator to declare infrastructure a separate asset class. He argued that this would "take off the stigma" infrastructure has in an investment context. The government dismissed the proposal but the motion will be discussed in the Swiss parliament, possibly before the summer.
For Bortolin this proposal "does not go far enough". He "would like to see a complete overhaul" of the investment guidelines because "categorising an asset class as an alternative investment does not tell you anything about the risks involved".
Investor Forum: Work in progress
1

2

3

4

Currently reading

Switzerland: So far, so good