Brexit has not encouraged Middle East investors to shun the UK, but strategies are evolving, writes Ajaz Ahmed
Given that institutions globally are struggling for yield, European commercial and residential real estate, despite recent setbacks, remains attractive. Two years ago a CBRE report suggested that over $145bn (€135bn) was expected to be invested in Europe from the Gulf over the next 10 years, with the UK set to receive $85bn, and the remaining $60bn expected to flow into continental Europe, almost five times the level of direct investment by Middle Eastern investors in the previous decade.
Europe has been a key location for many Gulf investors looking to commercial and residential real estate in recent years. Close to 90% of all commercial real estate investment from the Middle East flowed into Europe in 2013. During the past few years, Middle Eastern capital contributed between 3% and 4% of total European commercial real estate investment.
The sheer scale of overseas investment led to a surge in valuations, probably peaking in 2015. It is therefore no surprise that investment in commercial property fell this year by about 50% in the UK, 35% in Germany and 32% in France.
Despite this decline, Europe is still an attractive location for Middle Eastern and overseas real estate investments. The European Central Bank's $1.2trn quantitative easing programme has underpinned asset prices, including property. European commercial real estate is very liquid, transparent and, according to some, offers the best value among the world's developed real estate markets. It is no surprise then that a recent CBRE report suggested traditional investment locations in France, Belgium, and Luxembourg were still appealing.
However, Middle Eastern investors are changing their strategies to reflect post-Brexit concerns and longer-term economic trends to safeguard their investments and increase their yield from property. Due to the changing economic and investment dynamics in Europe they are considering a broader variety of cities, sub-sectors, and schemes.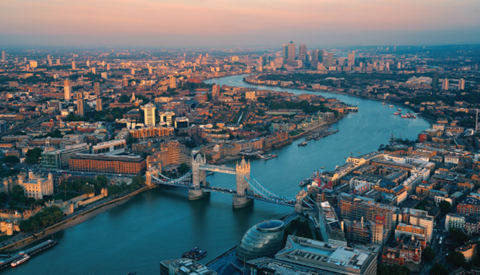 For example, in one recent survey of institutional investors, Berlin and Hamburg were listed as the best cities for investment prospects based on future growth, closely followed by Dublin, Madrid and Copenhagen. Although these countries often have volatile political situations, investors are attracted to growing cities with expanding populations, low interest rates with comparatively high yields, and those beginning to emerge as world-competing business hubs through generous government subsidies.
Following the UK referendum, 40% of commercial property deals that were in progress were put on hold, subject to renegotiation, or collapsed outright. Some $1bn of deals fell through within the first week following the vote.
Despite this, the UK is still a prime location for these Middle Eastern investors looking to capitalise on commercial and residential property. Some $7.4bn of investment poured into UK commercial property in 2015, compared with $6bn in 2014, and a recent survey has indicated that 11% of Middle Eastern investors still list the UK as their top preferred investment location. The second favourite, New York, was chosen by only 5% of investors.
A weakened pound means that more dollar-based investment institutions, such as those in the Middle East, can acquire property at prices up to 20% lower than they were last year. And the Bank of England has cut interest rates to historic lows, encouraging investment in assets rather than simply being on deposit. The UK is politically stable, with government policy remaining largely unchanged following the change in Conservative leadership, and has transparent accounting and long-term income streams, offering strong fundamentals for real estate investments.
Nonetheless, London is no longer considered by all Middle Eastern investors as the only location for their UK property investments. A number of elements have weakened London's appeal: the already high price per square foot for commercial offices, following record investment flows; the 3% surcharge on stamp duty for residential properties bought as second homes or investment properties; the recent oversupply of both new residential complexes and office space sparked by eager developers looking to capitalise on rising rents pre-Brexit.
At MBU Capital, we are seeing Middle Eastern investors turning to new strategies to boost their investments. Investment strategies are beginning to focus on regions outside London, which in the past have been off-radar and undervalued. Locations where affordable homes can be built are easier to sell and thus less exposed to any post-Brexit price impact.
London's northern home counties and pockets around the South East, for instance, avoided the steep price increases experienced in London real estate and are much more affordable. Towns such as Stevenage, Romford, and Luton offer short commuting times and are often recognised for the better quality of life residents experience compared with London. With fast commuting times and relatively low travel costs, commuters are able to save $3,400 on property per minute of travelling time from London, according to Savills estate agents.
In these locations, Middle Eastern investors are beginning to diversify their assets by buying mixed-use properties. Blending commercial and residential real estate boosts yields, and with the support of local councils, offers opportunities to promote social regeneration. With anticipated yields averaging above 4% per annum – and rising – investments located in commuter towns offer a combination of affordability and connectivity with huge potential for excellent investment returns.
For investors looking beyond mixed-use properties, mainstream commercial projects which focus on offices, industrials, and logistics warehouses are most interesting, where refurbishment projects offer greater asset management opportunities with returns averaging at 14% per annum.
Middle Eastern investors that have long-term strategies and respond to changes following the Brexit vote will continue to put their money in the UK, which offers strong legal and regulatory infrastructure and cultural capital, and other developed European markets.
So while the UK and central London might not be attracting the weight of capital it did before, Middle East investors will continue to target the UK and continental European property markets – albeit with fresh interest in more secondary cities and the regions, to build broader, more varied and ultimately more sustainable portfolios.
Ajaz Ahmed is managing partner and head of corporate finance at MBU Capital
Investor Forum: Where do we go from here?
1

2

3

4

5

Currently reading

Middle East investors: UK still top preferred location