What are the implications of the proposed reforms of the Swedish AP buffer funds for their real estate investments? Rachel Fixsen investigates
If current proposals for the reform of Sweden's pensions buffer fund system go through, there will be ramifications for how real assets are managed – and who manages them.
The reform has been through its conceptual and development phases, and is now in the public consultation phase. The funds themselves – and other parties within Sweden – have been critical of the proposals and highlighted confusion over some of the details.
The uncertainty belies the length of the memorandum on the proposals published following the cross-party agreement on the reform. The 400-page document was released in June and put out to a consultation, which runs until the end of October.
The main thrust of the proposals is to reduce the number of AP funds from five to three, create a National Pension Fund Board, which is able to set the level of risk within the system, and to move to a prudent-person principle to guide investment away from the quantitative limits currently set on some asset classes.
The reduction in the number of funds is to be achieved by merging AP6 – which largely holds private equity investments – with AP2, and close a second fund, yet to be specified.
The reform proposal appears to increase the room funds will have for investing in real assets, as well as allowing them to invest directly in property for the first time. Under the current rules, there is no investment limit in real estate assets, except that ownership of direct property should be through a real estate company. But the AP funds are obliged to have at least 30% of their assets in bonds with a low credit risk.
The memorandum proposes that the AP funds must have at least 70% of all assets in liquid listed assets.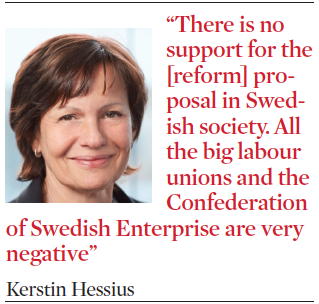 AP funds one to four also currently have a restriction on investing more than 5% in unlisted assets such as private equity, but real estate is an exception to this rule.
The memorandum allows funds more opportunity to invest in assets other than listed securities – even though that part of this extra space will have to be used for unlisted shares in property companies, which are currently not covered by the 5% limit on unlisted assets.
The new investment rules would mean the funds could invest in direct property under the prudent-person principle. "It is an expansion of opportunities to, for example, use the funds within the AP funds to own or develop real estate and infrastructure facilities," the memorandum says.
Of particular relevance to real assets investment is the fact that there will be a "centre of competence" for unlisted assets established within AP2 in Gothenburg, which all of the three AP funds will draw on.
The memorandum also states that the AP funds will co-operate over the management of unlisted assets to improve economies of scale. "Operations shall be based on what the AP fund authorities agree or on what is specified in regulations issued by the government," it says.
However, it says government should only issue regulations on this if the AP funds cannot provide effective collaboration themselves.
Focusing specifically on how co-operation over real estate investment should work, the memorandum proposes that it will be slightly different from, for example, co-operation in private equity and infrastructure. This, it says, is because the AP funds already partially work together with property, with the first four AP funds jointly owning real estate company Vasakronan, and AP2 and AP6 having joint ownership of Norrporten.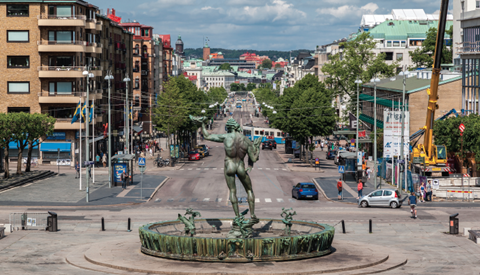 Co-operation in the future reformed buffer fund system can be developed around funds' existing ways of working together, according to the memorandum.
Since it has still not been decided which funds other than AP6 will be closed, it is unclear which real assets the funds hold will have to find a new home.
If these assets are moved to another AP fund, could there be problems with such a transition? Nicklas Fahlström, investment consultant at Wassum in Stockholm, agrees that a receiving AP fund might say that the incoming assets will distort their preferred asset mix.
"When it comes to illiquid assets, I would expect the receiving AP funds to keep them for a longer time though, since they can't be sold quickly, and work together with the future competence centre within AP2 on how to develop the portfolio going forward," he says.
AP6 - which is closing – holds no infrastructure, and its real estate assets are held via Norrporten, which is already 50% owned by AP2, the AP fund with which it is merging.
"So we wouldn't expect it to be very costly to transfer these assets at all," Fahlström says.
Kerstin Hessius, chief executive of AP3, says if the proposals were to go ahead some AP funds are very likely to take over real assets that do not fit in their portfolios because the new governance model will mean a big change to the goal for the buffer funds.
"And real assets are not very liquid so it will take several years for the new AP fund authorities to adjust their portfolios," she says.
The Finance Ministry, meanwhile, is convinced that the transfer of real assets can be made without trouble, not least because those assets are ultimately owned by the state. Per Bolund, minister for financial markets and consumer affairs, and Sweden's deputy minister for finance, says: "Agreements and other legal acts that an AP fund enters into are binding on the state, which means that the state is responsible for agreements and other legal acts entered into by agencies. This facilitates an orderly transfer of assets as a result of the change in the organisation of the management of the buffer capital within the Swedish income pension system."
Hessius says the proposal has many weaknesses and it disregards AP3's current business model. "We have an absolute return and total portfolio focus in our investment process and consequently real assets are very integrated," she says.
If the reform went through as proposed, she says, the investment process would be very slow and the fund might lose some of its advantages. "The proposed investment model is very bureaucratic and I can hardly see any advantages like economies of scale."
However, many people believe the proposal is unlikely to go through in its current form.
"There is no support for the proposal in Swedish society," says Hessius. "All the big labour unions and the Confederation of Swedish Enterprise are very negative. When there is no support from important stakeholders, it would be rather irresponsible to implement this."
Investor Universe: Sweden - Uncertainty around AP reform
1

Currently reading

Investor Universe: Sweden - Uncertainty around AP reform

2

3

4