Australia is a top target for China's sovereign wealth fund and the country's insurers are expected to lead the charge, writes Sharon Hayes
With the purchase of Australia's Investa Property Trust for AUD2.5bn (€1.8bn) in October, China Investment Corporation (CIC) has emerged as one of the largest foreign institutional investors in Australian real estate.
The Chinese sovereign wealth fund now has direct and indirect property holdings totalling more than AUD4.2bn. This places it alongside the likes of Singapore's GIC, Abu Dhabi Investment Authority (ADIA) and other sovereign wealth funds – all of which have built up a noticeable presence in Australia.
CIC outbid a formidable field of global investors in one of the most competitive bidding processes Australia has ever seen to clinch the Investa portfolio, regarded as one of the best in the country for the quality of its assets.
It competed against more than 40 parties, including APG, LaSalle Investment Management, ADIA, Brookfield Asset Management and Blackstone. Its success did not surprise the Australian property industry, although, admittedly, the hefty price CIC was prepared to pay for the portfolio, controlled by Morgan Stanley, stunned the market.
The attention CIC attracted this time was a far cry from its rescue of the Goodman Group, one of Australia's leading property listed trusts in June 2009. Then, the sovereign wealth fund – formed just two years earlier – was an unknown entity. Certainly, in Australia, CIC was not considered to be in the same league as, for example, GIC.
Little did the market know then that CIC would emerge as one of the most acquisitive and influential global investors in all key sectors – from property to infrastructure and energy.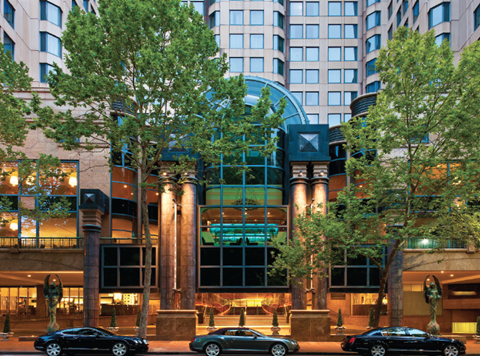 In 2009, the significance of CIC's investment in Goodman initially escaped some market leaders in Australia. But the depth of CIC's purchasing power soon dawned on them when, within weeks, the Chinese SWF converted the initial AUD200m bridge loan into a AUD500m convertible facility.
That gave CIC a stake of almost 16% in Goodman, ranked among the world's top three logistics developer/owner groups. CIC at that point became – and still is – Goodman's single largest shareholder.
CIC subsequently sold down its holding to 9.5% today (worth AUD973m at the time of writing), making a substantial capital gain on exit.
It benefitted from the equities rally and vindicated its confidence in Goodman, which emerged from the crisis stronger than ever to consistently outperform its peers in Australia's listed REITs sector.
In December 2010, 18 months after that initial move, CIC joined a consortium led by Goodman in an AUD2.5bn takeover of the former listed ING Industrial Trust.
CIC holds a 12.4% stake in the vehicle, which has since been delisted and now exists as a wholesale fund, Goodman Trust Australia, which owns logistics assets in Australia, valued at AUD3.6bn as at 30 June 2015.
From indirect holdings, CIC ventured into direct property acquisitions. Its first was an office complex, Centennial Plaza, located at the southern edge of the Sydney CBD, for AUD305m in 2013.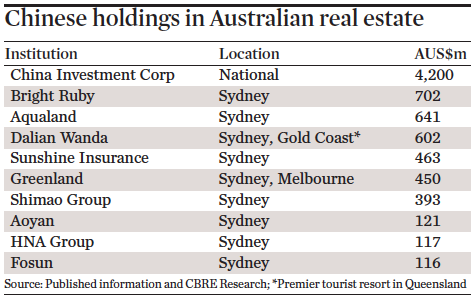 Kougellis leads Fosun's foray
CIC has paved the way for other Chinese institutions to enter Australia. It has been reported that Ping An Insurance and Fosun were among those that jostled unsuccessfully for control of the Investa assets.
Fosun signalled its intention to become a serious player in Australia when it appointed Jason Kougellis, the former GE Capital Real Estate managing director, to head its Australasian operations in June 2015.
At GE, Kougellis built a AUD1bn portfolio, mostly in office buildings, in the first six months of the US company's foray into Australian real estate in 2006.
Fosun had already bought an office building, 73 Miller Street in North Sydney, a secondary central business district, for AUD117m before Kougellis' appointment. It did so with well-known Australian property dealmaker Stephen Day through his company, Propertylink.
At the time of the Miller Street acquisition, Xu Xiaoliang, vice-president of Fosun Group and president of Fosun Property, said the deal marked a significant step in Fosun Property's global strategy. "Australia has been a very attractive market for property investment," Xu was quoted as saying, adding: "We do hope that we can get more deals done in the future."
Sunshine Insurance made its maiden investment in Australia with the purchase of the five-star Sheraton on the Park for AUD463m last November. The very first purchase by a Chinese corporate was an office building in Sydney in 2012. HNA Group paid AUD117m for the asset.
A Chinese-controlled investment house, Bright Ruby Resources, soon followed. It bought two Sydney office buildings for AUD260m in the past three years and, in May, added the Sydney Hilton to its portfolio, lifting its Australian holdings to AUD702m.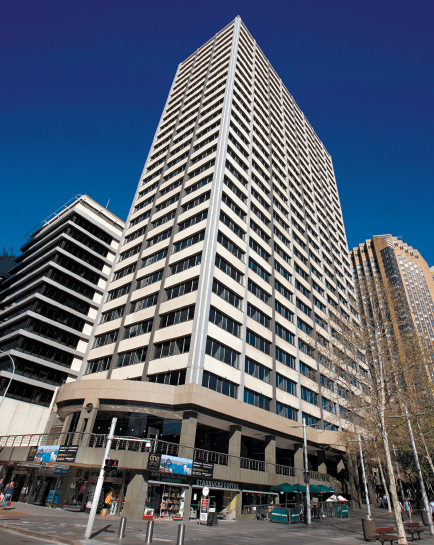 IPE Real Estate understands that Chinese institutions are expected to be strongly represented in the bidding for a number of prized assets coming on the market soon – to capitalise on the interest of Chinese and other offshore investors.
Among the assets are stakes in prime office towers owned by Brookfield Property Partners, worth AUD1.3bn; an office/retail complex located in Sydney's premier shopping precinct, Pitt Street, said to be worth at least AUD900m, and an AUD800m portfolio of real estate owned by the Western Australian government.
That Chinese institutions are getting more interested in Australian real estate is not in doubt. But to date, says Richard Butler, senior managing director of international investments at CBRE, interest in commercial assets such as office buildings and retail centres has been "mostly talk and no action" as they continue to research this market.
Aside from CIC and Sunshine Insurance, Butler says the first wave of Chinese investment is mainly coming from developers buying buildings with redevelopment potential, or 'adaptive reuse', for land-banking.
Dominic Ong, a Chinese market specialist with Knight Frank, says eight of China's top 10 developers have bought development or redevelopment sites in Australia.
The most notable deals include the purchase of 1 Alfred Street (Goldfields House), with panoramic views of Australia's best known icons – the Sydney harbour and Sydney Harbour Bridge – for AUD415m. The buyer, Dalian Wanda, has a AUD1bn-plus residential and hotel project earmarked for the office block in Circular Quay.
Another listed Chinese company, Shimao, recently bought 175 Liverpool Street in central Sydney from GIC for AUD392m. Again, the existing office tower has approval for residential conversion.
The Beijing-based Darren Xia, who heads JLL's international capital team in China, told IPE Real Estate that Chinese developers are "more commercial and in the market" – consequently they can be expected to be the first movers.
"Based on our data, Sydney was the second most popular destination for Chinese institutions in 2014, attracting US$2.2bn – behind London with US$4.4bn," he says.
For the purpose of his calculations, Xia explains that the firm has included purchases of office blocks by Chinese developers, even though their ultimate intention is to convert these buildings into residential apartments.
Insurers lead the next wave
The industry is in agreement that insurance companies will feature prominently in the next wave of overseas Chinese investment. They are the serious investors who buy for income streams and hold for the long term.
According to JLL research, the top 10 Chinese insurers have a collective ¥305trn (€427bn) of investable funds available for offshore acquisitions, including real estate and infrastructure assets. The idea of expanding overseas is relatively novel. Industry sources confirm that they are still very much in their fact-finding phase to gather market intelligence.
The Chinese government only mandated its 'Go Global' policy for Chinese corporates in October 2012.
Ping An Insurance made the first move, buying the historic Lloyds of London Building in London for £280m (€379m). That deal was considered a watershed by the industry.
Where and what the Chinese buy in their first offshore transaction is important to them. The Chinese institutions want to make a statement to announce "their arrival" on the international stage. Sources say Ping An chose the Lloyds building for a good reason. It is a living museum of how the insurance business operated for decades with the physical exchange of broking papers.
Similarly, they say Anbang Insurance paid Hilton US$1.95bn for the Waldorf Astoria Hotel in New York, because of its reputation as a hotel of choice with influential international and US politicians.
Ong says: "Their key criteria is iconic/landmark or premium buildings with long leases in the best locations. They prefer larger properties valued above $100m, and for the right building they can pay up to $500m to $1bn."
He says they also look for five-star hotels in gateway cities and large shopping centres.
Given the relative size of the Australian commercial property market, it has been difficult to fulfil their requirements.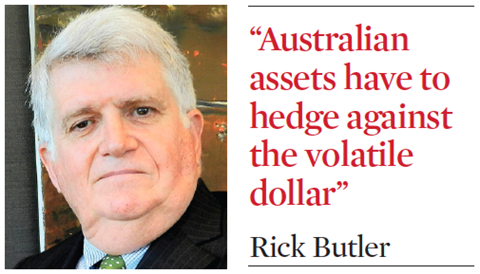 "That is why they head for London and New York first because those markets are deeper, offering a better chance of finding assets that fit their bills," says Ong.
Xia says the very reason the Chinese are going offshore is to seek diversification. Currently, the bulk of their exposure is in China itself. At a time when the economy is facing many challenges, they need to hedge by going offshore.
"At the end of the day, Australia is part of Asia Pacific," Xia says. "The Australian economy is reliant on the Chinese economy so as a diversification play, they have to go outside this region to where economies are not closely linked to China's fortunes."
Butler says Chinese (and other offshore) buyers also have to contend with the volatility of a highly traded Australian dollar.
Chinese insurers also have considerable US dollar investments and reserves and this provides them with a natural hedge when they buy into markets such as the US, he says.
It is different in Australia. "Although the cap rates in Australia are considerably higher than London or New York," Butler says, "Chinese institutions buying Australian assets have to hedge against the volatile dollar."
"And when you hedge, you have to take 2% cost off the returns. So instead of getting say 5% or 6% yield in Australia, they are looking at a net return 3% or 4%."
That said, Butler agrees that the devaluation of the Australian currency and historically low current interest rates work in favour of the Chinese investor, increasing their interest.
Xia says: "The Australian dollar is a lot cheaper than it was 18 months ago when the exchange rate was $1 to ¥6, compared with $1 to ¥4.75 today. It is a good time to buy in Australia."
Despite all the recent noise about curtailing capital outflows from China, property consultants believe that if the large insurers find the right assets, they will not be inhibited by restrictions.
Butler is confident that given that 19 Chinese insurance companies have government approval to invest overseas, there will be strong activity and deals done in the short to medium term.
Xia says the world has not yet seen the unleashing of Chinese institutional capital. He expects the pace to go offshore will quicken in coming years. "In 2013, outbound capital flow from China into the global real estate market amounted to US$11bn.
That grew to US$17bn in 2014. Based on the figure for the first six months of 2015 at US$7.8bn, we expect the amount to exceed US$20bn this year."
Investor Universe: Sweden - Uncertainty around AP reform
1

2

3

4

Currently reading

Investor Universe: Chinese capital flows south