The Future Fund and AussieSuper are among the first Australian institutions to move significantly beyond their domestic real estate markets. Sharon Hayes asks whether the wider superannuation market will follow
Ever so gingerly, Australia's ultra-cautious superannuation funds, which control the bulk of the country's AUD2.1trn (€1.4trn) pension savings, are venturing offshore in search of real estate investment and better returns.
To date, their total offshore property investment, including funds invested with global managers such as Blackstone and BlackRock, is a paltry AUD25bn-30bn (€16bn-22bn).
The risk aversion of the superannuation funds is sometimes interpreted as their lingering fear of being burned in unfamiliar territory. They invested in Australia's listed REITs, which collectively wrote off tens of billions of dollars, then retreated badly scarred from the US, Europe and the UK in the wake of the global financial crisis.
That experience is seared deeply into collective memories. And, for some, offshore investment is still a bridge too far.
Samantha Steele, senior research analyst for EMEA at Russell Investments, recalls a survey she did of 39 Australian super funds in 2011. At the time, respondents told her they planned to increase their offshore weighting from an average of 2.3% to 3.2% – a massive 34% increase – over time.
As many advisers and asset allocators have found, this was 'just talk'. Few actually took the plunge to go offshore.
David Morgan-Green, global capital market research director for Asia Pacific at JLL, recently asked more than a dozen of the larger superannuation funds for their views on offshore investment.
His conclusion? "There won't be a significant rush offshore. Offshore investment is something that is sitting on the back burner at the moment." Nevertheless, he has been heartened to see Australian super funds making significant offshore transactions in recent months.
Yet, while they procrastinate, the unrelenting pressure to find new investments is building. Each year, more than AUD100bn is added to Australia's superannuation pool, now the fourth largest in the world.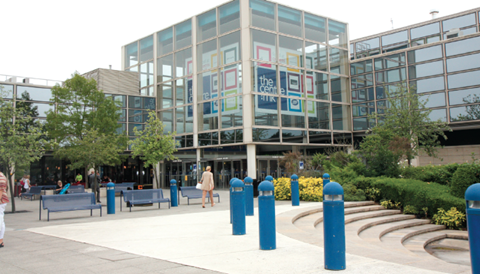 Asset allocator Ken Atchison, principal of Atchison Consultants, says Australia's super savings will reach AUD3trn in the next five years. Based on an average property weighting of 8-10%, that means there will be an additional $100bn chasing property assets.
Nick Evans, head of Australia at TH Real Estate, says super funds are finding that the yield gap between Australian and overseas markets is closing because of strong competition for core Australian real estate.
Four years after her 2011 survey, Steele is starting to see a little a momentum. Russell is advising several mid-sized funds each managing AUD20-50bn, on implementation of an overseas investment strategy. But she concedes it remains a hard sell.
Russell found few takers among Australian super funds last year when it launched its second Global Property Fund, an opportunistic fund of funds for Australian investors to invest offshore, targeting US$250m with a focus on investment in Europe to capitalise on its recovery. "To date, $120m has been raised and momentum has improved this year with the fund remaining open for investment," she says.
Chris Taylor, chief executive of Hermes Investment Management, believes there is a more practical reason to the reticence. "Australian super funds lack on-the-ground, experienced personnel to manage the outflows to overseas jurisdictions. They tend to be very small teams, which necessarily rely upon trusted partners who are similarly aligned. This is one of their challenges."
Evans says Australian super funds are putting in place partnerships and joint venture structures overseas to provide them with local skills and networks to access assets.
In the past two years, Australia's largest super fund, AustralianSuper – known locally as AussieSuper – has given mandates to a small number of managers. It awarded a US retail mandate to QIC Global Real Estate; a US office mandate to Principal Financial Group, a London central office mandate to TH Real Estate, and a continental Europe office mandate to Rockspring Property Investment Managers.
Australia's second largest super fund, QSuper, also invests through asset managers including Jamestown Premier, Invesco and AEW Europe.
In its maiden offshore investment in December 2013, AussieSuper partnered Hermes Investment Management to buy a 50% stake for £270m (€371m) in a regional shopping mall, thecentre:mk in Milton Keynes, north west of London.
AussieSuper followed up in March this year with the acquisition of a 25% interest in the King's Cross Partnership, an entity set up to undertake regeneration of a 67-acre site in King's Cross, central London.
Taylor says AustralianSuper makes an ideal partner in the King's Cross project. Happily, he says, as a responsible long-term investor, the Australian investor shares Hermes' vision to create and sustain a world-class place for people to work, live and visit in central London.
"In our view, it is a scheme for tomorrow," he says. "I look at real estate around the world and see a lot of real estate that could be outmoded quickly because of technology and demographic changes."
In rapid succession this year, AussieSuper acquired stakes in retail and commercial real estate in the US, with a combined portfolio value of $7.4bn.
Through QIC, the Brisbane-based super fund manager, AussieSuper bought a 25% interest in Honolulu's Ala Moana Centre in March for about US$1.1bn. Then, in two separate transactions with Brookfield Property Partners, the Australian super fund bought a 49% stake in eight office buildings in Washington DC and an office tower at 75 State Street in Boston.
AussieSuper's head of property, Jack McGougan, said his aim is to have about 20% of the fund's property portfolio outside Australia over the next five years.
Steven Leigh, managing director at QIC Global Real Estate, says: "There are simply more opportunities abroad. The Australian market has become very crowded, especially in the core asset space".
He adds: "We accelerated our offshore programme three years ago when it became clear that opportunities in Australia were becoming increasingly scarce. We chose the US because of the relative value of assets there."
QIC bought a regional shopping in San Francisco for $174m in August, and now has a US portfolio valued at more than AUD3bn.
QIC entered the US market through a joint venture with the New York-listed Forest City Enterprises to acquire eight regional malls, valued at AUD2.05bn, in 2013.
Earlier, its first overseas venture took it to the UK where it bought a 50% in Merry Hill, a regional shopping centre in the West Midlands for £524m in 2006, on behalf of QSuper and another Australian super fund – the stake is currently on the market.
QSuper, manager of AUD58bn in the retirement savings of past and current Queensland state public servants, owns around AUD500m in real estate in the US, including One Times Square. In 2013, it acquired Exchequer Court in central London for AUD151m in 2013.
Like several super funds, the AUD37bn REST Industry Super has previously invested overseas indirectly through managed funds. Those investments are in student accommodation and retirement living in the UK and New Zealand.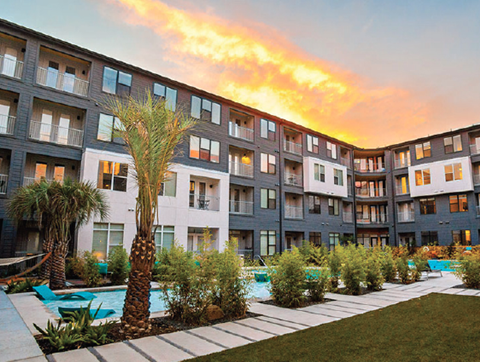 REST Super has now graduated to direct investment. REST chief executive Damian Hill says: "In our first targeted offshore real estate investment, we have partnered with Greystar Real Estate Partners, the largest player in the US multi-family apartment market.
He adds: "We are very pleased with how the collaboration is working. We have been able to work through particular propositions with Greystar, and at this stage we have approved three projects and have a further three in due diligence. If these projects go through to fruition, we will take up three-quarters of our total commitment at this stage. REST Super will own some 3,000 apartments, valued at AUD200m to AUD300m."
Hill says REST Super finds returns from multi-family sector attractive because of the fundamentals. The 25-34 age group, which has a propensity to rent rather than buy, forms a growing part of the US population.
"Core real estate requires a significant amount of capital and prices are high so we think that buying trophy assets is not necessarily going to produce the long-term returns that we want," he says. REST Super is growing by AUD4-5bn from fresh inflows and investible returns each year.
Similarly, Damien Webb, head of income and real assets at the AUD52bn First State Super, is not looking for additional core assets in overseas markets. "We don't need to replicate what we already own in Australia," he says.
He is interested in opportunities in niche areas, such as retirement, aged care and student housing, that can generate higher returns. He also likes large urban regeneration projects.
First State Super is exploring these opportunities with its existing Australian partners, including Lend Lease and Goodman Group. Both groups have extensive interests overseas.
The AUD21bn Government Employees Superannuation Fund (GESB) of Western Australia has a long-standing mandate with the Sydney-based fund manager AMP Capital Investors to undertake offshore investment on its account. GESB's first unlisted property investment is through a European property fund, which provides exposure to 33 assets located across 10 European countries.
The Melbourne-based HostPlus has a longer history in offshore property investment than its peers, but its investments in Singapore and Malaysia were made through regional funds, managed by Lend Lease and MGPA.
HostPlus has indicated that, depending on returns, offshore property could eventually make up 5% to 35% of its portfolio.
Fittingly, it was Australia's sovereign wealth fund, the AUD117bn Future Fund, that showed the way. The Future Fund bought its very first property asset not in Australia but in the UK in 2007. The Then freshly minted SWF bought a one-third stake in the Bullring shopping centre in Birmingham for £210m.
Despite the prevailing post-crisis gloom, Brakey instinctively felt the time was right to buy into the UK market. History has shown that he made the right call. In 2013, the Future Fund offloaded the stake to Hammerson and Canada Pension Plan Investment Board (CPPIB) for £310m.
Since then, the Future Fund has steadily increased its offshore exposure. According to its latest annual report (for 2013-14), 69% of its property portfolio, valued at AUD5.5bn, is located overseas with 46% in the US.
In expanding their horizon beyond Australia, funds like the Future Fund, and AussieSuper are the trailblazers among Australia's 82 industry and state-run super funds.
But others must surely have to follow soon. As Ken Atchison points out, the total size of Australia's commercial property market is about AUD400bn, and there is some AUD300bn from Australian super funds alone chasing those assets.
Netherlands: Aiming high from the lowlands
1

2

Currently reading

Investor Universe: Australia - Super-cautious funds