Foreign leveraged buyers are back in Denmark, pushing up prices. But the country's largest pension fund is still finding investment opportunities, Michael Nielsen tells Rachel Fixsen
As a long-term investor, Danish pension fund ATP has kept its cool as competition for real estate at home and abroad has heated up to feverish levels.
Global factors such as currency differentials, the ever-diminishing yields on bonds and the increasing stock market volatility have sent investors hurtling into property markets, in a stampede that has pushed prices in some cases to ridiculously high levels, according to Michael Nielsen, chief executive of the DKK705bn (€94bn) statutory pension fund's real estate division.
"There is a huge wall of money rushing after real estate and there's a huge competition for the right products in the market," Nielsen says. He notes that some of the money chasing property in the European markets where ATP is active is coming from Asian investors who, for currency reasons, find it attractive to be investing in Europe.
The return of leveraged buyers has heightened the level of competition. "There's a difference whether you are a geared investor or whether you are an equity investor," Nielsen says. "I would say it's even tougher for the equity investors, but I'm not sure the geared investors have the same focus on risk that we have – leverage adds risk to your portfolio."
With no investment targets to meet, ATP Real Estate can afford to stay on the sidelines in markets it considers overpriced. But the organisation has some advantages over other investors in competitive times, he says. "We are very careful and we try to get into off-market deals where we can use our advantages, such as the buying power of ATP."
For example, in 2014 ATP bought office property North Galaxy in the north of Brussels in a 90/10 partnership with AXA Real Estate , paying €475m. The asset is let long term to Belgium's Ministry of Finance.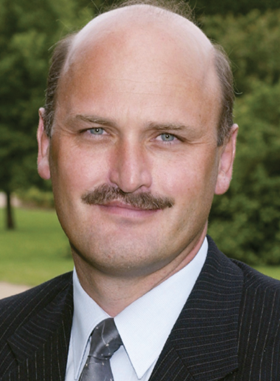 At close to €500m, the deal not only had the right risk profile for ATP, but its size put off most other investors. "When you come up to these deal levels, the competition is not so great. Perhaps that is where we have an advantage if the right opportunity shows up," he says.
In auctions for lower-value assets, on the other hand – for example, those worth less than €75m – Nielsen says there are now a huge number of bidders. "Many times we have ended up being number five, six or seven, so we try to avoid these auctions because we can't see the right long-term return potential for us," he says.
ATP is also responding to the increased competition and higher prices in the property market by broadening its exposure across new sectors, looking for pockets of the market where it can find deals that give it what it considers to be acceptable risk-adjusted returns.
In January, ATP said it had joined forces with AXA insurance companies to buy two London hotels for £180m (€240m). Although it already had exposure to the hotel sector through investment funds as well as directly-held assets within Denmark, this marked the first time that ATP had taken on a direct investment in the hospitality sector abroad.
As part of investment strategy changes made over the past two years – and announced more formally at the beginning of this year, including an investment portfolio construction revamp – ATP, as a whole, is moving towards direct investments and away from indirectly held assets.
ATP Real Estate's latest moves also reflect this shift, notably in its recent efforts to start investing in direct residential property for the first time.
Having hired residential specialist Lars Gjørret from labour-market pension fund PensionDanmark to work primarily on its new residential investment strategy, the pension fund's property arm has been busy analysing residential deals on offer within Greater Copenhagen.
"We have been an investor in commercial real estate for decades and, from time to time, we are revising our real estate strategy. Last year we decided we should put more focus into hotel and residential because we have seen these two segments as ones where you find rather low-risk investments."
While real estate markets around the world are in the throes of a surge in investor demand, in the past two years the Copenhagen market has been targeted fiercely by foreign buyers, leading to a spike in prices.
"That's one of the reasons we were very reluctant last year to buy here in Copenhagen – we simply found that there was not the right balance between risk and return," Nielsen says. "So last year we only acquired one building here in Copenhagen and the year before we have even been selling some of our commercial assets here."
Some of those sold were retail assets on Copenhagen's famous pedestrian street Strøget. "We see a lot of appetite for Danish real estate and at price levels where it is hard for us to see the long-term business case for us," Nielsen says. "Going abroad as part of our strategy we have been able to find better risk-adjusted returns outside Denmark."
Nielsen attributes much of the buying by foreign funds to the fact that Denmark has a mortgage system where property buyers can borrow relatively cheaply to finance up to 60% of the property value. "I don't know the exact business case for some of these international investors, but I'm sure they try to put as much leverage as they can when they buy in the Danish market, and it's due to this very efficient mortgage system that we have in this country."
Nielsen says the current pricing for much commercial real estate in the capital is ridiculous, but concedes that, compared with other big cities in Europe, office rents in the Danish capital are still cheap.
However, there is still a lot of empty space in developing areas around the city, such as the Ørestad district between the city centre and Copenhagen airport. "And on the other side of the harbour there's an old shipyard still waiting for its turn to be developed," he says. "I would say in the next few decades there's still a lot of land available for development in Copenhagen and that will have its impact on price levels and on rental levels as well."
But despite the massive amount of investment capital chasing real estate, Nielsen does not believe the demand is driving property development. "We have not reached the point seen just before the financial crisis, when investors were buying empty offices all over the place, thinking a tenant will turn up shortly," he says.
"I think investors are still trying to be realistic in terms of taking risk on new developments," he says, adding that in Copenhagen at least, there are not many speculative developments taking place. "Just building up an empty portfolio is not the way to secure your cash flow, hopefully, from day one."