Malaysia's Employees Provident Fund has embraced alternatives. Florence Chong speaks to Mohamad Nasir Ab Latif and Kamarulzaman Hassan
With 60% of its US$8bn (€7.3bn) offshore real estate located in the UK, Malaysia's largest pension fund, the Employees Provident Fund (EPF), could understandably be concerned with Britain's decision to leave the EU. But the fund, which looks after the retirement savings of almost seven million Malaysians (totalling MYR696bn (€152bn) at the end of 2015) is not unduly perturbed.
EPF's deputy CEO responsible for investment, Mohamad Nasir Ab Latif, believes that out of adversity come opportunities. Sitting in EPF's headquarters in Kuala Lumpur, Nasir says: "There was some initial concern because nobody expected it to happen. It came as a shock. We saw some weakness with some people seeking to redeem – forcing some funds to close. But that has now stabilised.
"Things will take time to pan out. In the longer term, the UK economy could be impacted, but at this stage we do not know what those impacts might be. So we are monitoring closely."
EPF first went into the UK in 2010. This was soon after it had taken a strategic decision to diversify out of Malaysia, where it had invested all of its funds since it was formed in 1951. The initial allocation was £1bn (€1.1bn) to the UK, which was quickly deployed.
Kamarulzaman Hassan, EPF's head of global real estate, says going to the UK was an obvious and easy choice. "We are very familiar with that market," he says. "As a result, we have a lot of exposure there. We started investing at the right time."
One of the assets was 1 Sheldon Place, Paddington, London, purchased for £156m in 2010 and sold for £210m in 2015. EPF benefited from the UK office market recovery since 2008.
"At EPF, we are constantly looking at market conditions and, if we can profit from a sale, we will sell to deploy the funds elsewhere," says Hassan.
Similarly, EPF has taken advantage of the hot market for logistics assets in Australia. It sold its assets there to Blackstone Group in July.
Over the past six years, EPF has built up a diverse portfolio in the UK, including development projects, retail, healthcare and logistics. Commuters using London Underground stations at Hammersmith walk through retail precincts owned by EPF. Other retail assets are let to supermarket chains Tesco, Sainsbury and Morrisons.
Tesco and EPF jointly own Arena Trust, which owns three retail parks. Tesco is the anchor tenant. EPF acquired the Arena stake from Aviva Investors for £157m in 2014.
EPF's biggest exposure to the UK is a co-investment with Malaysian developer SP Setia and Malaysian multinational Sime Darby in Battersea Power Station Development Company (BPSDC), which is renovating the Battersea Power Station site.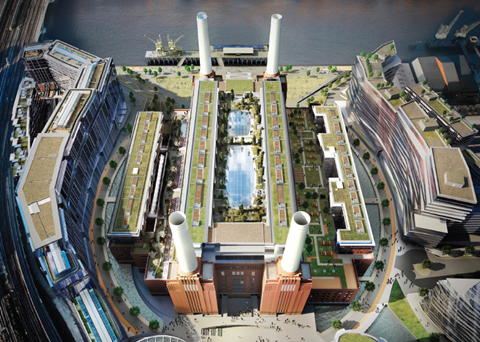 Nasir says: "We sold more than 90% of the apartments in the first and second phases. But sales have slowed in the third phase – a reflection of the general market slowdown.
"We do not expect any issues except that we may have to revise the price point and maybe look at [building] more single-room or studio apartments."
The high point, however, will come with the sale of the commercial component in the project, the Battersea Power Station itself, which has been redeveloped into a mixed-use complex. Signing tech company Apple, which is to relocate its London headquarters to Battersea, is a major coup for the developer. Apple will occupy six floors in what is known as Central Boiler House.
Nasir says Apple's presence will have a "pull factor" for the project. "There are a few interested buyers looking at our power station itself," he says, adding that he hopes a transaction can be finalised before the end of the year.
The sprawling development is like a small town. It has its own high-street shopping, hotels, park, and a tube station. The idea is to provide an integrated development, says Nasir, a concept that is popular in Asia.
In Malaysia, EPF is master developer of a 926-hectare prime site in Sungai Buloh in the capital, Kuala Lumpur. It is a natural progression of any pension fund as it matures to go into development, Nasir says.
The long road to alternatives
Nasir has watched EPF grow from a small, MYR15bn fund more than three decades ago into one of the world's biggest pension funds. According to the 2015 Willis Towers Watson rankings of the world's top 300 sovereign pension funds, EPF was the eighth largest.
Nasir recalls that EPF's strategy in its early years was to invest in government bonds or fixed deposits. Fixed income – mainly government bonds – still made up 51.1% of all EPF assets at the end of 2015.
"The whole world is looking at very subdued growth. There will be more interest rate cuts, and this may adversely affect us," Nasir says.
With many global interest rates turning negative, there are few countries where bond yield is positive – Nasir names Australia, the UK, Hong Kong, Singapore and the US as offering positive yields in government bonds.
Mostly, however, EPF is biased toward its home market, and for good reason: 10-year Malaysia government bonds carry a 3.5% interest rate.
Over the past decade, EPF has shaken off its ultra-conservative approach. The biggest change came with the appointment of Azlan Zainol, a banker by trade, as chief executive in 2001. Zainol is widely credited with bringing a touch of commercial nous to the sedate organisation.
With Shahril Ridza Ridzuan as his deputy CEO for investment, Zainol began to push EPF into offshore markets. When the Oxbridge-trained lawyer-turned-developer Ridzuan succeeded Zainol in April, 2013, he accelerated the shift overseas, paying particular attention to asset and geographical diversification.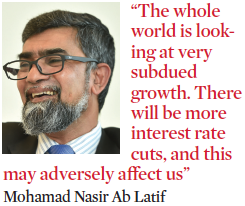 Nasir says EPF is undertaking its three-yearly review of asset allocation to map out investment over the next three years. While not wishing to pre-empt the findings, he says: "Given changed world economic conditions, I expect there will be some changes coming out of the review. We think it is unlikely there will be new asset classes. From what we can see, there will probably be a reallocation of assets from traditional sectors towards alternatives."
When Nasir speaks of alternatives he means private equity, real estate, natural resources and infrastructure. "We like alternative assets. They fit our profile. We are looking for assets that hedge against inflation and lend themselves to long-term ownership.
"We are not looking for sky-high returns. We look for steady and consistent returns. We want the type of assets that give returns without too much volatility."
The only concern about this type of asset is liquidity, he says. But for EPF, liquidity is not something of immediate concern. It receives inflows amounting to MYR50-60bn ever year from a combination of contributions and investment returns. "We have net inflows into the fund because we have a young population," says Nasir. "I can safely say that, for the next 10 years, liquidity will not be an issue."
At this rate of growth, EPF is projected to be a MYR1trn fund by 2030.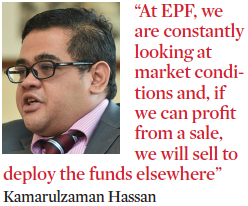 Recently, Nasir received board approval to allocate US$200m to global infrastructure debt. "We are looking to developed markets, and we are finalising mandates to two global managers to manage that money. We are open to investing in a range of infrastructure like ports, airports and toll roads."
Nasir sees many future opportunities emerging from infrastructure. It is the new buzzword in global development, as governments look to boost their sluggish economies. "People see that monetary easing is not working," he says. "You need basic-economics 101. Monetary policy cannot operate on its own. You must go along with a fiscal policy."
EPF already has a portfolio of the largest toll-roads in Malaysia though partnerships with local companies, including Malaysia's largest infrastructure operator, UEM Group Berhad. It has also invested in water and oil tanking facilities – the investment in water is through a European fund manager, with Australia's Macquarie group in the oil tanking investment.
But infrastructure accounts for a small percentage of its MYR5bn real asset portfolio.
EPF is keen on retirement villages. "It is something that fits with EPF – which is a retirement fund itself," says Nasir. The fund is talking to retirement village operators and developers, some of them in Australia, to explore possible investment options.
It has made a start in the retirement sector with the Hong Kong-based Orion Capital, which develops retirement villages in Japan.
Kamarulzaman Hassan says: "We are also looking to Germany, a market that is ripe for retirement villages. But we will have to find a strong partner – big enough to operate on a scale that suits us."
Since 2013 EPF has owned the Spire Healthcare Group, the second largest in its sector in the UK, through a consortium that includes the New York hedge fund manager Och-Ziff. It paid £700m for the business, which operates 12 hospitals.
Hassan believes EPF's UK experience can be replicated to launch private hospitals elsewhere. But the sector is becoming more competitive, he says, as other pension funds realise the potential, and he is pleased that EPF has a "head start" in the sector.
Geographically, Nasir likes Europe ex-UK, North Asia (South Korea and Japan) and Australia. So far, EPF does not have direct exposure to China, but Hassan says EPF invests through China funds, mostly with the Hong Kong-based Gaw Capital.
EPF also like logistics. "It is about yields," says Nasir. "Compared with retail and office, typically you can get long weighted-average lease expiry from logistics assets. We can have leases for at least five years, sometimes longer, in Japan, and for 10 years in Europe."
Since 2012 EPF has established three partnerships with Australia's Goodman Group, the world's third-largest logistics developer, operator and owner. The ventures cover three regions – Australia, Europe (in particular Germany), and Southeast Asia – and involve a collective investment of just under €1bn.
The KWASA-Goodman Germany venture was seeded with €500m capital to purchase distribution centres developed by Goodman. In a deal that brought Goodman back to Southeast Asia, EPF formed a 50:50 joint venture, with each investing MYR356m over a three-year period.
The venture has acquired sites in Iskandar, a designated development zone in the southernmost state of the Malaysian state of Johor, and in Klang Valley, on the outskirts of Kuala Lumpur, to develop international-standard logistics facilities. The plan is to establish Malaysia as a logistics hub for Southeast Asia.
In Japan, EPF has acquired eight logistics facilities with the large Japanese trading house, Mitsubishi Estate, to harness growth in online retailing in Japan. Hassan says: "It is a new kind of real estate for the use of third-party logistics. Only about 5% of Japan's logistics stock is suitable for modern logistics operations."
In April, EPF acquired 18 industrial business parks and industrial estates in the UK for MYR1.1bn from IM Properties.
Nasir says EPF is also working with partners other than the Goodman Group to develop logistics assets in Europe.
Selectively, EPF continues to buy office towers in Europe. It recently signed off on the purchase of two office towers in Poland for €200m.
Several global fund managers have been mandated by EPF to buy assets, including Invesco, which has a €250m mandate. Its first transaction in 2014 was the Tour Prisma building in La Defense, the commercial hub of Paris.
As with the UK, Australia was one of EPF's earliest investment destinations and, as in the UK, asset values have appreciated strongly since purchase.
EPF has also started to take profits. In July, it disposed of industrial properties in Melbourne, which were part of a Goodman industrial portfolio acquired by Blackstone for AUD640m. It still owns office buildings in Melbourne and Canberra. Both assets are well-leased and generating good income, says Nasir.
EPF has a close relationship with the Singapore-based asset manager, CIMB TrustCapital Advisors, with which it bought the Canberra office building for AUD279m in 2011. EPF is also an investor in CIMB TrustCapital's two Australian Office Funds.
Nasir says demand for Australian assets is such that the fund is fielding unsolicited enquiries from interested parties for its office buildings.
The US is the missing link in EPF's global spread. "We do have a presence in the US but through funds. We do not have direct assets," says Nasir, mentioning the country's "punitive tax treatment" of foreign investors.
In the meantime, EPF has found other avenues into the US market, such as infrastructure funding. It is co-funding development of a power plant there.
EPF is something of an outlier among its Malaysian peers. Some of Malaysia's largest investors overseas – Kumpulan Wang Persaraan (KWAP) pension fund, Permododlan Nasional Berhad (PNB) and Lembaga Tabung Haji – have sold assets to repatriate capital back to Malaysia.
According to Real Estate Analytics, Malaysian institutional investors have become the net seller over the past 12 months.
"I can't speak for them," says Nasir. "For us, we are growing our assets by around 10% a year. So we need to invest that money, and there is a pressure to go out of Malaysia."
Global tax debate a sovereign risk
Offshore investments generated almost half of gross investment income for Malaysia's sovereign pension fund, the Employees Provident Fund (EPF), last financial year. They accounted for just 25% of EPF's total assets – but delivered earnings of MYR21.3bn (€4.6bn).
For Mohamad Nasir Ab Latif, deputy CEO responsible investing, it was an admirable achievement in a tough investment environment. "The pressure is always on to do better. People expect ever-better performance. Our stakeholders always think we can do better next year," he says. "It will be challenging to meet last year's numbers. What did it for us was partly the depreciation of Malaysia's currency."
Nasir's investment target is inflation plus 2%. "On relative terms we will be able to achieve our target because inflation is still very low – in Malaysia, it is 1.4%."
It is not future returns that trouble Nasir, but rather global taxation issues. "The [cross-border] debate on tax worries me. Companies have been charged for tax evasion. We buy the best advice from the big four [accounting] and legal firms on how to structure our investments. I am sure they give us best advice.
"They always focus on tax efficiency – as distinct from evading tax – but the way things are going these days, it can be quite worrying. I am comfortable with the advice we have received, but, of course, we are not tax experts, and we can only rely on the best professional recommendations available.
"We still sometimes wonder, did our advisers give us the right advice? We have asked them to re-look at all our tax structures."
Nasir wants no ambiguity on compliance with local tax regimes. "We are a retirement fund. We are not interested in tax avoidance. We want no part in it. The last thing we need is some international headlines on EPF and tax. That would be really bad."
Investor Forum: What are realistic returns today?
1

2

Currently reading

Investor Interview: EPF

3

4

5