The Kandlbinder Report 2015 shows that German real estate Spezialfonds market has grown, while the profile of its managers and investors has changed, according to Till Entziam
Growth of 25% was achieved by real estate Spezialfonds over the course of 2014, with assets rising from €44.2bn to €55.8bn after tax. The growth can be attributed to net inflows of €7bn, and asset returns worth €4.6bn.
Real estate Spezialfonds experienced something of a boom, driven to an extent by low return expectations for other asset classes. The increased interest in real estate is of course also pushing up its price. This is positive for those already invested, but less so for the new arrivals.
In contrast to real estate Spezialfonds, mutual funds have not set any records, as assets declined for the fifth year in a row, from €82.5bn to €78.1bn in 2014. There is a glimmer of hope, as assets rose in the year to May slightly to €79.7bn – driven by the same low-interest-rate environment that is seeing institutions pay higher entry prices. The development is especially welcomed by time-limited investors whose assets will be sold at a set time.
It seems that confidence in the real estate Spezialfonds market is also returning. While in 2014 net inflows were worth €900m, inflows in the first five months of 2015 totalled €1.5bn. The growth is also aided by the fact that the funds are the only way to invest in real estate, and can also be sold easily. The new limits on sales do not change this.
Providers were successful in attracting new business over the course of 2014. While the number of funds have only risen by three, this statistic also includes the winding up of 31 funds over the same period. In 29 cases, these funds were set up in reserve in 2012, ahead of concerns over the bridging regulations surrounding the KAGB. Once the providers were granted licences under the new system, the funds held in reserve were no longer needed – a situation that had already led to the closure of 55 in 2013.
Market shares – providers edge closer
The provider with the largest market share, IVG, experienced a 5.6% drop in net assets under management, to €6.5bn. As a result, its market share has fallen by 2.9 percentage points to 11.9%. Warburg-Hederson retains its spot as second-largest provider, aided by the launch of six new funds and associated inflows of €445m, but its growth was nevertheless not sufficient to maintain its market share, which fell 0.2 percentage points to 6.9%.
The strongest growth, of €1bn, was achieved by Universal Investment, with assets now at €1.7bn accounting for 3.1% of the market. PATRIZIA also recorded a nearly €1bn increase in assets to €3.8bn, giving it a 6.6% share of the market. As a consequence, Patrizia is now responsible for more assets than either RREEF or Aachener Grund, allowing the firm to leapfrog to third place in the ranking and underlining how close all businesses are, as far as assets are concerned. RREEF's assets increased by €831m, to close the end of the year with €3.5bn.
Only BNP Paribas suffered a larger loss in market share than IVG. Formerly iii-investments, the firm launched a new fund that attracted inflows of €2.9bn, but this was not enough to stave off a decline in share by 0.9 percentage points to 5.5%.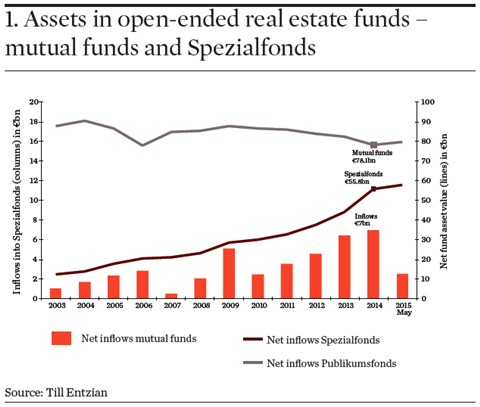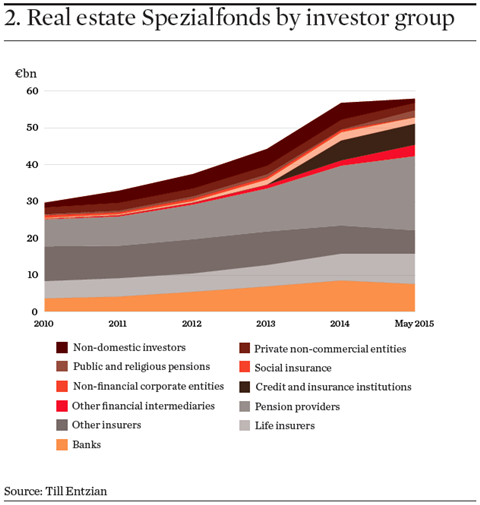 Pension funds overtake insurers
Surprisingly, insurers have lost their ranking as the most important investors in real estate Spezialfonds, claiming a quarter of the investment universe with their €14.9bn. They have been overtaken by pension providers, which have a €16.2bn share of the market. This transformation has continued in 2015, with a further €4bn increase in pension assets during the year to May – compared with a €2bn decrease in the assets managed on behalf of "other insurers". This could be explained in number of ways – including a new definition for the various investor groups, which could mean that some previously recorded are now categorised as pension providers.
Another explanation could be the transfer of shares from insurance companies to pension providers. One of the advantages of the Spezialfonds is that stakes can not only be sold by the sale of the underlying properties but also through the trade of stakes to other investors. As insurers are under pressure to achieve returns, their stakes being liquidated to add to quiet reserves is plausible.
New challenges for fund managers
Insurers and pension providers are, to date, subject to roughly the same sets of regulations, but this will change at the end of the current year once the Solvency II Directive comes into effect. The transposed European law will introduce new rules for insurers, but not for Pensionskassen and certain other investors, such as friendly societies.
The new rules nevertheless mean that Spezialfonds providers will have to brace for change. It will no longer suffice to align investments with asset classes outlined in the German investment ordinance (AnlV) and report their returns. Known quotas for measuring the success or failure will be scrapped, and the current regulations will be replaced with a system more closely aligned with regulation for credit institutions. The new capital rules will also apply to real estate, with the asset class hit with a 25% capital charge. This is lower than for listed equities, for which reserves of 39% is expected, or for unlisted equities, for which a 49% charge applies.
It does mean, however, that insurers will need to study their capital requirements to see whether they are able to invest in real estate Spezialfonds. It could therefore be that insurers are no longer able to acquire new real estate assets, despite this being possible with the real estate quota under law.
Furthermore, fund managers will be faced with substantial new reporting requirements. After all, the assets held within Spezialfonds are not only used to meet capital requirements but also have a direct impact on the level of the reserve required. Fund providers and managers will in future have to think even more like their clients to ensure the products are optimal from a regulatory perspective, while also not losing sight of the optimal asset allocation. The new rules will at least offer the investment industry the opportunity to better tailor their products to the needs and requirements of insurance companies, relieving them of even more pressure and making Spezialfonds ever more attractive.
Credit institutions have also increased their stake in real estate Spezialfonds, growing to €8.4bn at the end of 2014, up by €1.6bn year-on-year.
Assets held by primary insurers
Figure 3 shows the overall development of assets, which now stand at €1.4trn and have been steadily rising at a rate of 4% per year.
The columns show the total volume of different real estate holdings, currently below 4% of total assets and necessitating a different scale to portray the two. Direct exposure to real estate has risen in the three years to 2014 from €26.1bn to €30.1bn, accounting for annual growth of 5.1% that is slightly above the overall growth rate. At the same time, the value of real estate Spezialfonds grew from €15.1bn to €19.4bn. While only 1.4% of primary insurers' assets are within real estate Spezialfonds, the funds' importance is gradually rising. As insurers are clearly increasing their exposure to property, there are chances for growth for some Spezialfonds companies.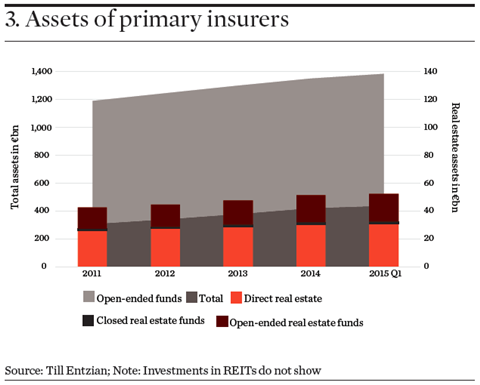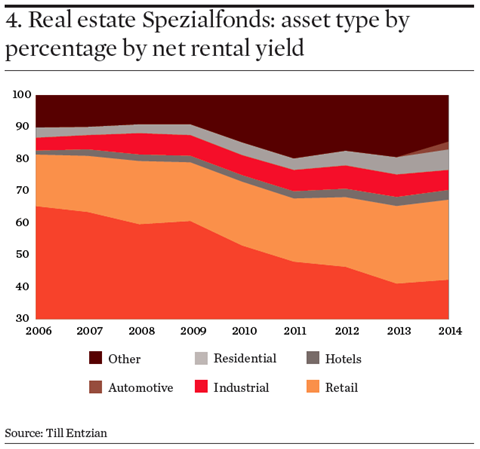 Closed-ended funds
Closed-ended funds are also used by primary insurers, which attracted about a 10th of the assets invested in real estate Spezialfonds, or €1.7bn, at the end of 2014. It will be interesting to monitor the further development of this sector, as the closed Spezial-Investment-KG falls into the category of vehicles used for club deals that are gradually being used as a replacement for Spezialfonds holdings.
Figure 3 does cover REITs, but the values are so small they do not show. Under €20m of assets have been invested in the vehicles by insurers, rounding to 0%.
With a post-tax value of €57.8bn at the end of May, the assets under management amounted to €77.2bn before tax – pointing to an estimated 25% assets being owned by foreign investors. Further non-domestic capital not captured by the graph can also be found within real estate companies (Objektgesellschaften) which aid Spezialfonds in the completion of indirect real estate transactions. Such arrangements can be especially useful when completing cross-border deals. The acquisition of Objektgesellschaften allows for the avoidance of real estate transaction taxes (Grunderwerbsteuer) and the loans taken on in the host country act as a natural currency hedge.
Geographic breakdown
Figures from the Bundesbank show the increasing importance of domestic real estate holdings in recent years. At the end of May, €37.2bn of assets were located in Germany, compared with €9.7bn non-domestic assets. This is down from 2009, when non-domestic assets stood at €10.6bn and ranked favourably compared with the €15.2bn in domestic holdings. However, these statistics do not cover indirect holdings acquired by real estate companies, worth a further €11.2bn that likely have a higher overall exposure to non-German assets. But the figures, including ones compiled by German asset management association BVI, point toward an increasing importance of domestic holdings. The BVI's figures also capture indirect holdings, with a domestic exposure of 63.8% of assets. This is an increase from a decade ago, when the exposure still stood well below half of assets, at 47.9%.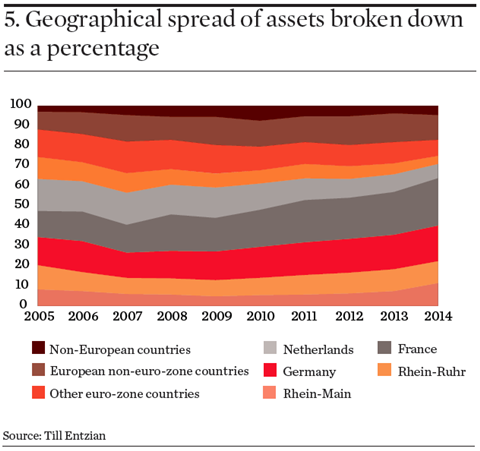 Home advantage
The advantages of investing domestically is proximity to the asset and the ability to better assess the market. Rules that incentivise domestic investments play a lesser role in this regard. While insurers need to match assets with liabilities, the existence of the euro-zone means this could easily allow for a greater exposure to non-domestic euro-zone nations.
In Germany, assets in the Rhain-Main region are particularly of interest, doubling over the past three years to account for 11.4% of investments and overtaking interest in the Rhein-Ruhr region, which has remained constant around 10-11%.
At a time when fixed income yields are at historic lows, it is unreasonable to expect that the returns on alternative investments remain at their traditionally high level. The same should be said for property. One must point to the risk that some providers will take undue advantage of the situation, or that investors will become less cautious, entering unstable territory.
One example are specialist and discount retailers. The sector is included in the retail/food subset that accounts for around one-quarter of all assets within real estate Spezialfonds, or €9.3bn, compared with 16% (or €2.8bn) in 2006. Not only have several Spezialfonds focused purely on investing in the sector, they are also highly sought-after by individual investors and those seeking to put together diversified portfolios. In a seller's market, one can observe how the discount companies are developing new locations, while passing associated risks onto real estate developers.
Location risk
Since the assets under development are sold for multiples of 15-20 of the annual rent, but the initial rental contract only runs for a decade, the discounters are able to yield a return simply through its sale. There is an obvious parallel to be drawn with mortgage-backed securities in the US, where banks increasingly did not assess the underlying risks, as these were passed on to investors. Therefore, real estate Spezialfonds and their investors should carefully assess the associated location risks, lest they be hit one day by a self-inflicted financial crisis.
Hotels with their own specialities
Exposure to hotels has also risen, albeit from a low level. According to figures from the BVI, real estate Spezialfonds currently have 3% of assets invested in hotels, up from just 1.2% eight years ago. This means that €900m of hotel assets have been acquired over the period. The sector comes with specific risks, such as competing with investors that acquire hotels for sentimental reasons or prestige, distorting the market through the prices paid. A second specialist challenge is to replace the first tenant, if they should choose to let the lease lapse.
The share of office assets, traditionally the most important sector for German Open-Ended Funds (GOEFs), in 2014 stabilised at 42.2% – equivalent to €15.7bn, and an increase of €5.5bn since 2006. Its share has nevertheless decreased, with offices in 2006 accounting for 65.4% of total fund assets. This shift shows how risks of assets with the real estate Spezialfonds are diversifying, a move that is to be welcomed. There has also been further growth in ownership of residential assets – from €566bn to €2.4bn, a fourfold increase and resulting in the share of overall assets rising to 6.4% from 3.3%.
Till Entzian's annual review of the Spezialfonds market follows the tradition started more than 30 years ago by Dr Hans Karl Kandlbinder, the originator of the Spezialfonds concept. A German version of this article appears in the August edition of the Zeitschrift für das gesamte Kreditwesen, published by Fritz Knapp Verlag. Till Entzian is a lawyer based in Frankfurt and advises on Spezialfonds