Dutch pension funds are having to think carefully when it comes to new real estate investments. Rachel Fixsen talks to some of the country's leading funds
The steady rise of real estate values has created a wave that many investors are happy to ride. But Dutch pension funds, with their aversion to leverage, are being more circumspect than some and turning to new strategies to generate returns.
With yields compressing further, Dutch investors are becoming concerned about how long this positive market can continue, says Stefan Cornelissen, head of institutional business at M&G Investments in Benelux, Nordics & Switzerland.
"But we have seen increasing allocations to real estate for the yields it produces, at a time when bond yields are still falling," he says. "At the same time, however, pension funds are doing this in a conservative fashion, targeting high single-digit returns so that they can still pay for their liabilities but with limited risk if the cycle were to change."
The availability of cheap debt has meant pension funds are now being outpaced in the race for new property assets by investors that use leverage, says Jeroen Lokerse, managing partner for Cushman & Wakefield in the Netherlands.
Some pension funds are trying to make up for this disadvantage by developing the ability internally to add value to assets through management and development, for example, he says.
Patrick Kanters, head of real estate and infrastructure at APG, is putting an emphasis on adding value on its property investments through managing and developing buildings and how they are used, and has been developing its own strategies in particular areas, making notable recent investments in Scape Student Living in Australia and in the Shanghai retail developer Chongbang Holdings, for example, Kanters says.
"We have further concentrated our investments, and have also been active in selling some smaller investments in the secondary market, and expanding through the relationships we already have, as well as taking on new investments and scaling them up," he says.
Kanters cites the example of the start-up hotel company citizenM Hotels in which APG invested in 2008 and is now helping to expand. "The company has expanded into the US and Asia, and is now being built up into a global hotel chain," he says.
This strategy shift towards the operational side has been going on gradually at APG over the past six years, he says. "We have grown into this new role, adding new people both in the US and Asia so we can be more involved in the strategic decision-making at companies we invest in," he says.
PME, the €63bn pension fund for the Dutch metalworking and mechanical-engineering sectors, has recently changed its international property investment strategy, shifting the focus onto European core real estate.
"Within this strategy, we won't invest in the US and Asia any more," says Marcel Andringa, executive director of asset management at the pension fund. "We are enlarging our European real estate portfolio, using a core investment style, so we prefer low-leverage investments, with a high-income component."
"Starting a core portfolio, we decided to start by investing in pan-European multi-sector funds with the aim of diversifying risks and getting exposure to different core countries and sectors," Andringa says.
PME has a 4% allocation to real estate and last year the total return on its international property portfolio was 20%, beating the 6% total return it managed to generate on its domestic property holdings.
It has a large separate account for real estate investment in the Netherlands, and is considering separate accounts in Europe too, Andringa says, "as an interesting tool for core investments, with a low cost base".
PME's Dutch portfolio now has assets of more than €1bn, and is set to expand in the next few years. "Recently we decided not to invest in Dutch offices anymore," he says. "We will focus mainly on residential, but also retail will remain part of our Dutch portfolio."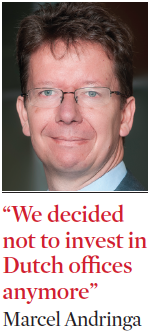 Over the past 12 months, APG continued adjusting and improving its retail investments by acquiring inner-city and out-of-town shopping centres and building its exposure to outlet centres, which Kanters describes as a strong sector. "In Europe we have nearly 20% of our retail investments in outlet centres," he says.
APG is also increasing its exposure to logistics warehouses, he says, not just in Europe but also in Asia to capitalise on the growth of e-commerce and the rationalisation of the retail supply chain .
In the UK, meanwhile, the Dutch pensions manager has been focusing on investment opportunities in the private rented sector (PRS) as well as within student housing.
"We have been buying into in companies like Student Hotel and others in Europe that are buying into the student housing sector, and we are also investing in student housing in Australia," Kanters says.
In September 2015, APG invested €100m in Student Hotel, a European student residential property company that develops, owns and manages flexible student accommodation used like a hotel during university vacations.
Guido Verhoef, head of private real estate at the €183bn pension fund manager PGGM, says the real estate market is expensive at the moment. PGGM is consequently in a wait-and-see mode. "The real estate allocation is at its target of 12% for private and public together," he says.
PGGM, which manages assets for the €172bn healthcare scheme PFZW, is sticking to its beliefs, he says, being a core investor and having no intention of moving up the risk curve, investing in secondary real estate or adding more leverage.
"As global investors, we have no specific area of focus but still see opportunities on a global level," says Verhoef.
The property portfolio is intentionally overweight towards the Netherlands, but Verheof says PGGM is still focusing on targeting a global diversified allocation.
But he wonders whether this will be the case long term.
The current pricing of real estate is one of Andringa's concerns too. "As the return on bonds is historically low, real estate is a very attractive alternative and there is a lot of competition from international investors," he says.
Core real estate has become quite expensive, and the availability of it limited, he says.
"The core universe needs to develop further, especially in Europe, in line with the US," he says, citing the large open-ended core fund industry there. "We do see positive developments; the number of pan-European core funds managed by sophisticated real estate companies is increasing."
The UK question
Cornelissen says Dutch institutional investors have become more concerned about investing in the UK following the Brexit vote at the end of June. "On the one hand, they can invest at lower sterling rates, but on the other, there are worries about the economy," he says.
"But it doesn't stop people investing in the UK, and we are continuing our conversations, particularly in the longer-lease space and UK residential."
The impact of the UK referendum might be relatively limited for APG, because it has very little exposure to offices in the country – the sector most likely to be affected – in line with its global theme. "Our investments in the UK are very much concentrated in shopping centres, logistics and mid-range PRS [private rented sector]," Kanters says.
But even though the fallout from the referendum result has whipped up volatility on the listed side of the UK market, Kanters says he believes it is possible the changed environment could provide opportunities for APG in the country's property markets.
PME indicates that the political path taken in the coming months will be key. "The way Brexit will be handled is essential for the attractiveness of the UK as part of our investment universe," Andringa says.
Dutch investors: Late-cycle strategies
1

Currently reading

Dutch investors: Late-cycle strategies

2