QuadReal is the latest standalone real estate company to be launched by a Canadian pension fund. Stephanie Schwartz-Driver reports
Canadian pension funds rank among the largest world's and most efficient, thanks to the 'Canadian model'. These funds not only invest in diverse asset classes, including significant allocations to real estate and infrastructure, they also manage their own portfolios, often spinning off their real estate investment activities into standalone subsidiaries.
Today, for example, the Ontario Municipal Employees Retirement System invests in real estate through Oxford Property Group, while Caisse de dépÔts et placements du Québec takes a similar approach through Ivanhoe Cambridge. Ontario Teachers Pension Plan owns Cadillac Fairview, a wholly owned real estate investment company. These operations have spearheaded global Canadian pension fund investment.
The latest convert is the British Columbia Investment Management Corporation (bcIMC), Canada's fourth-largest fund manager, which spun off its real estate portfolio into QuadReal in February.
BcIMC had established relationships with three external managers, including Bentall Kennedy, which had helped it grow its real estate portfolio from CAD300m (€203m) at inception to nearly CAD19bn.
While the portfolio achieved double-digit returns that fuelled growth, it was heavily weighted to Canada, and growth domestically began to slow as its pension funds became too big. Today, Canada's eight-largest pension funds account for two-thirds of total pension fund assets and manage collectively more than CAD1trn – they all are ranked in the world's top 100 pension funds.
"Over the years, our peers launched independent real estate investment platforms, in what became known as the 'Canadian model', says Jonathan Dubois-Phillips, president of QuadReal. He explains that, when Canadian fund manager Bentall Kennedy merged with Sun Life, bcIMC triggered a buyout and bought its real estate assets back in house. BcIMC purchased subsidiaries of Bentall Kennedy that had been devoted to managing its real estate portfolio. Remco Daal, Bentall Kennedy Canada's former president, joined Quadreal as president and head of the domestic market.
Today, Quadreal represents an independent but wholly owned platform with all the real estate assets under one roof. On the day of inception there was already a large team, including 330 people from Bentall Kennedy – and Dubois-Phillips anticipates a workforce of 1,000 within the year.
Earlier in 2017, QuadReal announced appointments to its board, including chair Paul Cantor, a former chair of Public Sector Pension Investment Board (PSP Investments). In May, it was announced that Dennis Lopez, global CIO of AXA Investment Managers–Real Assets, had been employed as chief executive.
"We analysed all of our peers and how they set up their real estate operations," said Dubois-Phillips. "We learned a lot from their growing pains." The priorities were independence, a pure real estate focus, an independent board with significant experience, with the alignment that comes from being owned by bcIMC.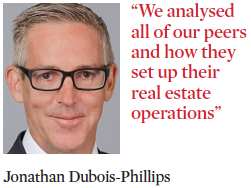 The parent company manages assets of CAD120bn, of which the real estate piece in amounts CAD17-18bn. As the fund grows to around CAD200bn over the next 10 years, Quadreal is expected to grow in parallel. The current target allocation to real estate is 14%, but Dubois-Phillips says this might increase.
Approximately 90% of the real estate assets are invested domestically. Of the remainder, half is in the Americas, a quarter in Europe, and the rest is in Asia. "We are very well positioned in Canada, but if you want to grow you don't want all your eggs in one basket," Dubois-Phillips says.
"We have a lot of dry powder to deploy," he says. The fund is under-leveraged, below 20% in its domestic market where it has a target of 30%.
The US is a natural target, as the neighbouring market has outperformed Canada over the past three years. The Realpac IPD Canada Property index showed a 7.4% total return for 2016, while a comparable US index reported 9.2%. Strong returns in Toronto and Vancouver have been weighed down by weaker performance in Edmonton and Calgary, where energy markets have been exerting downward pressure.
Simultaneously, competition in the domestic market is sharp. Foreign investors, particularly European and Chinese, have driven prices up, particularly in Toronto and Vancouver. They accounted for 30% of total transaction volumes in 2016, according to a Bentall Kennedy report, which says "foreign investment is now on par with private Canadian investors as the top two sources of investment capital".
Newly constituted Quadreal has not wasted time expanding south of the border. At the beginning of May, it announced the formation of a joint venture to acquire, develop and manage student housing at US universities. Quadreal has invested US$600m (€537m) in a joint venture with CA Student Living (CASL), part of Chicago-based CA Ventures, and GI Partners from San Francisco. CASL has brought an existing portfolio of 10 properties in nine states to the venture; the plan is to acquire and develop additional properties.
OPTrust: a relative newcomer
Not every fund has adopted the Canadian model. OPTrust, which manages and administers the Ontario Public Service Employees Union Pension Plan totalling assets of $19bn, has kept its real estate operations in-house, says Rob Douglas, its managing director for real estate assets.
"Strong in-house capabilities are an alternative to the Canadian model," says Douglas. "We are relatively new compared to our peers. We had a later start, but we cast a wider net."
Yet, although OPTrust has not created a standalone subsidiary, the fact that it manages most of its real estate investments is consistent with the Canadian model.
Cutting out the middleman reduces costs – management costs for Canadian public funds average 0.3%, compared with 0.4% for funds that use external managers, according to Boston Consulting Group. It is cheaper to build internal capabilities than pay externally for them.
OPTrust relies on real estate as a diversifier and hedge against inflation over the long term – one that has the ability to generate risk-adjusted returns and income streams at the same time.
With real estate markets relatively balanced but maturing, OPTrust is pursuing development opportunities, seeing development as a way to improve quality in the portfolio says Douglas. The fund is also interested in real estate debt, focusing on Canada, the US and the UK. At the end of 2016, the real estate portfolio was invested 80% in real estate equity and 20% in debt.
Like the other Canadian giants, OPTrust has had to expand beyond its national borders for investment opportunities. "There are three cities in Canada with populations of over one million – there are only so many places we can go," says Douglas. The fund has been investing in the US since 2004, and those investments account for 30% of the portfolio and another 20% is invested in Europe and Asia.
OPTrust is a mid-market investor, investing across all four main sectors in assets valued between $30m and $100m – "not typically the most glamorous", says Douglas. Although, there is some glitz in the portfolio – the fund recently built an open-air shopping centre in Oahu, Hawaii. The business case was clear; Oahu has a population of more than one million people, and the new 700,000sqft centre was the first to be built in decades.
In fact, the fund's interest in north American development opportunities is a strong justification for keeping its real estate investment operations in house. "The way in which we invest, develop and manage properties are all in-house capabilities – a little more than half our properties are actually managed in-house," says Douglas.
Like other Canadian funds, OPTrust looks at 50-50 joint ventures for development opportunities. A survey by Preqin found that 44% of Canadian public pension funds make co-investments and 11% would consider doing so, compared with a global average of only 19% and 12%.
To an extent, the joint venture route is a way to bring in third-party expertise without the associated costs. This is a particularly attractive route as the funds expand overseas.
It is an approach used by the Canada Pension Plan Investment Board (CPPIB), which does not own a standalone real estate subsidiary but has evolved from an indirect investor in its early years to a joint-venture investor. In the first half of this year, for example, it has entered into joint ventures to invest in Indian logistics and shopping centres, and US student housing, among others.
This year PSP Investments launched a European hub to oversee its regional private-markets investments. The CAD126bn institutional investor has moved 28 professionals to a London office it co-owns with Tishman Speyer.
The European team, based at 10 Bressenden Place, includes Stéphane Jalbert and Patrick Charbonneau, managing directors of real estate and infrastructure investments, respectively.
President and CEO André Bourbonnais described the move as a "strategic milestone" for the organisation which manages the investments of four Canadian public-sector pension plans.
Canadian investors: QuadReal, British Columbia's new subsidiary
1

Currently reading

Canadian investors: QuadReal, British Columbia's new subsidiary

2

3