Is the slowdown in Chinese investment in global real estate a temporary blip or the start of a more entrenched trend? Florence Chong reports
For Chinese investors, the allure of offshore investment remains as attractive as ever. To offset a government clampdown on the outflow of funds for projects not deemed strategic, the larger Chinese groups are adopting offshore platforms and partnerships with non-Chinese companies.
The focus of Chinese investors offshore has changed. They have moved away from trophy office buildings in global cities, such as New York, London and Paris, to the less glamorous sectors of logistics and industrial parks and business hotels.
Meanwhile, the primary source of Chinese outbound capital seems to be shifting from property companies and insurance companies to sovereign wealth funds (SWFs), led by China Investment Corporation (CIC) and the State Administration of Foreign Exchange (SAFE).
James Shepherd, Cushman and Wakefield's managing director – Greater China Research, says: "Our understanding is that these groups still have a global mantra and are able to transact. They continue to have a credible strategy to invest overseas, but whether they can deploy capital will depend largely on the availability of attractive deals."
CIC made its single-largest real estate investment to date in June last year when it paid €12.25bn for Logicor, a large pan-European platform managing industrial properties and warehouses – an exception to what is now seen as a new set of rules.
Generally, it is felt that Chinese SWFs are constrained by a lack of opportunity. They are looking for major platform deals, which rarely come to market. When they do, they involve significant sums of money.
The new focus is ond China's signature project, the Belt and Road Initiative (BRI), which spans more than 65 countries.
Adam Rush, Cushman & Wakefield's regional director overseeing Greater China, says: "Chinese investors are certainly exploring opportunities, in particular in Southeast Asia as well as the Middle East. They are looking broadly at a whole range of assets. But the due diligence takes longer and the risks are higher, so investors are cautious."
Rush shares the view of others that Chinese firms now find it difficult to invest in the US or Europe. "The price of an office block in midtown Manhattan can equal that for 15 or 20 office towers in Pakistan," he says, adding that even if the number of transactions in the US and Europe starts to pick up, total commitments are not going to reach what they did two years ago.
Sam Xie, CBRE's head of China research, agrees that Chinese groups are now more likely to use offshore platforms to engage in property acquisitions – although these will need to be closely aligned with Belt and Road initiatives.
Another potential option available to Chinese outbound investors is to take positions as limited partners, purchasing small equity stakes of below US$50m (€42.4m) and participating in joint ventures. He holds the view that Chinese groups will also be redeploying offshore capital to drive some investment transactions this year. But being subject to closer scrutiny by China's National Development and Reform Commission (NDRC), any purchases will be considered very carefully, Xie says.
Chinese groups are expected to form partnerships with offshore groups, to hive off their international property into an entity based outside China, or to invest in offshore funds. A recent example is Beijing Properties, which in May committed to establish a newly created offshore fund with the regional logistics player, e-Shang Redwood (ESR). The Chinese group intends to channel its expansion into new markets outside China through this offshore fund. The intent is for the proposed offshore fund to acquire the assets of China Logistics Infrastructure, a Beijing Properties subsidiary, in a deal which would be worth RMB6.41bn (€853m).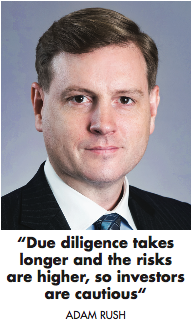 Such an arrangement, says Rush, will provide some flexibility outside the mainland. But investments by such groups will not impact on total investment flows for two or three years, he says, until sufficient funds have been raised offshore.
One group to have established an offshore platform in Singapore is a Beijing-based developer of logistics and industrial parks Huaxia. It plans to raise funds in Singapore for investment in Southeast Asia from non-Chinese groups, Rush says, but the majority will almost certainly come from Chinese investors.
Industry sources say well-established developers are likely to be given the nod by Chinese authorities to buy sites offshore as part of their business growth plans.
Shepherd says there are some 100 developers who find it relatively easy to secure financing. This explains why substantial transactions involving development sites continue to take place in Australia and elsewhere. Most recently, Chinese developers have picked up development sites valued at AUD400m (€258m) in Melbourne.
Rush says experience shows that Chinese buyers typically use offshore financing in major offshore transactions. "We have been looking at a very substantial deal completed recently in the UK with a private Chinese developer," he says.
"The developer had accumulated capital offshore over about eight years. It was able to structure financing in such a way that it supplied around 20% of the capital. The balance came from bank loans, bond issuance and funding – either in kind or cash – from its British partners."
Over the past five years, Chinese investors have cumulatively splurged US$100bn on offshore acquisitions.
David Green-Morgan, managing director for Asia-Pacific at Real Capital Analytics (RCA), says Chinese offshore transaction volumes for the first half of 2018 will rise because of the pending settlement of two large deals – involving GLP and Logicor. "We don't know the extent of the offshore investment slowdown yet," he says.
"It is evident that more caution has emerged among Chinese investors going offshore. But those who are investing to grow their business, like established property developers, will be able to continue to invest. So we are not seeing a blanket ban on the movement of capital. We are seeing the likes of the established residential and commercial property developers continuing to invest to expand their businesses."
Within China, authorities claim that outbound investment has fallen by as much as 70%. Cushman & Wakefield notes that the value of overseas real estate transactions by Mainland Chinese investors dropped 27% to US$5.6bn in the first quarter of this year, compared with the corresponding quarter of 2017. The firm expects a drop of at least 40% to US$21bn this year. In 2017, a new record of US$42.2bn was set for Chinese outbound investment.
Some believe China's offshore investment slowdown might have some way to go before reaching the bottom. Shepherd says that, until the offshore spending clampdown, Chinese investors relied largely on Chinese banks to finance deals and refinance existing investments. So when, from late-2016, Beijing began tightening the financial screws in response to severe capital outflows, the wheels stopped spinning.
Progressively, the State Council and the NDRC stepped up restrictions on three categories of overseas investment. Real estate in particular was in their sights, the regulators' gaze cast especially towards high-flyers.
The upheaval of the past 18 months or so has seen Chinese groups 'internationalising' by forging partnerships with foreign groups. At the same time, a small crack has opened in the door to foreign firms seeking to invest in China.
"China's inbound market has been very quiet since the global financial crisis, says Rush. "But in the past six months or so we have seen more inquiries from offshore – and some have turned into transactions."
A handful of US companies supporting Chinese companies on projects in the US have expanded their own operations in China. Their projects focus on China's growing and under-supplied healthcare and senior living sectors.
A recent entrant to this market is Australia's Lendlease group, which is investing AUD400m to build senior living communities in Chinese cities. The world is witnessing, as the CBRE research team puts it, the "start of a new chapter, not the end of the [China] story".
Will China continue to export?
1

Currently reading

Will China continue to export?

2