A recent annual real estate survey shows rising asset allocations, improved investor sentiment and greater risk appetite. Stephanie Schwartz-Driver speaks to Doug Weill about the results
Institutional investors continued to increase their target allocations to real estate in 2018, contrary to expectations, according to Hodes Weill & Associates. Average target allocations grew by 30bps from 2017, continuing a five-year trend (figure 1).
"Last year we predicted a slowdown in the increase in allocations, but 30bps is meaningful year over year," said Doug Weill, managing partner of Hodes Weill & Associates, which produced the sixth annual Institutional Real Estate Allocations Monitor with Cornell University's Baker Program in Real Estate.
In 2018, average target allocation to real estate increased to 10.4% from 10.1% in 2017. Institutions reported a further expected increase to their target allocations by an additional 20bps to 10.6% in 2019. This increase should be driven by investors in Europe, Middle East and Africa (EMEA) and Asia-Pacific, which showed stronger than average increases, at 40bps. The Americas are expected to remain flat for 2019, after increasing allocations consistently for the past five years. "That will be interesting to watch in the coming years," Weill said. "It will reflect where we are in the cycle, but I would be surprised to see target allocations decline."
"Over the medium-to-long term, real estate and real assets allocations are expected to grow to the mid-teens," Weill said, even if there is some short-term softening in target allocations.
This softening might reflect the 'denominator effect' – as both target allocations and actual allocations have risen consistently, portfolios might appear underinvested. And, in fact, underinvestment is prevalent globally: Asia-Pacific institutions are underinvested by 120bps, EMEA by 100bps, and the Americas by 90bps.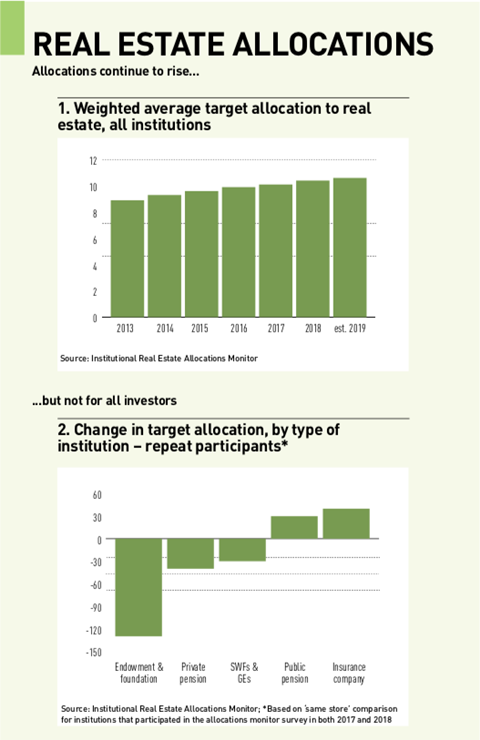 When target allocations are analysed on an individual basis, some interesting patterns emerge. About 40% of institutions held their average targets flat, while 30% increased their allocations and 30% decreased them. The study says "the percentage of institutions that decreased their target allocations has risen considerably over the past several years, from 16% in 2016 and 18% in 2017".
Public pensions and insurance companies were responsible for the highest growth in target allocations – 30bps and 50bps, respectively (figure 2). Insurance companies are also the most underinvested, at 170bps. Endowments and foundations, on the other hand, had the most significant reduction, with a 130bps decrease. The study's authors note that "endowments and foundations tend to focus their real estate investments on high-yielding 'absolute return' strategies, which is becoming increasingly difficult to achieve at this point in the cycle". Private pensions and sovereign wealth funds also showed declines of 40bps and 30bps, respectively.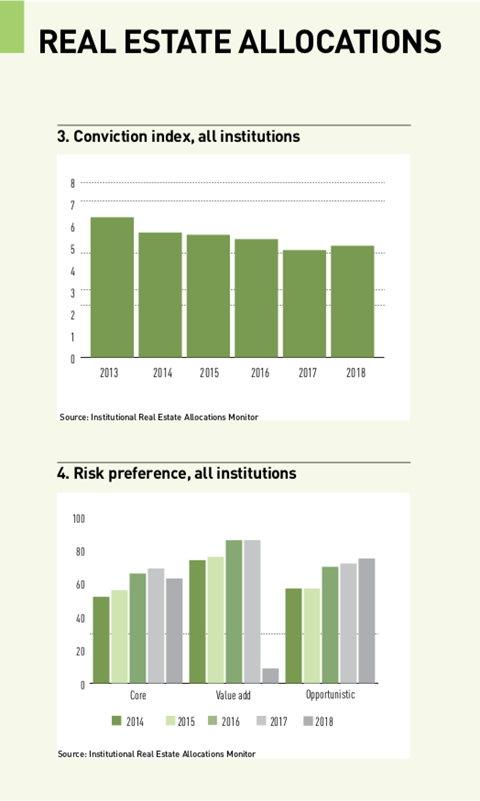 Weill was surprised that investor sentiment had improved in 2018, bucking a trend (figure 3). The Allocations Monitor asked investors to rate their view of the investment opportunity in real estate from a risk-return perspective on a scale of one to 10. In 2018, this conviction index increased moderately from 4.9 to 5.1, representing the first year-over-year increase since the survey begin five years ago. From 2013 to 2017, the conviction index had steadily declined from 6.4 to 4.9.
"This comes as a bit of a surprise," the authors note, "as investors continue to cite concerns regarding rising interest rates, asset valuations, and geopolitical risks, in addition to the perception of being late in the cycle." However, all these concerns might be outweighed by the fact that from the standpoint of individual portfolios real estate has continued to perform well.
Insurance companies and public pensions – the investors that also showed the greatest increase in target allocations – led the rise in investor sentiment, while private pension funds were the only group to show a decline in conviction in 2018. Geographically, Asia-Pacific was the most positive, while the Americas and EMEA showed lesser increases, but increases nonetheless.
The use of outsourcing is growing as target allocations are rising. About 70% of respondents outsourced their entire real estate portfolio in 2018; and only 4% managed their entire real estate allocation in-house. "Rising target allocations and an increase in cross-border investing continue to drive the percentage of investors that plan to outsource management," notes the study, which revealed that 85% of new investments over the
next year will be allocated to third parties for management. Institutions still favour existing manager relationships, although 25% said that they intend to increase the number of new manager relationships – a figure that rose for the third consecutive year.
Investors are also moving away from core to more alpha-based strategies, a new trend this year, Weill said. Interest in core strategies is trending down, while value-add strategies continue to be the most favoured investment strategy, while interest in opportunistic strategies is also rising (figure 4). "I would expect interest in core to continue to moderate," said Weill, "especially if interest rates continue to rise, leading to an increase in cap rates."
But strategic orientation varies markedly by region and by type of institution.
The Americas showed the lowest interest in core strategies and the highest interest in value-add and opportunistic strategies. "This is likely based on concerns about valuations peaking, driven in part by an influx of foreign capital in recent years into major North American real estate markets," write the authors, because competition in core markets has pushed prices up and forced institutions into secondary markets for core properties. In other geographies, although interest in value-add and opportunistic strategies is rising, the attraction of core markets has hardly waned.
More than two thirds (36%) of endowments and foundations were actively investing in core, compared with 78% of public pensions and 100% of sovereign wealth funds and government entities.
North America continues to be the preferred destination of new investment, with 91% of those surveyed saying they intend to invest in the region in 2018. However, the authors note: "Anecdotally we have heard from investors in EMEA and Asia-Pacific that it has become increasingly harder to find attractive opportunities in the US, which has only been exacerbated by the strength of the US dollar and historically high cost of currency hedging."
The 2018 Allocations Monitor is based on data collected from 208 institutional investors representing 29 countries. Their total assets under management of more than $11trn includes $1trn in real estate assets. The 2018 response rate was slightly higher than in previous years.