The surge of South Korean capital targeting European real estate is here to stay and could spread into new markets, writes Yasemin Engin
South Korean capital flows into European commercial property have surged this year. Against the backdrop of cheap credit and robust fundamentals in many markets, these flows look set to continue for at least another couple of years. However, investors might expand out from countries such as France and Germany to the Netherlands, Sweden and Belgium.
One of the trends that has emerged this year has been the rise in Korean investment in Europe at a time when capital flows from other countries is declining. According to Savills, Korean capital flows to the continent reached €6.2bn in the first half of this year, a 13% increase compared with 2018 as a whole. Indeed, over the past year, Korean capital for European real estate has overtaken countries such as China and Canada. There are several reasons behind this jump.
First, Korean investors wishing to diversify have been limited by the narrow domestic property market, which is under-developed even by regional standards. This has pushed them to seek opportunities abroad. What is more, following restrictions on Chinese capital outflows in 2017, Chinese investment in foreign property has fallen, reducing the competition for other Asian investors.
Second, debt has become cheaper in Europe. Until 2017, the US was the largest beneficiary of Korea's outbound capital flows (see figure). But the US Federal Reserve's previous monetary tightening cycle has redirected Korean investment to Europe, where swap rates have fallen sharply and lending margins have reduced from their 2013 highs, making debt more attractive in core and peripheral economies.
Last, Europe is relatively stable politically and it has strong sovereign credit ratings, while core assets tend to offer robust covenants. These qualities are important to Korean investors, for whom yield is not the only investment consideration. In fact, office yields in South Korea have averaged 4% annually over the past five years, similar to France and Germany.
But is the rush of Korean investment into European commercial property sustainable? We think so. For a start, credit is set to stay cheap for some time; we are now forecasting the ECB to further cut its deposit rate by 30bps next year to -0.8% and increase its asset purchases from July 2020. While there is a risk that looser policy from the Federal Reserve could pull capital flows away from Europe, we are only expecting one more 25bps Fed interest rate cut in December, which would still leave European debt much cheaper than US debt.
Meanwhile, the momentum from Korean investors is unlikely to run out of steam any time soon. South Korea's National Pension Service (NPS) – the third-largest pension fund in the world – has been a prolific buyer of property in Europe over the past year. The fund's most significant purchase is Plumtree Court in London for £1.2bn (€1.3bn), the largest amount that the fund has invested in a single foreign real estate asset.
Looking ahead, NPS is expected to further invest in Europe. Indeed, NPS is planning to rebalance its asset allocation to equal parts domestic and foreign assets as part of a five-year plan, taking the foreign weighting from 30% to 50%. Additionally, NPS has reorganised its structure and split its global alternative investments division into three, one of which focuses solely on real estate investment – both domestic and global. Elsewhere, Korea Investment Corporation, Korea's sovereign wealth fund is also planning to increase its exposure to foreign real estate.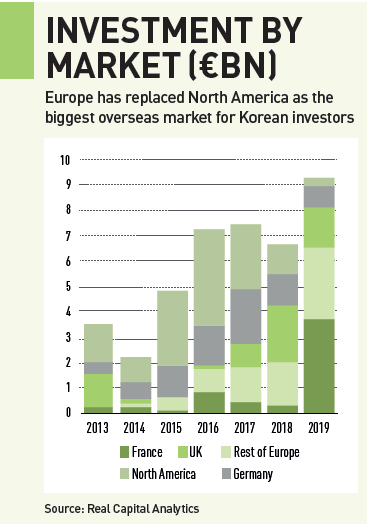 Over the past four years there has been some interest in sectors outside of offices, mainly hotels and industrial. But transaction volumes in these sectors have paled in comparison with offices, where volumes this year are already twice as large as the hotel sector's best year in 2015. Given the preference of Korean investors for stable income, we expect investment to remain predominantly in the office sector
Paris has been the biggest beneficiary of Korean capital flows this year, primarily owing to investment being redirected from London as a result of Brexit uncertainty and the French capital's standing as a global city.
But we think that there are a few more markets that stand to benefit from growing Korean appetite for European commercial property, such as those in the Netherlands, Sweden and Belgium. These countries boast stable sovereign credit ratings and steady political environments. Admittedly, these markets are not as deep as Germany and France, but as of Q2, prime office yields in these markets were higher than in France and Germany, offering a yield premium to those countries. We expect returns in these alternative markets to be greater than in France and Germany over the next five years, making them an attractive destination for Korean investment.
All told, increasing capital flows from Korea are unlikely to provide a significant boost to overall European investment, which has been stable on a rolling four-quarter basis since last year. While we expect investment volumes to be broadly flat for the rest of this year, they will still be a touch softer than the highs of last year. After all, falling bond yields have improved the relative valuation of property assets, underpinning our forecast for further yield compression over the next three years in office and industrial properties.
Yasemin Engin is an assistant economist at Capital Economics