Open-ended structures are in vogue in real estate, but not in infrastructure. Why the divergence? asks Richard Lowe
At the beginning of the year, Legal & General converted its Industrial Property Investment Fund (IPIF) from a closed-ended, fixed-life vehicle into an open-ended, evergreen one. Investors in the fund wanted to remain invested and not have assets sold and capital returned to them.
Although IPIF had a finite life – it was due to expire in 2020 – it has been extended before and has been in existence for 20 years. It is one of the oldest specialist real estate funds in the UK, launched in 1997. The conversion to an open-ended, evergreen structure this year is just the latest step to keep the vehicle in perpetuity.
The last time it was extended was in 2015. The fund was also changed with the introduction of some liquidity mechanisms.
"It's been extended a few times," says Tony Doherty, head of investments solutions at LGIM Real Assets. "Some mechanisms for introducing capital were introduced in the past, but by no means could it have been called open-ended. The latest move to convert to an evergreen structure was a natural evolution of the fund structure."
Doherty says the conversion was motivated by the specifics of its investor base. Legal & General studied hold patterns in the fund and found that, on average, investors had been in it for 13 years. "They are long-term investors, so it makes sense to have a longer-term structure," he says.
The full conversion to an evergreen fund was a logical solution for IPIF, but it is also indicative of a wider trend: perpetual-life vehicle and open-ended funds are becoming increasingly prevalent. This is notable in the launch of open-ended, or perpetual-life, vehicles for strategies that had previously been served by closed-ended structures.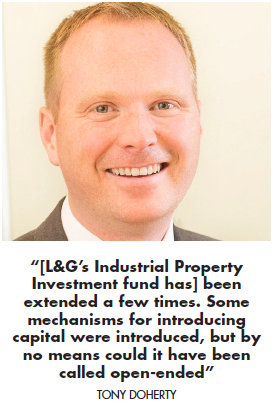 Tristan Capital Partners' Curzon Capital Partners 5 Long-life is a good example. The fund, launched last year, was Tristan Capital's first perpetual-life vehicle; the fund manager has previously managed a series of finite-life funds that employed the traditional private-equity fund model.
Also last year, Invesco Real Estate launched its third pan-European hotel fund, but for the first time gave it an open-ended structure. In the US, Menlo Equities launched its first perpetual-life fund, while several other open-ended debt funds came to the market, including those managed by Brookfield Asset Management, Heitman, and MetLife.
Tristan Capital clarified that its fund was not open-ended in the strict sense, but had "multiple liquidity features and will allow investors to recycle capital in the same vehicle".
In fact, most of these institutional open-ended funds are not open-ended in the sense that can accommodate daily dealing. Many are to some extent semi-open-ended, with limits to redemptions and a shared understanding that investors want to ensure all exits are done in an orderly fashion without affecting the performance for the remaining investors.
Redemptions from Legal & General's IPIF, for instance, are capped at 10% per year.
This helps explain why institutional open-ended funds have been enjoying a renaissance in recent years while the 'open-ended property fund' brand would appear to have suffered reputational damage. The UK's daily-dealing, open-ended property funds – used predominantly by retail investors – experienced several redemption freezes in 2016, almost 10 years since a similar liquidity event arose in the wake of the global financial crisis. These property funds hit the headlines of the national papers on both occasions, and have prompted questions about whether they are fit for purpose.
But institutional open-ended funds tend to be different. Asked if it is unhelpful that the label open-ended is applied to both structures, Doherty agrees. "Open-ended means different things to different investors," he says.
There was a precedent to IPIF. The Airport Industrial Property Unit Trust (AIPUT), another sector-specialist UK fund, was converted to a semi-open-ended fund in 2015. The fund, managed by Aberdeen Standard Investments, now includes redemption and liquidity provisions, and – like IPIF and many other institutional funds today – an investor-advisory committee.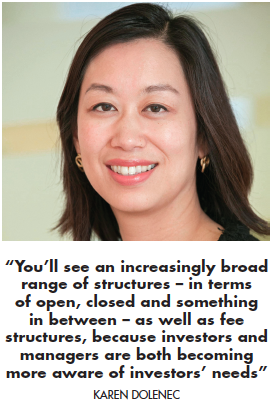 Independent consultant John Forbes, who advised on the AIPUT conversion, flagged the need for these new elements in institutional funds in 2012 as part of a report for the Association of Real Estate Funds (AREF), Unlisted Funds: Lessons from the Crisis.
Forbes says: "This highlighted that many institutional investors were investing in open-ended funds not because they wanted the liquidity of open-ended funds, but that they did not want to be tied into the return of capital in closed-ended funds. The report highlighted that there was an opportunity to create vehicles that blurred the boundaries between open-ended and closed-ended funds."
Forbes believes the "desire for semi-open-ended vehicles has, if anything, increased since then". He adds: "I also think that changes in the market encourage this – these vehicles are particularly suited to assets that provide long-term income combined with less volatility, for example industrial property or residential, both of which are highly in favour with investors at the moment.
"The development of an active secondary market has also reduced the need for liquidity, so facilitating the development of these vehicles. We are seeing a mixture of conversions of exiting vehicles and establishment of new ones."
Infrastructure to take a separate path?
If the rise of open-ended – or semi-open-ended – funds is being driven by institutional investors wanting long-term exposure to income-producing assets (and not for a need of liquidity), it might be a logical extension to assume a similar trend is also taking place among infrastructure funds.
However, the picture here is less clear-cut. Most of the biggest infrastructure funds in the market – such as Global Infrastructure Partners' $15.8bn (€12.7bn) mega-fund – are closed-ended.
In fact, there is evidence that infrastructure fund managers are moving in the opposite direction. Last year, AMP Capital launched a $2.4bn global infrastructure fund, created by expanding its existing European fund, the Strategic Trust of Europe (SITE). As part of the launch, AMP Capital converted SITE from an open-ended vehicle to a closed-ended one.
AMP Capital says the closed-ended nature of the fund was instrumental in attracting capital from investors who were more comfortable with that type of structure. "We have found investors in Europe and the US prefer the alignment between investment manager and investors that the closed-ended structure provides," says Manish Aggarwal, senior Principal for infrastructure equity at AMP Capital.
13 years

Average length of time of an investor in L&G's Industrial Property Investment Fund
"In a closed-ended fund, returns are generated by buying well, managing well and exiting well and the performance of the investment team is dependent on ongoing value creation; whereas, in an open-ended fund the management team is paid based on the net-asset value of the fund, with the timing of the asset purchase and inflation partially determining the valuation."
He cites two other reasons. "Second, open-ended structures were favoured for liquidity, but in practice infrastructure investments are not liquid. When investors come into a fund they often want to know if their money is going to be used to invest in a new asset or redeem other investors; the latter is less attractive but inevitable, given the long holding periods and illiquidity of infrastructure assets themselves," he says.
"Third, the negative impact of not having planned exits for real asset investments became evident in the global financial crisis in the real estate sector, as investors sent redemption requests, intensifying the fall in value of their assets and finding themselves unable to recover value."
IFM Investors continues to raise capital for its open-ended global infrastructure fund, raising $6.5bn in 2017, most of which went into the global fund.
At the time, Annabel Wiscarson, executive director at IFM Investors, said "Our investors find our open-end infrastructure equity structure particularly appealing. Not only can they see the assets they are investing in, but they also recognise how an open-end structure means we don't have to divest from assets at pre-determined points in time, and rather, can own and manage assets responsibly for decades."
IPE Real Assets is also aware of another investment manager looking to launch a debut European infrastructure fund and which has opted for an open-ended structure.
Karen Dolenec, partner at Ancala Partners, is not certain there is a clear trend in either direction. In fact, fund managers are increasingly looking for solutions in the grey area between. She says that, as the asset class continues to mature, a broad range of structures is arising.
Investors want the long-term exposure but not the liquidity of truly open-ended structures. But while there are similarities between real estate and infrastructure – investors often allocate for similar reasons – there are important differences. And it might be a mistake to assume that infrastructure will naturally follow in the footsteps of its more mature real estate counterpart.
Ancala Partners' strategy involves buying, managing and improving assets over a finite, albeit relatively long, period. "We did explore perpetual life funds," says Dolenec. But while most investors want long-term exposure, they tend to prefer finite-life vehicles with the ability to extend.
Ancala Partners runs funds with 12 to 15-year lives, with two five-year extensions. Investors vote on the extensions and those that wish to remain must buy out investors who wish to leave.
"Because it is relatively young asset class, what you are seeing as the industry matures are more options and structures becoming more aligned to specific investment strategies," says Dolenec. "You'll see an increasingly broad range of structures – in terms of open, closed and those in between – as well as fee structures, because investors and manages are both becoming more aware of investors' needs."
European open-ended funds: Opening up questions
1

2

3

Currently reading

Funds: when open doesn't really mean open

4