Today's market in the US is perfect for value-add strategies, say some of its leading practitioners. Christopher O'Dea reports
In the rush for value-add strategies, is there a danger that investors are reaching too far to maintain real estate returns of recent years?
There is a fine line between a core-plus and a value-add property, and another separating today's value-add opportunity from next year's distressed asset. No investor wants to learn those lines were crossed when looking at their portfolios in the rearview mirror.
Value-add specialists have told IPE Real Assets that today's economic, financial and supply conditions are favourable for their strategies, but they require disciplined underwriting, detailed understanding of individual assets, a rigorous business plan to improve income in a short period of time, and modest leverage within a capital structure designed to weather higher interest rates and withstand an economic downturn.
LaSalle Investment Management's Income & Growth Fund series has been running for 20 years. Joseph Munoz, who is CIO for the series – and will eventually take over as president from founder Jim Hutchinson – says expansion in property markets are usually interrupted by a slowdown in economic growth, high leverage or too much supply. And there are few causes for concern today.
"It's clear that we've got a healthy GDP backdrop, which gives tenants confidence about the next few years," Munoz says. Property debt in nominal terms is 7% above the peak of the last cycle, but property values are more than 25% above previous peaks. "There's very prudent leverage in the system," he says. "It's available for the right assets and the right business plans. But on a day-to-day basis we're not seeing highly credit-driven buyers drive transaction pricing."
What about concerns of oversupply? Munoz believes the tendency to focus on the percentage of inventory that is under construction at any given time misses a broader indicator. "In our view, the cumulative amount of supply should be considered," he says. "People tend to forget about the vast under-production during the downturn. There's been a stronger supply response in certain markets versus others but, generally speaking, we're still working our way out of under-production relative to demand in many markets."
The long-term supply crunch has implications for value-add strategies. Many of the assets built during the most recent period of over-production prior to the last peak are now 10-13 years old, Munoz notes.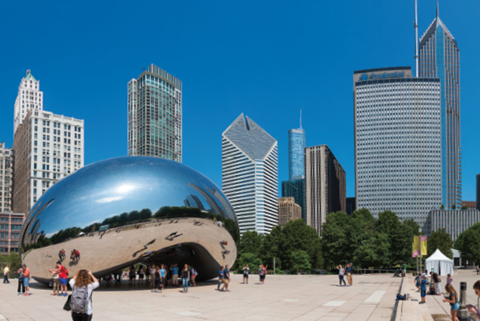 "Many of those buildings are currently stabilised, but are functionally obsolete relative to what drives the tenant-leasing decision today," he says. "Tenant preferences in terms of location, building amenities and the build out of space, have evolved dramatically in the past 10 years."
As a result, "there's a nice balance of willing sellers at a price that makes sense for them, but that also creates an inventory of assets that have lots of unfulfilled potential," Munoz says. "This creates opportunity for an owner to smartly invest capital to drive rents in the right way without overspending, making that asset more competitive for the next 10 years. So if you can find the right assets to improve, and deliver them at reasonable rent levels, there's lots of potential opportunities – if you can produce the appropriate space."
To create appropriate space, a value-add fund must strike a balance between the cost of upgrades and the willingness of tenants to pay higher rents to occupy improved premises – and it takes a hands-on approach to strike that balance, says Robert Perry, leader of the CBRE Strategic Partners US fund series.
The most recent fund in the series, CBRE Strategic Partners US Value 7, which closed in November 2017 with $1.34bn (€1.08bn) in capital, is unconstrained with respect to property type and geography. "We're not just allocating capital, we're acquiring assets we can manage and to which we can add value ourselves," says Perry. "We can buy any type of properties that we choose, and we're direct hands-on operators."
Perry and his team practise what he calls "cycle aware" investing. This entails deep research using proprietary valuation and forecasting models that generate scenarios for a variety of potential GDP rates, changes in interest rates, cap rates and rental rates and other factors. For each asset, the team prepares a base case and a "fully robust downside case" that projects how a property will perform if it had to be held for an extended duration or if economic growth slowed. "For an asset to make it into this fund it's got to offer an acceptable projected return in both scenarios," Perry says.
The objective is to find assets that will generate current income, which can be acquired with leverage not exceeding 60% to provide a cushion against adversity.
"A substantial component of our return in this fund – more than previous funds – is likely to come from current income," says Perry. "We are looking to buy things that have income in place, which can be enhanced and grown through the programmes that we install at these properties."
Perry says it is also possible to avoid the dominant flow of capital into A-rated cities by targeting B-rated micromarkets within those cities – areas that do not attract as much competition from buyers but which still have underlying demand that should endure during a downturn.
He cites 150 North Michigan Avenue in Chicago, an office in the high-density East Loop district. While most capital bound for Chicago has sought a home in the trendy West Loop district, 150 North Michigan "is an asset with substantial occupancy that allows us to insert our proprietary operating programmes," Perry says.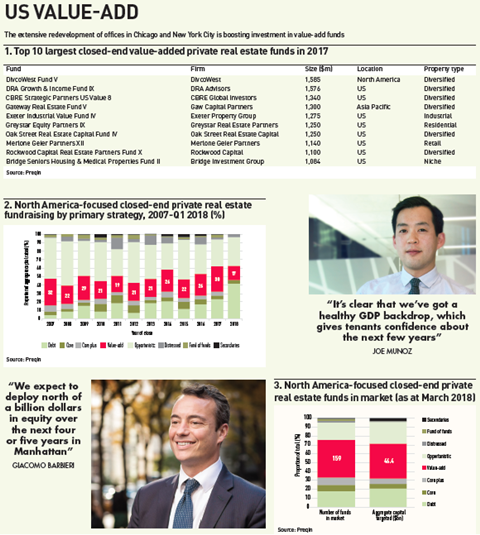 With a view of the iconic lake, 150 North Michigan Avenue sits on bus and rail routes, and faces a park and outdoor entertainment complex that is a magnet for tourists. "It's all about price," Perry adds. "At 150 we found a very attractive level that gives us room to invest in the building and then invest in attracting tenants."
Value is added by tailoring improvements to each property, from upgrading lobbies, exterior streets and building operating systems to lounges, conference centres and events that meet tenant and employee needs. "Tenants tell us that these kinds of things help them attract employees and retain them," Perry says.
With many landlords making such improvements, standards are rising. "We think we bring value in a holistic way, with technology-enabled features and some very highly trained managers on site," Perry says. "It can give a curated experience to the tenant base at the property."
LaSalle's plan to renovate 123 North Wacker Drive in Chicago's central business district illustrates the importance of price. "Our value proposition to tenants is that they're getting 90% of the features of new construction in a high-profile and convenient location, and given our cost basis, we can deliver rents that are one third below new-construction rents," Munoz says.
Other major value-add managers are also upgrading their buildings. In New York City, TH Real Estate recently announced the $500m
redevelopment of parent TIAA's world headquarters at 730 3rd Avenue. TH Real Estate enlisted Taconic Investment Partners, a New York-based value-add specialist manager, as co-developer. Taconic, a close partner of TH Real Estate, is known for bringing tech giants Google and Apple to New York City's Meatpacking district, which has become the strongest office market in Manhattan and the US.
Those transactions illustrate how office demand in the Big Apple has undergone a major shift from traditional neighbourhoods such as Midtown and from high-rise glass towers, says Giacomo Barbieri, managing director at TH Real Estate. Residential locations changed in step with the relocation of work premises, with today's up-and-coming tech executives now living in Chelsea and Tribeca instead of the Upper East Side, he notes. "This shift is going to be with us for the next 50 to 100 years," Barbieri says. "We believe all sectors are going to be revolutionised, and the office market will provide the largest opportunity because of its size.
"We expect to deploy north of a billion dollars in equity over the next four or five years in Manhattan," Barbieri says, mostly through value-add and opportunistic strategies, and most of it with Taconic as a co-sponsor. The New York Metro area is one of the few markets that can absorb the significant capital that institutions are allocating to property. "Especially when dealing with value-add opportunities, you need to make sure there will be enough deal flow to make a strategy scalable," he adds. "New York is by far the largest real estate market in the world, and that's hard to replicate in other cities."
Capital flows to US value-add managers are expected to remain strong. "We're talking to investors about those strategies and there's a lot of interest," Barbieri says. "We're hearing they can't match their liabilities, and need more yield."
Value-add funds are enjoying a favourable supply environment in the US – as long as leverage does not become so widely available that financially-driven buyers can bid up the prices of existing assets. The need to divert rental revenue to debt service could reduce the current income return on investors' capital, while a high purchase price financed with debt could reduce the capital available to upgrade ageing core assets. Both factors would limit a new owner's ability to offer tenants top-tier amenities at a discount from class-A rent rates.
So while there are opportunities, says Perry, its critical for investors to carefully target sound assets in fundamentally strong markets – then maintain price and leverage discipline during the underwriting and acquisition process. "Now is not the time to be a hero," he says.
Ohio PERS real estate investment drops as it re-evaluates risk
The Ohio Public Employees Retirement System could become under-allocated to real estate, having acknowledged the difficulty of investing in the asset class without taking undue levels of risk.
In a report, the $83.7bn (€68.7bn) pension fund said: "The challenge for staff is to find new opportunities that have desirable expected returns at acceptable levels of expected risk."
Its investment consultant Aon also stated in the report that "redeploying capital is more challenging at the current point in the cycle" without adding more risk and that this might "cause [the] allocation to fall below target".
Ohio PERS's most recent figures show that its private real estate allocation fell from 9.42% at the end of June last year to 9.16% at the end of September, below its 10% target.
The pension fund had planned to make more than $1bn of direct real estate acquisitions and to invest $500m in closed-ended real estate funds in 2017. But figures for the first three quarters of 2017 show that it bought only $341m of direct property and failed to make any fund commitments. It did manage to redeem $150m from core open-ended real estate funds.
Ohio PERS was a net seller during the nine-month period, disposing of $361m of real estate. The pension fund has, since 2015, "sold assets at high prices and realised gains", capitalising on "excess demand for stabilised, core properties".
Ohio PERS expected a correction in the US real estate market in 2017, but now believes the market will continue to plateau. "However, staff does not see a near-term catalyst that would cause property values to decline," it said.
For now the pension fund will focus on debt and preferred equity, select developments, and secondary markets.
Value-add: Is it actually less risky than core?
1

2

3

Currently reading

Value-add: The time is right