Value-add strategies in Asia-Pacific are becoming more prevalent –and varied. Florence Chong reports
At the end of September 2018, real estate industry body ANREV had recorded 264 unlisted property vehicles in Asia-Pacific, managing a combined US$202bn (€179bn) of assets. Core funds were the biggest constituent, with 99 vehicles valued at US$140bn. The smallest group was made up 66 value-add funds with US$23.6bn of assets; in the middle, 105 opportunistic funds held US$38.6bn.
But while value-add funds are managing just over one in every 10 dollars of real estate fund investment, this could change. ANREV records for 2018 show that 38% (or US$3.1bn) of fresh capital raised by unlisted vehicles was earmarked for value add. The strategy, some argue, is becoming more attractive for investors when excess capital is chasing the same core assets across the region.
Mark Gabbay, CEO and CIO for Asia-Pacific at LaSalle Investment Management, says: "Real estate has experienced solid value appreciation over the last five years, but we are coming into a later stage in the cycle where there are challenges to deploy the capital for strategies targeting a 20%-plus return."
Adrian Baker, CEO of CBRE Global Investors Asia-Pacific, says: "We believe core is fully valued at this point and that there is not a lot of upside. So we see a lot of core funds struggling to deliver returns. In contrast, we are continuing to see a strong pipeline of value-add opportunities, particularly in markets such as Japan, Korea and China."
Last year, Boston-based AEW closed its Value Investors Asia III fund with US$1.12bn of capital, well above its target of US$750m. Jason Lee, CIO for Asia-Pacific at AEW, says the macro-economic numbers for GDP, employment, wage and population growth all contribute to continued economic strength in the region.
He says the firm has a strong conviction that value-add strategies work well in Asia-Pacific. "Our long experience in this region has helped us build a strong track record in the value-add strategy," he says.
Value-add managers in Asia-Pacific vary in their strategies and approaches. For instance, some are targeting China, while others are opting for the region's most developed economies. Office markets appeal to some, but others prefer logistics, student housing, and multifamily. Similarly, the approach to investing is split between those who work with partners and those who do not.
But irrespective of these differences, they say their strategies can produce double-digit returns.
Unlike AEW's second value-add fund, which has a diversified portfolio, its third fund focuses on office buildings. "Many cities have low vacancies and demand continues to be strong," says Lee. "We see older buildings standing next to a shiny new tower in a great location in Asian cities. These provide opportunity for rent reversion, renovation or repositioning."
Heitman, which is onto its fourth value-add fund in the US, launched its first in Asia-Pacific last year. Skip Schwartz, managing director of Heitman's Asia-Pacific Private Real Estate Equity group, says: "We had made good inroads [in Asia] in value investing on behalf of separate accounts. The next step was to have a fund."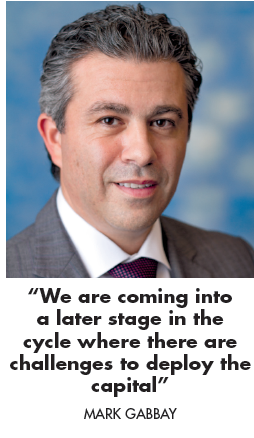 The fund is designed to invest across sectors in eight key cities in Australia and Japan, along with Singapore, Seoul and Hong Kong. It is targeting an IRR of 14-16% and plans to own 10 to 12 assets, valued at US$800m-900m, says Schwartz.
Heitman's recent investments in Asia-Pacific include two assets in Brisbane bought with local partners – Fortius (see Australia's go-to value-add boutique) and Marquette Property – valued at A$162m (€101m) and A$115m, respectively.
Schwartz says the two Brisbane properties have within them "very compelling" value-add potential for re-leasing, refurbishment, lobby enhancement and a mix of tenants.
Heitman has also invested in student housing in Melbourne, and has started to invest in self-storage in Japan and Singapore. "These assets are in early stages of their respective cycles here in Asia, and we can look forward to capitalising on maturation as we did in other parts of the world," says Schwartz.
In many of its investments, whether in Australia, Hong Kong or Singapore (where it is actively looking for opportunities), Heitman works with partners with operating expertise to assist with the execution.
"With equity from experienced operating partners invested alongside us, we are able to create a strong alignment of interest that ultimately benefits investors," Schwartz says. "When investors look at how they want to put their capital to work in real estate in certain regions, they have specific returns criteria. It is Heitman's view that the mispricing of incremental risk in Asia-Pacific, coupled with strong and improving demographic trends are driving the interest in value-add strategies in this region."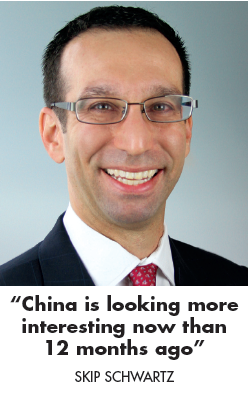 Gabbay says an investment window has reopened in China. "China is looking more interesting now than 12 months ago," he says, adding that given internal and external volatilities, which are spilling over to the real estate market, there will be more investment opportunities.
"Historically, our Asia opportunity funds have allocated between 20% and 30% of the fund's capital to China. We probably have US$300m to US$400m of equity invested there. With non-recourse debt, our gross investment in China stands at around US$600m to US$800m."
The target return for the LaSalle Asia Opportunity series has been a net 18%. Gabbay says: "In the last three years, returns from our China transactions have exceeded the net 18% target by at least 6% to 10%."
For CBRE Global Investors, currently investing US$1bn raised for its fourth Asia value-add fund, the best investments are neither in office buildings nor more transparent markets like Australia. There is too much competition, with little scope for further yield compression.
Baker says CBRE Global Investors wants to "avoid cyclical sectors such as office, which are much more reliant on rental growth". He says: "Our fund is targeted towards logistics across the region."
The reason is e-commerce, which is driving structural changes through the logistics sector. Markets such as Japan, Korea and China have older-style logistics and need modern logistics facilities. Once stabilised, logistics assets also generate a much higher cash-on-cash yield, ensuring a substantial portion of return is generated through income, says Baker.
Similarly, he sees good prospects in multifamily residential in Japan.
"Overall, the demographics in Japan are quite negative, but there is positive demographic growth in key cities because of urbanisation," he says. "We have a two-pronged approach. We buy older-style multifamily property to refurbish, and we undertake some development exposure, primarily in Tokyo."
CBRE Global Investors is in the process of closing a transaction in central Tokyo. It plans to refurbish the 10-15-year-old building, then lease the apartments to singles and young couples. Once refurbished, Baker expects the project to deliver "a rental uplift in the order of 20-25%".
Schwartz says: "When investors look at how they want to put their capital to work in real estate in certain regions, they have specific returns criteria. They also have parameters for leverage or development. What we and other value funds can offer is something between opportunistic and core returns that is commensurate with the risk
Value Add: Market makers, not risk takers
1

2

3

Currently reading

Value Add: Renovating the APAC region