Why are investors seemingly taking on more risk at the top of the market? Because with value-add strategies they can take control of the risks, writes Christopher O'Dea
Something happened on the way to the late stages of the current real estate market cycle. Investors decided to allocate more capital to a strategy that entails taking on additional risk – value-added property.
According to the IPE Real Assets 2019 survey of real estate investors, value-add strategies are the most popular, followed closely by core (see figures 1 & 2).
Similarly, The Investor Intentions Survey 2019 compiled by the Pension Real Estate Association (PREA), the European Association for Investors in Non-Listed Real Estate Vehicle (INREV) and Asian Association for Investors in Non-Listed Real Estate Vehicles (ANREV) found that, while core remains the largest portion of institutional portfolios, investors are shining a spotlight on value-add strategies.
The survey reflected some regional variations. In terms of the US market, value-add is positioned to remain the most popular strategy in 2019, with 53% of survey respondents choosing it as the most attractive option, on a risk-adjusted basis. Value-add property was preferred over core for the second consecutive year.
Value-add strategies also remained the most preferred in Europe. In the Asia-Pacific region, investors also preferred value-added over core in terms of risk-adjusted performance, with 44.3% of investors indicating that preference. When it comes to investment in Europe, the survey found that investors were taking a more risk-averse approach to overall property portfolio allocations, with a notable shift in favour of core and away from opportunistic strategies. But value-add remains the most preferred style overall for investors deploying capital in Europe.
But on an aggregate basis, the trend is clear: 51.1% of those surveyed said value-add was their top investment style preference for 2019. That was the highest level of preference for value-add since 2008, when 58.8% of respondents named value-add as their first choice. But the overall risk appetite is radically different. For 2019, only 9.8% of respondents picked opportunistic strategies as their first choice, markedly lower than 35.3% who had opportunistic property at the top of their shopping lists in 2008, and very much in line with the minimal preference for opportunistic property that investors reported between 2010 and 2014.
It is perhaps counter-intuitive so late in a market cycle, and when economic growth is faltering in many parts of the world, to see investors tilt towards a strategy that, by nature, entails accepting additional risk.
In short, managers say, value add allows investors to carefully increase risk in such an environment. Value-add investing can also diversify the types of risk that are taken on in a portfolio, in step with the approaches that managers take to enhance value and returns with individual assets. The bottom line is that investors are willing to accept more risk for higher returns, but they want to do it in strategies that are designed to achieve that result through a combination of conservative underwriting, modest leverage, and crisp execution.
"We're not in a situation where macro views can be applied to select markets," says Timothé Rauly, global head of funds at AXA Investment–Real Assets. "It's a deal-by-deal process."
The interest in value add, as with any investment, stems from how the strategy fits with the current market opportunity, says Joe Munoz, CIO of the Income & Growth Funds at LaSalle Investment Management. "There's strong interest in value add, and part of that is fuelled by people who view the strategy as a balanced strategy with some potentially defensive characteristics where, traditionally, it's been thought of as only an offensive strategy."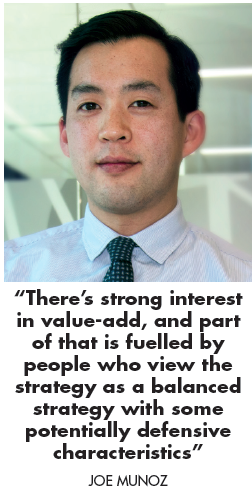 Investor sentiment in the US is currently balanced between concerns about when the inevitable downturn will start and how long it might last, and a recognition of how strong the US economy is – and that there could still be several years of good performance to come.
"While it's prudent to talk about the next downturn, it's also not prudent to sit out completely and let a few years of growth pass you by," says Munoz. "That's a missed opportunity."
He adds: "If you translate that view of the environment into the risk-return profile of different property strategies, value add is attractive because a portion of its return comes from income and a portion comes from appreciation. Investors can get income, and also be in a position where they don't miss out on near-term improvement in the economy and the property market. Investors can have the opportunity to improve the asset, and for landlords to increase rents and occupancy."
In fact, fund managers say, the increased appetite for value-add strategies is not a sign that investors are ignoring the rising risk. Instead, it is a response to the main feature of the late-cycle market: cap-rate compression is slowing, so investors are looking to the income-generating potential of assets to maintain yields and generate returns.
The reason value-add strategies can work is straightforward: there are many ways to generate additional return from individual assets, rather than being passive investors that are more dependent of the direction of the broader market. In short, it is old-fashioned property investing.
Careful selection of opportunities is essential. Fund managers say residential property presents a range of opportunities in the US and Europe, supported by demand from younger and older people who favour apartments. The primary challenge in the residential sector is to select the markets and assets that are bolstered by favourable demographic and employment trends. Some managers see potential for value creation in office assets, but on a more limited basis. The booming industrial sector presents some opportunities for carefully managed situations.
In fact, says Munoz, "a challenge, given the current backdrop, is that there's really no specific strategy within one specific property sector within one specific geography that I could constantly advocate to our investors would be the best idea for the next three to four years, which is the investment period that we're looking at".
That is the nature of value-add investing in the US. Whereas INREV has established specific criteria for what qualifies as value add versus opportunistic and core-plus in Europe, the field is wider in the US. For PGIM Real Estate, value-add investments generate returns in the range of 11% to 14%, says Soultana Reigle, PGIM Real Estate's senior portfolio manager for US value-add strategies.
Assets could range from those that need simple re-leasing to those that involve some form of capital repositioning and corresponding market-led movement, or even repurposing. For PGIM, the value-add sleeve extends beyond existing structures, and could include development, which the company does quite a bit of, or investing in land earmarked for future development stages.
"From our perspective, [we] can run a very wide range of variety of profiles for what we consider value add," says Reigle. "As the assets are grouped within various vehicles, there's a mix of different types of risk profiles within value add, and we're always trying to have a range of those various profiles at the strategy level."
This allows value-add strategies to meet a similarly wide range of investor needs. "We typically see that value add tends to be a complementary asset class and activity within an investor's portfolio," Reigle says. In the current stage of the cycle, when capital appreciation is flat, core real estate can only really generate returns from income. "How you complement that to generate a little bit of extra boost to the overall return from a property portfolio can often come from the value-add investment," she says.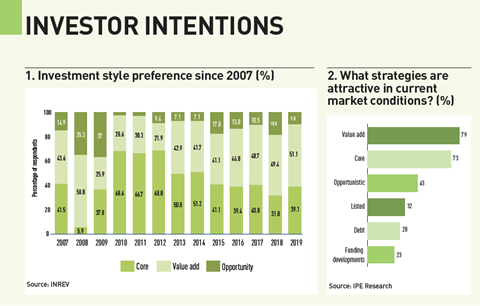 Reigle sees some opportunity in development in the multifamily sector. She added that the firm has become more selective in terms of locations, and is more likely to own assets at each end of the risk-reward spectrum – that is, either trophy assets in the strongest locations, or workforce-housing type development opportunities that offer clear potential to maintain high occupancy levels. "We're being more selective about which types of investments to make at this time," she says.
Compared with the earlier parts of the cycle, "we have balanced out development appetite with much more focused, near-term, income-oriented strategies, where there might be some ability to have the appreciation based on capital investment or positioning within a given market", Reigle adds.
The draw of residential markets
Value-add fund managers see many opportunities, but they do not fit neatly into sectoral or regional categories across the US. That places a premium on identifying managers with the ability to assess relative value as regional economies and sector dynamics evolve over the next several years. As the cycle moves further into its mature phase, evaluating the factors that have the potential to drive relative value between sectors and markets will become more important.
Certain sub-sectors of the multifamily market offer relative value, says Munoz. He expects apartment assets to make up more than half of LaSalle's next fund, with office assets making up just over a quarter, and the remainder industrial property.
"We believe there are numerous individual office asset situations where we can effectively grow operating income at the property level," Munoz says. "That being said, with unemployment at 3.7% or 3.8%, it's more of a challenge to get broad occupancy gains across a national office portfolio than it was six or seven years ago, so that's why our expectation for office sector exposure in the next fund is scaled down.
"Some of the ideas we really like in the apartment sector are about solving housing challenges for young families with young children, and for the 65 to 72-year-old segment, retiring baby boomers with an active adult lifestyle. We believe there's additional motivation for tenant demand in those sectors that is incrementally stronger than just companies taking on more office space."
Suburban apartment assets serving young families with children about to start school in good public-school districts offer potential value, Munoz says. The strategy for value-add investment is to renovate these assets to add the types of amenities the 35 to 44-year-old cohort have grown accustomed to in city apartments they rented when younger. Since for-sale homes in locations with good public-school districts tend to command high prices, rental properties can provide access to quality education, explains Munoz.
"The thesis is these families will buy when it makes sense for them economically, but renting to get into the school system they want to be in provides continuity for their children," he says. "We think that's a compelling offer."
The older age group is working longer and is generally healthier than previous generations were at the same age, creating demand for apartment property geared to the social community needs of adults but without the costly healthcare and meal services associated with senior housing. The apartment concepts have a common denominator. "We think there is a higher probability of generating value-add return when assets are supported by demand that's based on changes in a phase of life," Munoz says. "Lifestyle motivations can put you in a better chance to succeed as a landlord."
That holds true in the residential sector in several European markets as well. Europa Capital has executed value-add residential opportunities in the UK, including the renovation of military housing near a US Air Force base for sale on the private market, and in Spain, where it has repositioned a variety of assets as upscale apartments in Madrid and Barcelona. The firm is also repositioning a 15th-century palazzo on Mallorca, which entails a variety of re-entitlements to permit a multi-unit condominium for ultra-high-net-worth buyers.
In Copenhagen – one of the fastest-growing cities in Europe – Europa has purchased residential blocks through forward commitments to developers that a Europa vehicle would purchase the leased-up assets upon completion about three years later. This de-risks the asset, allowing the developer to borrow at better rates and Europa to acquire the assets at a 15-20% discount of the expected value. The firm's conservative underwriting assumed an exit cap rate of about 4.25-4.5%, and one block was sold at a 3.5% cap rate.
The approach is designed to "capture the rental growth in the urbanising city of Copenhagen", says Nic Fox, partner and fund manager at Europa Capital. In several cases, the firm has "sold those assets to regional and international European core investors", he adds. "Having stood back since the 1970s, institutional investors, especially UK-based institutions, want to get back into the private-rented sector, and they are happy to acquire the finished product from us, but they're reluctant to take on the planning and construction risk."
Value Add: Market makers, not risk takers
1

Currently reading

Value Add: Market makers, not risk takers

2

3