Pairing IPD's direct database with MSCI's listed coverage creates an opportunity to investigate the broader relationship between the two. Mark Clacy-Jones, Roman Kouzmenko and Bryan Reid report
Compared with traditional asset classes of equities and bonds, commercial real estate offers a distinct set of investment characteristics. These include relatively predictable income streams as well as the potential for capital appreciation. As such, multi-asset class portfolios which incorporate real estate can obtain a diversification benefit to achieve higher returns and/or lower volatility. This has helped to make commercial real estate, worth an estimated $7trn (€5.3trn) globally, the most popular investment among 'alternative' assets.
However, significant hurdles exist for smaller or less experienced investors when it comes to direct investment in commercial real estate. Such investors may be discouraged by high transaction costs, low liquidity, or a lack of information. The large lot sizes of most commercial real estate investments also make it hard to achieve diversified exposure without considerable investment. As a consequence, some investors seek exposure to commercial real estate via listed markets.
Securitised or listed real estate helps to overcome some of the difficulties associated with direct real estate investment but there are a number of important distinctions between direct and indirect real estate investment which can cloud the relationship. There is therefore still an ongoing debate about how much linkage exists between listed and direct real estate and whether the two markets can be seen as close substitutes.
Several studies have addressed this issue but have often focused on specific regions, or a narrow aspect of the relationship. They have also offered little in the way of firm consensus on the subject with differing methodologies and conclusions. Pairing IPD's direct real estate database with MSCI's listed market coverage creates an unparalleled opportunity to investigate the broader relationship between listed and direct real estate.
Earlier this year, IPD/MSCI conducted a global survey of more than 130 asset owners that jointly owned more than $10trn in assets. It revealed a wide range of approaches to listed real estate with many viewing it as part of their equity allocation while a minority managed it as part of their real estate exposure.
The differing treatment of listed real estate underlines how investors can perceive listed real estate in different ways. Most see direct real estate as sitting somewhere between equities and bonds, but the securitised nature of listed real estate leads most to see it as more closely aligned with equities.
IPD's 2013 market size estimate placed the value of global investible commercial real estate at approximately $7trn with just over a third of this being owned by listed vehicles. This highlights the importance of public real estate markets but masks some of the underlying regional differences in how listed real estate is viewed and used. In regions with less developed direct real estate markets, listed real estate can be seen as a more ready substitute and will make up a bigger proportion of the overall real estate market. For instance, IPD estimates that in the Asia-Pacific region, listed real estate accounts for over half of the underlying market compared with around 19% in Europe and 39% in North America.
An investor's view of listed real estate is also likely to be influenced by how much 'pure' real estate is contained within the listed market. This is because listed real estate companies can engage in activities outside owning and managing real estate assets and these activities can alter the profile of the listed market. For example, a high level of development activity can reduce the linkage between listed and direct real estate. REITs tend to be the closest to securitised pure real estate investment as these entities usually have legislated limits on the types of activities they can engage in. For many markets though, REITs are still a relatively new addition to the listed real estate market and REIT regimes differ between countries.
Even though both public and private markets are underpinned by commercial real estate, their performance can differ considerably due to differences in the structure of the markets and due to disparity in the type and nature of properties represented in each market.
The differences: volatility
The most noticeable difference is the higher volatility of listed real estate. Part of this increased volatility is the result of higher liquidity in listed markets which are priced frequently, trade on open exchanges and enjoy greater transparency. Listed real estate performance is also impacted by wider equity market effects. However, direct real estate experiences appraisal smoothing which artificially lowers its volatility.
In contrast to the listed real estate stocks, direct properties trade very infrequently. When they do, transactions can take a long time to finalise, and most properties are only revalued once a year. These long transaction times and relatively infrequent valuations induce a degree of lag and smoothing into direct real estate valuation-based indexes (VBIs). The result is that when comparing listed and direct real estate performance, direct real estate appears to lag listed real estate by anywhere between six and 24 months and the returns are artificially smooth. Transaction-linked indexes (TLIs) go some way to addressing these issues but they are still not as common as VBIs and cannot be produced for all markets and sectors.
In the face of appraisal smoothing and lag, traditional risk metrics are not valid for direct real estate as any VBI estimated volatility will be artificially low. In order to correct for this and obtain comparable risk measures, appraisal-based direct real estate returns need to be unsmoothed. Figure 1 demonstrates the potential impact unsmoothing can have.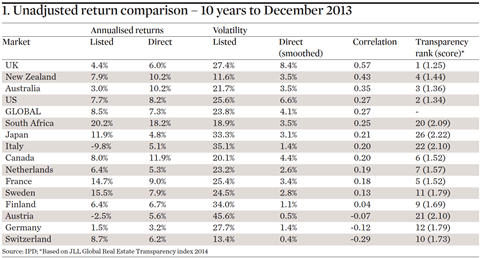 The differences: leverage
Direct real estate performance tends to be measured at the unlevered asset level, whereas listed market performance is usually reported at the stock level, reflecting the performance of the fund/company and meaning that leverage can be incorporated into listed returns. Leverage enables listed real estate to achieve higher returns during growth periods but also introduces additional exposure to financial risk. In order to compare like with like, leverage has to be removed from listed real estate or added to direct real estate.
The differences: cash/other assets/liabilities
Being measured at a fund/company level also means that listed real estate incorporates a broader range of assets than just direct real estate. These entities are likely to be carrying cash reserves and can engage in a wide range of activities and are not just limited to owning and operating real estate assets. For example, a listed entity may hold cash, indirect exposures to other entities, swaps/hedges, developments or non-domestic assets, diluting the relationship with domestic direct real estate.
The differences: underlying properties
Real estate assets are extremely heterogeneous and, with the exception of a few assets under joint ownership, assets are unlikely to be represented in both listed and direct markets. This leads to potential sample mismatch between listed and direct markets.
Many studies make comparisons between listed and direct real estate using aggregate measures of performance for both markets. A common example would be comparing a NAREIT (listed) index to a NCREIF (direct) index in the US. The problem is that the properties underlying both of these indexes may differ considerably and this is often not controlled for. If it is, the approach employed usually only corrects for sector-level mismatch by comparing individual sector indexes, and not sub-sector or geographic mismatches.
Sample mismatch can also be the result of differing geographic classification. For direct real estate, assets are classified according to their location but for listed real estate, assets are classified by fund location. For example, an asset in China owned by a Hong Kong REIT would be classified as part of the Hong Kong listed market but part of the Chinese direct market.
A recent study undertaken by IPD/MSCI and APREA (see previous page) demonstrated the importance of matching the underlying sample at the asset level when comparing listed and direct markets. When unmatched indexes were compared, the return correlation was considerably lower than when a matched sample was employed (figure 2).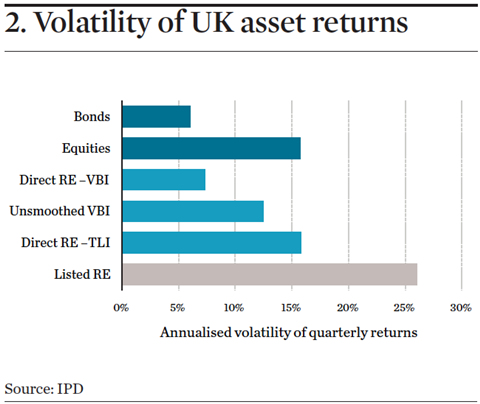 Comparing listed and direct
Given the differences between the listed and direct markets, we should ask how much of a relationship exists between listed and direct real estate. Just looking at the unadjusted global numbers, there does appear to be a relationship over the long term. Comparing an unadjusted MSCI measure of listed market performance against an unadjusted IPD measure of direct performance shows a similar long-term trend and a reasonable correlation between quarterly returns (figure 3).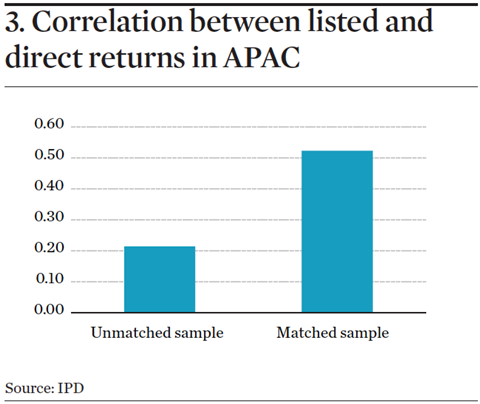 Underlying the global comparison, initial results also suggest that the countries with the strongest linkage are Australia, New Zealand, the UK and Norway while Germany, Austria and Switzerland are the markets with the lowest linkage. Table 1 provides some figures for selected markets over the 10 years to December 2013.
Interestingly, the markets with the highest correlation also score highly for transparency. This may be due to stronger price signals being possible between the markets in countries with higher transparency levels.
It should be noted that these figures are based on unadjusted returns, before accounting for all of the previously discussed factors which can complicate and obscure the relationship between listed and direct markets. The results also show simple, relatively short-term, correlations with more authoritative results requiring co-integration analysis over longer time periods. The recent IPD study with APREA showed that not controlling for leverage, lag, smoothing and sample will lead to linkage being underestimated. As an example, return correlations in Japan increased from 0.23 to 0.45, and in Singapore an even more marked 0.12 to 0.49 over the nine years to December 2012 after accounting for some of these factors.
These conclusions suggest that adjustments to return series can point to more significant correlations between the types of real estate. But the relationship is complex and dynamic, as illustrated by relationships in Hong Kong (where correlations are relatively low due to the nature of the listed market) and the significant shock of the global financial crisis, particularly in Australia.

Future developments
Previous research has provided evidence of robust linkage between public and private real estate markets, particularly in the US and in parts of Europe. MSCI/IPD is engaged in extensive research to deepen the understanding of the relationships between the two dimensions of the real estate market.
The work pioneered in the IPD-APREA study is being extended to explore other regions and global real estate markets. Additionally, MSCI's Macroeconomic Risk Framework will be used to explore how the two markets react to macroeconomic shocks. Initial analysis has demonstrated that over longer horizons, private and public real estate share similar sensitivity to macroeconomic risk, but further study will seek to better understand the macro-economic risk profile of global public and private real estate markets.
The insights provided by this research will help investors better understand how listed markets are related to private real estate and how they can best manage their exposure to real estate. It will also allow IPD/MSCI to explore other related issues such as the creation of blended benchmarks which incorporate both listed and unlisted real estate, thus enabling investors with combined holdings to better evaluate their portfolios. In a sign that some investors consider both listed and direct real estate as legitimate routes to access real estate returns, Standard Life Investments recently announced they were switching to an IPD/MSCI blended benchmark for their Global Real Estate Fund. This IPD/MSCI benchmark combines listed and direct real estate indexes to provide a wider real estate performance measure than the traditional separate benchmarks which treat direct real estate, listed real estate companies and unlisted real estate funds as separate investments.
---
1 IPD (2014), The Asset Owner Real Estate Investment Process: Risk management insights from the MSCI/IPD Survey.
2 IPD (2014) Real Estate Investment Market Size.
3 For more information on TLIs please see http://www.ipd.com/real-estate-indexes/investment-type/transaction-linked-indicators.html.
4 IPD/APREA (2014), Exploring the Linkage between Listed and Direct Real Estate in Asia.
---
Mark Clacy-Jones and Roman Kouzmenko are vice-presidents, and Bryan Reid is a senior associate at IPD