What is the difference between core funds in Europe and the US? About €150bn, wherein lies the opportunity, writes Richard Lowe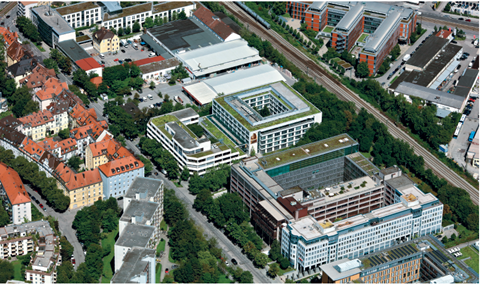 The NCREIF NFI-ODCE index in the US covered just shy of $200bn (€175bn) of assets under management at the end of 2018. The index acts as a proxy for core real estate in the US and its 38 fund constituents provide the principal means for institutional investors to gain exposure to the market.
The European equivalent, the MSCI Pan-Europe Property Fund index (PEPFI), pales in comparison. Its 13 constituents manage €28.5bn of assets, including leverage. If you exclude the two sector-specific funds in the index, the figure falls to €18.5bn.
The difference – the best part of €150bn – could represent an opportunity for fund managers. Whether the gap can be fully closed is up for debate, but most major real estate houses are betting on a significant narrowing.
The appetite for open-ended, pan-European, diversified core funds from both European and non-European investors is clear. The PEPFI index has grown hugely over the past five years (see figure).
The funds are growing in both size and number, with some new entrants in recent years, some of which have yet to be reflected in the PEPFI index (AXA Investment Managers–Real Assets, BlackRock, Blackstone and Principal Global Investors are not in the index).
BlackRock became the latest entrant when it launched its Eurozone Core Property Fund last year. The oldest fund in existence is The PanEuropean Property Limited Partnership, established in 1973 by Rockspring Property Investment Managers and now part of Patrizia, which acquired Rockspring at the end of 2017. The largest is managed by Invesco Real Estate, at €3.7bn.
Peter Epping, senior managing director at Hines, says today's funds can effectively "be categorised into three buckets": funds launched before the global financial crisis; funds launched shortly after; and funds launched more recently.
The first group includes Hines' €1.31bn (GAV) Pan-European Core Fund, which was launched in 2006 and is managed by Epping. Other funds include those run by Aberdeen Standard Investments, LaSalle Investment Management and M&G Real Estate.
To still exist today, these funds needed to be "resilient enough to overcome the shock" and able to "reshape their strategies to future-proof and become truly evergreen".
It is interesting to note that the second category – funds created in the aftermath of the financial crisis – include the two largest funds, managed by CBRE Global Investors and Invesco Real Estate.
Epping says funds in this group were able to "acquire assets at a good time in the cycle and rapidly gained diversified scale".
The new entrants, the third grouping, include BlackRock, as already mentioned, as well as Principal Real Estate (which acquired Internos Global Investors in 2017) and Nuveen Real Estate.
Then there is Blackstone, traditionally an opportunistic manager, which sidestepped into the core-plus funds market in 2014 in response to demand from its investors. Its open-ended, pan-European vehicle Blackstone Property Partners Europe (BPP Europe) stands out from the rest.
As one Blackstone insider says, unlike other balanced funds, it does not seek diversification for its own sake but rather allocates to markets and sector opportunistically. It will not be appearing in the PEPFI index.
A prime example is Blackstone's and Telereal Trillium's joint acquisition of Network Rail's property portfolio in the UK for £1.46bn (€1.67bn). Blackstone is investing in the 'Arches Portfolio' – as it is known because a lot of the assets are located in and around railway arches – for BPP Europe. The insider says BPP Europe can also enter into take-private acquisitions, setting itself apart from traditional core funds.
Can Europe match the US?
"In terms of the number and size of these pan-European funds, a number of people have contrasted the maturity of the European landscape with the landscape in the US where you have these very big ODCE funds," says David Jackson, manager of the €2.4bn M&G Real Estate European Property Fund. "The size and scale of those funds does suggest to me there is potential in Europe to grow further. And I suspect that will be a combination of the already bigger funds… continuing to grow but also new entrants coming into the market as well… that indicates to me there is space for the number of funds and the size of funds in Europe to increase."
Epping says it is difficult to say whether the market can reach "the same level of size" of the US, "but there are strong reasons to believe that the European funds will grow significantly".
He adds: "Given the very large amounts of equity expected to be placed by institutional investors over the coming years and the investable global core property investment universe being limited, Europe presents an attractive proposition for reasons of accessibility, political stability, transparency and low volatility, etcetera, which makes us believe the European core fund universe will very likely grow significantly in size of the years to come.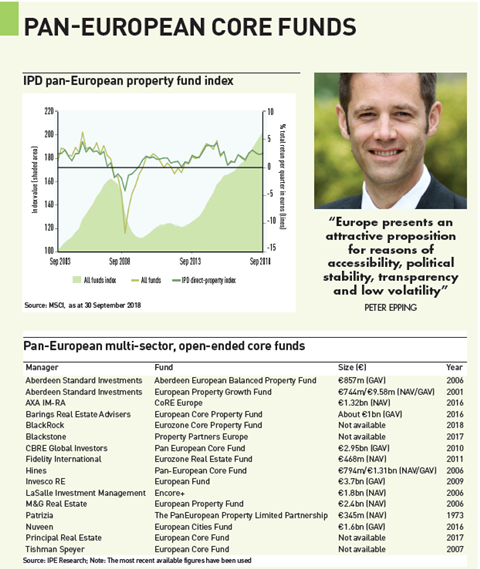 "However, certain aspects of the market in Europe are different from the situation in the US – most notably the fact that Europe is not one country like the US and that despite all EU integration, the legal and tax environment still differs significantly from one country to the next. The implied cost and overall risks suggest that European funds generally will not quite grow to the same level as the US counterparts."
David Ironside, fund manager of LaSalle's €1.8bn Encore+ fund, believes European funds could one day become comparable to their US counterparts, but that the number of funds in the market will have a natural limit, and there will be a race to establish the dominant ones.
That race is on now and managers will be keen to gain scale as quickly as possible. Two of the fastest growers appear to be AXA Investment Managers–Real Assets and Barings Real Estate Advisers. Both having launched their funds in 2016, they have managed to surpass the €1bn mark and overtake longer-established vehicles.
And scale will be important, for gaining critical mass, particularly in attracting big-ticket investors. US pension funds and Japanese institutional investors are likely to be two important capital sources for the growth of the sector, and they often require big allocations.
Jackson says the involvement of large institutional investors "will underpin the growth of these bigger funds". He adds: "For a lot of the bigger institutional investors, they sometimes find it more difficult to make an allocation to much smaller funds, particularly if those funds are blind pools with no assets or if they would be a disproportionately large investor in a small fund."
Newer vehicles can be attractive to those institutions prepared to become cornerstone investors, since they will often come with a fee discount. But the risk with newer vehicles today is whether they are able to build the necessary scale quickly enough as the market reaches the end of the cycle.
Epping says there are "good reasons to invest" in established and newer funds, but "building up a downturn-proof portfolio from scratch may prove challenging".
But, Epping says, "new funds are building on lessons learnt during the last downturn" and are able to invest in residential and logistics markets – and even niche sectors like data centres and senior housing – which were "not considered by funds and their investors in the past".
He adds: "On the other hand, funds with a longer track record have been through the challenges of investing in different asset classes across European markets and developed on-the-ground expertise on how to assemble a consistent portfolio and manage it through downturns – especially those funds that experienced the global financial crisis.
"We think that, in any case, over the medium term there will be some winners and losers as the market will likely not be big enough to support all vehicles, and a fund's size – in terms of AUM – is an important criteria – even if clearly not the only one – for core fund investors". But he adds that there is a lack of confidence among some investors about the "liquidity measures and transparency of existing European vehicles".
Unlike in the US, where ODCE use a standardised liquidity and pricing mechanism, the picture is more inconsistent in Europe. The are two main pricing methods used and for many investors uncertainty around how transaction costs, for example, are shared between investors that have committed to a fund at different times.
Real estate associations INREV and AREF have been developing best-practice guidelines for the industry to bring more clarity for investors. A best practice report is expected this year. "People still are not fully familiar with the different methodologies," says Constantin Sorlescu, senior professional standards manager at INREV. "That is one of the biggest challenges that we've seen."
It is "integral" to the ability of the fund sector to grow. "Definitely it is. It boils down to the fairness between vintages of investors, the generations of investors," he says. "That is critical, because as the fund becomes bigger the pricing mechanism – or what is behind the pricing – will get a lot of attention. So we need to make sure it's transparent, fair and has sound governance."
Building Europe's ODCE market
1

Currently reading

Building Europe's ODCE market

2

3

4

5