As America's biggest cities become more unaffordable, smaller cities have spotted an opportunity. Christopher O'Dea reports on the rise of 'momentum markets'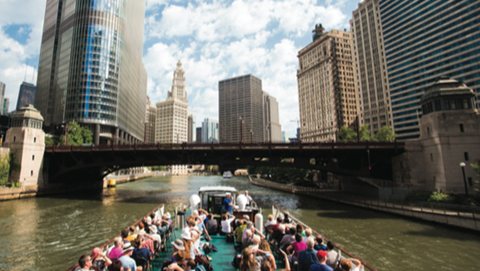 Go west, young man! That was the rallying cry for an earlier era of Americans looking for a place to start a family. It was a time when young men were expected to seek their fortunes on the emerging American frontier that moved steadily across the continent from the Eastern Seaboard to San Francisco Bay.
Today, young Americans are forging a new frontier, taking the lifestyle they developed in technology centres like San Francisco to smaller cities across the country where they can better afford the amenity-rich lifestyle they prize.
These new urban growth markets offer affordable housing when big-city rents are soaring and many states are levying hefty property taxes to shore up old-economy pension gaps. They typically host universities with technology curriculums, medical centres and research labs. They are focusing on building their own tech labour forces and attracting venture-capital funding for start-up firms that ensure talent – and their pay cheques – remain.
Revenue-strapped big cities are becoming de facto theme parks, aiming to attract tourists and convention-goers who will spend on retail goods, dining, transportation and hotels, generating revenue through an array of fees and taxes.
Major US cities are creating barbell situations: on one side are ultra-rich and affluent residents that can still afford to live in the urban centre; on the other are lower-middle-class cohorts involved in service industries, often living in marginal neighbourhoods. The middle class is shrinking, as people depart due to high taxes, housing costs and failing public schools. Shortfalls in public-sector pension funds have forced cities to raise property taxes, even as services deteriorate. But that cannot be done every year.
That leaves cities such as Chicago to turn to tourism for revenue. In 2012, Mayor Rahm Emanuel consolidated all city tourism sales and marketing activities into a single new agency, Choose Chicago, which aims to attract more than 55m visitors to the city annually by 2020. The agency handles convention sales for McCormick Place and Navy Pier – convention and event mega-sites on Chicago's lakefront. Those venues are owned by the Metropolitan Pier and Exposition Authority, dubbed McPier, an entity created by the state legislature that has levied a steady series of taxes and fees on commercial activities in Chicago.
McPier levies include a tax on taxi and limo drivers that want access to Chicago airports, called an airport departure tax, as well as a 1% tax on restaurant meals in certain parts of Chicago deemed 'close' to Navy Pier, a designation disputed by restaurants located miles from the tourist site.
These tourism-related levies add to a heavy tax burden on Chicago residents. For 2016, the board of Cook County, where Chicago is located, approved a 1% hike in its own sales tax to help defray part of the $6.5bn (€4.9bn) shortfall in its pension funds. That gave Chicago a 10.25% sales tax, the highest big-city rate in the US, according to the Tax Foundation. With diners inside the McPier radius paying 11.25%, "Chicagoans are the most-taxed residents of any major city in Illinois," according to the Illinois Policy Institute.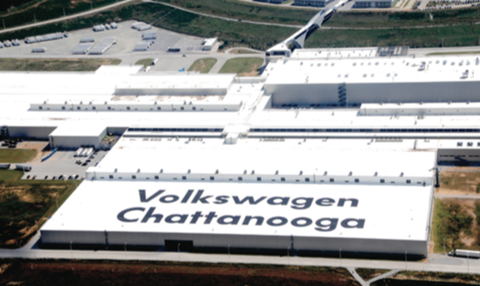 So far, the tourist drive has paid off. The number of domestic visitors to Chicago hit a record 50.97m in 2015, with another one million international tourists. That made Chicago one of only three US cities to welcome more than 50m visitors annually, according to the city. Direct spending by visitors reached an estimated $14.9bn in 2015, up 34% since 2010, and tourism levies generated $935m in total tax revenue, the city says.
That made 2015 a record year for Chicago hotels – despite adding 2,200 new rooms, the average daily rate for a hotel room in the central business district rose 5.3% year-on-year to a record high, according to hotel research firm STR. That spurred a 5.7% increase in revenue per available room and generated $124.1m in hotel tax revenue for the city. But tourism could dip in 2016; Choose Chicago has booked fewer major trade shows this year, a result of the city having lost its bid to host the Olympic Games, and a dip in long-term bookings after the recession.
But it is a risk the city has to take. Chicago's population is shrinking, making it harder to derive revenue from property taxes and other levies on residents. Chicago owes $34bn in debt to its six city-run and sister-government pension funds, according to the Illinois Policy Institute. To start addressing the shortfall, Mayor Emanuel and the City Council adopted a 2016 budget that included the biggest property-tax increase in recorded Chicago history, a $588m levy that is raising tax bills by 13% on average, with some rising by 50% or more in the first year. The biggest chunk – $318m – is earmarked for the pension funds for police officers and firefighters.
That was just a start. Last summer the Chicago Public Schools Board approved a $250m property tax hike to shore up teachers' pensions, a levy that will appear on tax bills in 2016.
The steep increases only begin to make up for decades of underfunding, and the mayor is said to be considering a 'stormwater stress tax' on big-box stores and other large businesses that put pressure on the city sewer system – a proposal by the Council's Progressive Caucus, which believes the city must reduce its reliance on the property tax.
Meantime, increasing reliance on tourism revenue means the city must compete for tourist wallets in much the same way as theme parks.
Already the focus on attracting tourists has led to some novel proposals. In May, two developers – members of the board of the city's Choose Chicago tourism agency – floated a plan for an aerial gondola line running along the Chicago River from Navy Pier to Chinatown. Local media reports cited estimates that the ride – termed a 'sky line' – could generate as much as $330m in additional tourism revenue. They provided no cost estimates, but one thing is certain: such an attraction would go a long way towards making Chicago look like a theme park.
The middle-class is not waiting for tax rises to bite; as tourists visit, they are moving out. While Chicago as a US city ranked third in tourism in 2015, the Chicago metropolitan area, which encompasses suburbs and extends east into Indiana and north into Wisconsin, ranked first in population loss among major metro areas in 2015, according to the US Census Bureau.
The decline reflected demographic trends that are expected to lead to continued population loss – namely, the ageing of the Mexican immigrant population and a steady exodus of African-Americans. Mexican-born populations declined in most major US metro areas after 2007, but most other cities offset the drop with growth in the native population, according Rob Paral and Associates, a demographics consultancy.
Despite the attractions of Chicago's lakefront, the state tied West Virginia for the 46th worst unemployment rate in the country, at 6.3%. In fact, Illinois was one of only seven states to suffer population decline in 2015, and only West Virginia – where the coal industry is collapsing – suffered a bigger drop. All told, more than 105,000 left Illinois last year, and that was not offset by incoming residents and births.
According to William Frey, a Brookings Institution demographer, the snow belt-to-sun belt migration is picking up again, as people move south and west in search of better weather, better job prospects, and affordable housing. Nashville and Atlanta populations, for example, increased 7.1% and 8.5%, respectively in 2015.
The multifamily market reflects the decreasing affordability of quality housing. At one end of the urban barbell, multifamily developers are "doubling down on luxury complexes", according to Marcus & Millichap's mid-year report on Chicago. They are targeting Millennials and empty-nesters flocking to the city – for now – despite high taxes and Chicago's shaky finances. Construction "has reached unprecedented levels and apartment development is on pace for a record-shattering year", the report says. Approximately 8,800 units will be completed in 2016, up from 5,800 completions in 2015 to the highest level since 2000, with building "overwhelmingly targeted toward the upper end of the renter pool where high rents warrant the cost of development".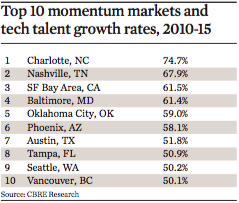 Rents have grown significantly in recent years. The average monthly rent is nearly $2,000 across the metropolitan area. While
Marcus & Millichap says "the threat of overbuilding has yet to materialise" despite the boom in high-end development, rising rents have even affluent tenants looking down market. This is making it possible for owners of low to mid-tier properties to boost rents as well. "New construction will provide little competition for low to middle-tier investors," the report says, "allowing owners in this tranche to aggressively push rents as the divide between class-A and class-B/C properties widens." Investors willing to make even minor cosmetic improvements "will be able to raise [rents] as they capture professionals that were priced out of the ultra-luxury segment".
Momentum markets
Faced with soaring rents, many professionals are opting-out of the big-city race altogether. They are opting-in to a new US frontier being built in smaller cities, often near universities, where scientific and technology companies can find a reliable source of talent and space, even land for new knowledge-based campuses – and employees can find affordable housing with access to outdoor recreation, town centres geared to pedestrians, and efficient transportation networks.
The factors driving this migration are generational changes in where and how Millennials live and work, trends that are expected to have an effect on long-term property demand. Office and residential property is most directly affected, as companies seek business space that often includes laboratories and customer-collaboration centres for testing ideas and prototypes. Those employees need housing, and increasingly, housing suitable for new and growing families, in communities that offer reliable public schools. The underlying employment trend is a similarly long-lasting one, property analysts say, reflecting US leadership in technology and scientific research, particularly in software engineering, biotechnology, and life sciences.
The ramifications for property investors are becoming clear. The growth in the technology labour force of secondary cities tells the story, says Colin Yasukochi of CBRE Research. "Tech talent growth rates are the best indicator of labour-pool momentum, and it's easily quantifiable to identify the markets where demand for tech workers has surged," Yasukochi says. "The competition for talent is getting tougher as more highly skilled tech workers – especially Millennials – are flocking to cities where the cost of living is lower and tech jobs are plentiful."
In their quest for highly skilled talent and for lower costs of doing business, Yasukochi says, both new and expanding companies are establishing footprints in more affordable markets, such as Nashville, Charlotte, Tampa, and Phoenix, leading to a rise in demand for office space and a decrease in office vacancy (see table).
While San Francisco and other major cities remain the nation's largest tech markets in terms of labour force, CBRE calls these smaller cities "momentum markets", where tech talent growth rates in the years 2010 to 2015 reached 70% or more. High-tech companies have soaked up office property, increasing their share of major leasing activity nationwide from 11% in 2011 to 18% in 2015, according to CBRE Research, the largest share of any industry. "Tech talent growth has recently been the top driver of office leasing activity in the US and high-tech companies are now one of the main drivers of commercial property activity," Yasukochi says.
While the geographic dispersion of momentum markets might leave investors wondering how to determine which regions hold the most promise, the potential of emerging tech centres stems from a confluence of factors beyond traditional economic growth projections. "Tech talent markets share several distinct characteristics," Yasukochi says, "including high concentrations of college-educated workers, major universities producing tech graduates and large Millennial populations."
Some have created innovation districts designed to boost tech employment, not just by wooing existing tech companies with lower costs and tax breaks but by attracting entrepreneurs and investment capital by using technology itself to create the coin of the realm in a digital economy: broadband capacity.
Chattanooga, for example, has launched a programme to become the first second-tier US city to have an innovation district – the kind of thing typically found in major cities near top universities. The 140-acre enclave was launched in January 2015, and is part of a dense urban core based on walkability among office, retail and residential property. "Chattanooga built on what was unique to the city," in particular "the recent growth of an entrepreneurial ecosystem," according to Brooks Rainwater, senior executive and director of the City Solutions and Applied Research Center at the National League of Cities.
That ecosystem tapped universities, a municipally-owned power plant, and a core of existing businesses that wanted to expand as catalysts for the innovation district. Once in place, city leaders devised land-use regulations to create a pedestrian-friendly core, integrating cultural assets and restaurants into an environment that people could use outside traditional working hours. "Chattanooga's innovation district was a natural outgrowth of a long line of planning and good decision-making," says Rainwater.
But it was digital power that made the district a magnet for tech workers and companies. Five years ago, Chattanooga's municipal power company turned the city into the US's first 'gig city', by providing an affordable internet service with connection speeds of 1 gigabit per second (significantly higher than the country's average). It created a broadband backbone years before other cities and has maintained its edge – last year it began offering a 10-gigabit service.
The network is credited as a key factor in persuading Volkswagen to locate a major plant in Chattanooga and attracting an Amazon fulfilment centre. Six other cities in Tennessee have adopted similar gigabit broadband. In fact, gigabit broadband is becoming a critical tool for municipal competing for tech talent and the jobs, spending and tax revenue that they represent. According to the Federal Communications Commission, more than 50 US municipalities have taken steps to build broadband networks in the past 18 months. In August, Google Fiber requested expedited FCC approval for ultra-fast Internet tests in up to 24 cities over two years.
With its Gig City in place, Chattanooga is seeing an influx of tech venture capital, much of it targeting software companies specialising in logistics. The city is a major hub for freight shipments by road, rail and river, and two of the largest trucking companies in the US are based there. Now, tech entrepreneurs are aiming to bring the warehousing and transportation sectors into the 21st century. A new seed fund, Dynamo, is hosting 10 logistics startups, including a team from San Francisco that was drawn to Chattanooga's unique transportation expertise. The fund was organised by experienced logistics investors who had previously merged their company with Coyote Logistics, a Chicago company acquired by UPS last year for $1.8bn.
Affordable housing is a big attraction in Chattanooga. Even though home prices rose by 11.3% in 2015, more than twice the national average, according to the National Association of Realtors, homes in Chattanooga still sell for 30% below the US median price. Herman Walldorf Real Estate, a local property agency, says the gain reflects a steady influx of new buyers from cities with higher housing costs.
While many secondary cities have benefitted from technology growth, affordable housing is a major factor for employers, says Daryl Carter, founder and CEO of Avanath Capital Management. Tech companies employ a large number of workers in support jobs, as well as workers who are technically skilled, but not wealthy. "There is only a limited number of people who can afford to pay the rents on newer properties," in the US, which often cost $3,000-4,000 per month, Carter says.
Avanath buys and renovates rental property aimed at middle-income tenants who typically want to spend $1,000 to $1,600 per month on rent. Recent investments in secondary markets have included properties in Cary, North Carolina, near Research Triangle Park (RTP), a 1960s vintage cluster of mostly life science companies.
Older tech centres are being forced to adapt to the lifestyle preferences of Millennials. RTP, a suburban-style campus created in 1959, started the first phase of a master plan for a more densely developed park with a mix of amenities high-tech workers now expect. The foundation has partnered with Hines to reach agreements with private developers for two hotels, two corporate office towers, several hundred apartments and 300,000sqft of retail in the centre of the development.
Ironically, the first building RTP renovated is called The Frontier. While RTP may have represented the frontier of technology workspace when it opened, the industry has devised a new frontier, and housing in areas that embody today's lifestyles is essential. The town of Cary, near RTP, this summer unveiled plans to encourage new mixed-use office and retail space with a walkable, urban focus.
But housing must also be affordable to the broader workforce. "When people think of tech workers," says Carter, "they think of the founders who are worth billions. They exist, but there are also people who serve lunch."
While housing for that cohort has been under-served by traditional institutional capital, high-quality rental housing for the middle-class offers strong appeal at a time when investors face low yields on most alternatives, and home-seekers are often unable to afford to buy a property. The primary rationale, Carter says, is that "there is virtually unlimited demand for quality affordable housing".
Urbanisation: US - Silicon valleys
1

Currently reading

Urbanisation: US - Silicon valleys

2

3