The looming affordable housing crisis may create opportunities across the globe for institutional investors, writes Mario Lopez-Alcala
Two-thirds of the world's population is expected to live in cities by 2050, up from 54% in 2014, according to the United Nations. Yet, our research 'The Crisis of Affordability in Real Estate', found that housing for people in the middle of the income pyramid was unaffordable in most of the 307 cities and 97 countries we studied. We estimated that the potential affordable housing market catering to this growing population segment is significant and will be US$502bn (€447bn) annually by 2020. This market is fuelled by high potential monthly rents (greater than US$1,000 in the main markets) and by creditworthy households.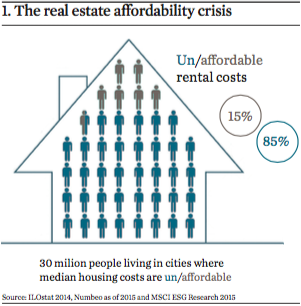 The steep inflow of creditworthy middle-income workers into metropolitan areas suggests a long-term opportunity for institutional investors to address rising demand for affordable housing options in both the residential and commercial space. In the short term, we considered unaffordability in real estate markets as a potential risk, as data has shown that rental and sales prices for the luxury market segment have already peaked and started to decline, while the opposite is true for more affordable housing segments. The result for investors may be a diversification imbalance, with real estate overexposure to the luxury market at the cost of a more diversified portfolio of high credit-worthy, sustainable cash-flow properties that could be a defensive hedge against economic cycles.
While we did not address the question of an 'unaffordability bubble' for median income market participants, we found that out of the 97 countries we analysed, only four had affordable rental real estate available that covered at least 50% of their urban populations, and only six countries had homeownership availability meeting the same criteria. This gap – which we estimate to be more than 50m households by 2020 potentially left out of affordable options within some of the biggest cities in the world – might mean small and medium-sized enterprises are likely to feel the squeeze. In both cases, indirect market participants could also feel the effects of a top-heavy global real estate market.
Despite media attention on ever-rising housing costs, we observed that institutional investors lacked a consistent global measure of housing affordability. We created a common definition of housing affordability that includes multiple factors designed to reflect city-level economic conditions, such as household disposable income and utility and apartment prices. Additionally, these factors also aim to reflect country-specific household features, such as the composition of a household by gender, age, number of people and number of household members earning income.
Using this information, we defined affordable housing considering the following three points:
• How much is considered affordable and for whom? Housing costs should not exceed 40% of the local median disposable income per household for the population around the median income (the middle of the pyramid) to be defined as affordable. Beyond this threshold, paying for housing costs may come at the expense of other basic needs, such as food, education or healthcare;
• How big is the household? There is maximum occupancy of two people per bedroom, in order to avoid overcrowding;
• Where? Urban housing, as close to public services, transportation hubs and jobs, which is precisely what the urbanisation megatrend is about.
We divided our research by rental and homeownership markets. For rental, we found that housing costs represented an unaffordable burden for the population of most cities sampled – 85% of the total urban population accounted for in the report during the examination period (as of December 2015). While unaffordable rental housing options were more prevalent in emerging markets than developed ones, it was a phenomenon experienced across all of the countries analysed.
In terms of homeownership, we looked first at the years it would take to save for a down payment of a median-cost affordable property using, at most, 40% of the median disposable income and assuming a 20-year mortgage. From these assumptions, we derived that the saving period for an affordable housing option should not go beyond five years. Emerging markets again seemed to be characterised by a lower level of housing affordability, with the average saving period to fund a down payment at seven years, versus 4.8 years in developed markets. Lack of affordability was prevalent across the globe, with 65% of the population not being able save enough for a mortgage down payment over a five-year period.
However, when we examined monthly housing costs, taking into account mortgage payments at local rates, the story looked even grimmer. Unaffordable housing levels were higher for the property-ownership option in comparison with rental alternatives, as cities with unaffordable homeownership options included 90% of the total urban population accounted for in the report. In other words, globally only one in 10 urban inhabitants in the middle of the income pyramid lived in cities where median housing costs that included a mortgage were affordable, so it was much less affordable to own than to rent. Housing unaffordability was widespread across markets for homeownership too, as it was for rentals: only six out of 97 countries displayed affordable mortgage conditions for middle-income populations.
North America was the only region where median housing costs on average were affordable (below 40% of the median disposable income) for homeownership. Median housing costs when paying a mortgage typically represented 37% of median disposable income in this region. With the exception of Sub-Saharan Africa and North America, housing costs when paying a mortgage were higher than when paying rent for all regions. This difference between renting and mortgage costs ranged from 24% in European developed markets (24% cheaper to pay rent than to pay a mortgage) to 108% in European emerging markets.
While we estimate that the potential affordable housing market to cater for this growing middle-income population is significant (approximately $502bn annually by 2020, an increase of 7% from 2015), these investment opportunities seem concentrated in a handful of cities. Roughly, 10% of the global cities studied made up about 54% of the affordable market opportunity by value and nearly 40% of all households. The top 10 cities represented about 30% of this market and the data suggested that their households could have afforded relatively high housing costs per month (above US$1,000) with the exception of Beijing (US$800) and Moscow (US$720).
Investor exposure to unaffordable housing
Our report analysed 161 real estate companies in the MSCI ACWI IMI that collectively manage or own about 3m residential units as of 31 December 2015. Each line on the chart below represents the residential portfolio of each of these companies. Only a handful of companies operate in locations that are affordable. Most have their property portfolios in locations where median housing costs take between 40% and 60% of median disposable income. Some operate where housing costs are between 60% and 80% of disposable income. Some between 80% and 100% and some companies operate in locations where unaffordability is very high, which means that housing costs are higher than a 100% of local disposable income.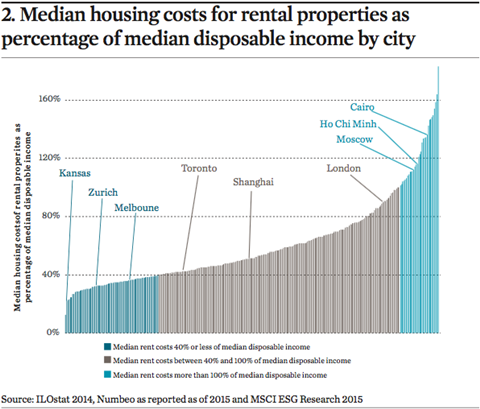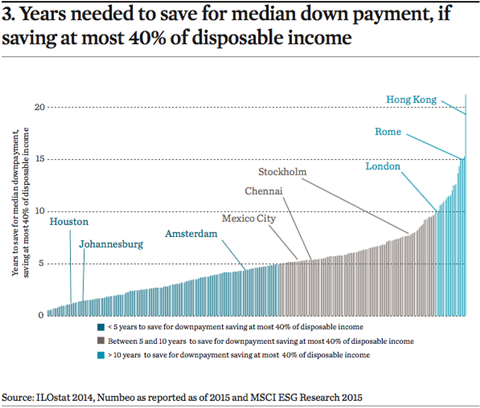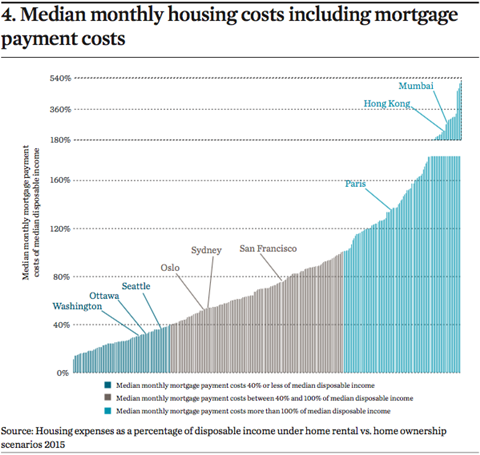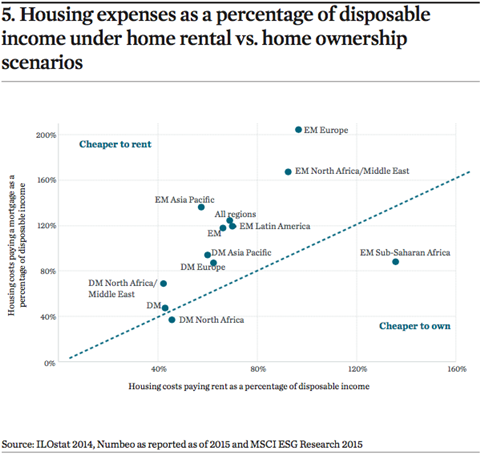 The outliers are 25 companies exposed to cities with higher levels of unaffordable housing costs (defined as median housing costs that are great than 100% of median disposable income). Of these, 14 are real estate management and development companies based in Hong Kong. Nine of these companies had 50% or more of their properties in unaffordable cities. The rest of the companies exposed to these markets are mostly US-based REITs. The biggest companies by market capitalisation were Hang Lung, Sun Hung Kai and Swire Properties.
What are the implications for companies exposed to extremely unaffordable residential markets? After the sub-prime crisis, market reports suggested that residential property growth in cities with extreme unaffordable housing costs, such as New York or London, had been concentrated in the high-end market (defined as the top 20% of properties by property price and rental levels). However, data suggests that rental and sales prices for this luxury market segment already peaked and started to decline, while the opposite was true for affordable housing segments. This is due to market saturation at the top, while in the middle and bottom segments new residential construction fell behind population and employment growth.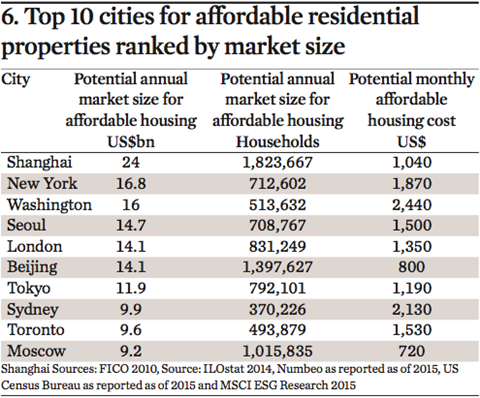 In our view, companies that continue to focus in cities with extremely high housing costs and that do not offer affordable housing options, might experience tighter profit margins than those firms in similar markets but with affordable housing offerings. In summary, there may be an opportunity for companies to diversify their portfolios and invest in affordable housing, in order to cater to the population in the middle of the income pyramid.
On the other side of the spectrum, there were 49 companies with properties located in cities where housing costs were affordable (less than 40% of disposable income). However, there were only six companies that had 50% or more of their portfolios located in these affordable markets. The biggest companies by market capitalisation exposed to affordable markets were AvalonBay, Equity Residential and CapitaLand.
Our report also evaluated 180 public policies that relate to affordable homeownership, upgrading existing property and affordable renting in 33 countries and the EU. While the list of policies was not exhaustive, the analysis showed that owning or renting a home was more affordable in countries with the most number of policies.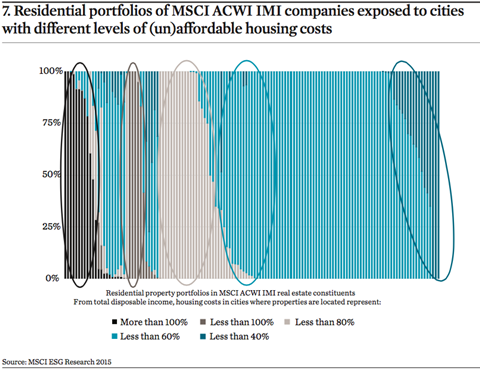 Finally, a key characteristic for affordable real estate was its sustainability credentials, which may enhance the operational efficiency, durability and comfort for residents. As members of the MSCI ESG Research Thought Leaders Council on ESG and real estate put it, "affordability needs to be sustainable, sustainability needs to be affordable". However, only two companies (Cemex and Skanska) and five countries, were incorporating sustainability into their affordable real estate offerings and policies, respectively. The scarce number of companies and policies that explicitly coupled both affordability and sustainability suggests that there might a lack of attention to the business case for including environmental and social criteria in property investments.
In the long term, the growing global urban population may create investment opportunities for real estate companies and institutional investors to meet the growing demand from credit-worthy, middle-income earners for affordable housing. The opportunities could be widespread, as the need for affordable housing for the middle of the pyramid to buy or rent is global. Conversely, urbanisation might pose challenges for companies with a large amount of exposure to luxury market cities with high levels of unaffordable housing and a lack of affordable options.
Mario Lopez-Alcala is senior analyst at MSCI ESG Research
Urbanisation: US - Silicon valleys
1

2

Currently reading

Urbanisation: Affordability - Building the middle of the pyramid

3